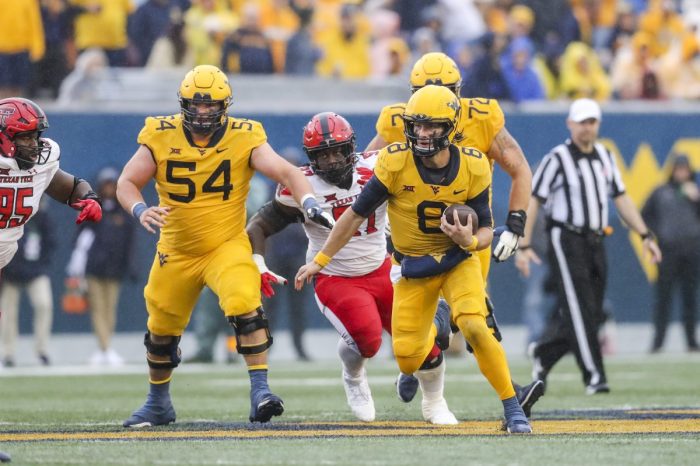 One of the most underrated games of the day was one of the most fun to watch. What could have been a one-sided home win for the Mountaineers turned into a game that came down to the final seconds as West Virginia held on to a 20-13 win over the Red Raiders and moved to 1-0 in Big 12 play. 
Here are three thoughts on the game.
Raiders of the Lost QB
Texas Tech's Tyler Shough's day was over before it had a chance to start. Trailing 7-3 late in the first quarter, Shough went down with an ankle injury that caused him to be carted off. This is an injury on the laundry list that Shough has suffered over the past few seasons. Two years ago, he went down with a collarbone injury and didn't play again. He also suffered another collarbone injury in the season opener last year, but was able to come back to end the year. 
Whether or not Shough comes back, what a deflating loss for a Texas Tech team that some had penciled in to play in the Big 12 championship before the season. Sophmore Behren Morton looked OK in relief (158 yards and a TD), but missed two receivers in the end zone for what could have been a game-tying score. And it doesn't get easier for Tech to have to travel to Baylor and BYU in October. In the best-case scenario, Shough goes from a dual-threat to a pocket passer. Worst-case scenario, Texas Tech and head coach Joey McGuire are going to learn how well Morton can learn on the fly. 
The Red Raiders ran the ball well with senior Tahj Brooks (149 yards), but there isn't enough juice in the running game to think that they can relay on that. The next few weeks are going to be ugly. 
Neal Brown's Seat Cools (for now) 
Ever since leaving Troy in 2018, the Neal Brown Era at WVU has been disappointing, to say the least. Neal Brown's 25-26 overall record is the worst four-year stretch since the Mountaineers in 1976–79, and after a 5-7 season and missing out on a bowl game, there were real conversations about moving on. 
Now, with a win against rival Pitt last week and a win at home against Texas Tech, the calls for Brown's job have died down. Freshman Nicco Marchiol, who stepped in last week after Junior Garett Greene went down with his own ankle injury, looked good in flashes. Marchiol was the leading rusher (72 yards), but threw two picks (plus 78 yards and a TD) in the muddy conditions. 
WVU jumped out to a 13-3 lead, but gave up 10 points in the fourth quarter to leave the door open for a Tech comeback in the final minutes. The play calling was suspect, the defense bailed out the offense, and WVU has one of the hardest remaining conference schedules in the Big 12. Don't rule out Neal Brown asking Santa for a new job by Christmas. 
Bottom Feeders
With Tyler Shough out for the foreseeable future and WVU having only three home games left, both of these teams are set up for a tough few weeks. Texas Tech gets Big 12 newbie Houston next week. The Cougars have been a roller coaster team to follow, and Dana Holgorsen might be the only other head coach who has as many questionable play calls as WVU. If there was a winnable game for Tech before playing rival Baylor in Waco, this would be it. 
For WVU, a trip to TCU next week is less than ideal. Even at 3-1, this West Virginia team has all the makings of a "pull your hair out" type frustrating team you tune into every week. If Garett Greene is able to come back and play well, WVU could be in the bowl game conversation, but it's not going to be pretty.