Baylor Bears
Big 12 Football Week 4: The Good, the Bad, and the Ugly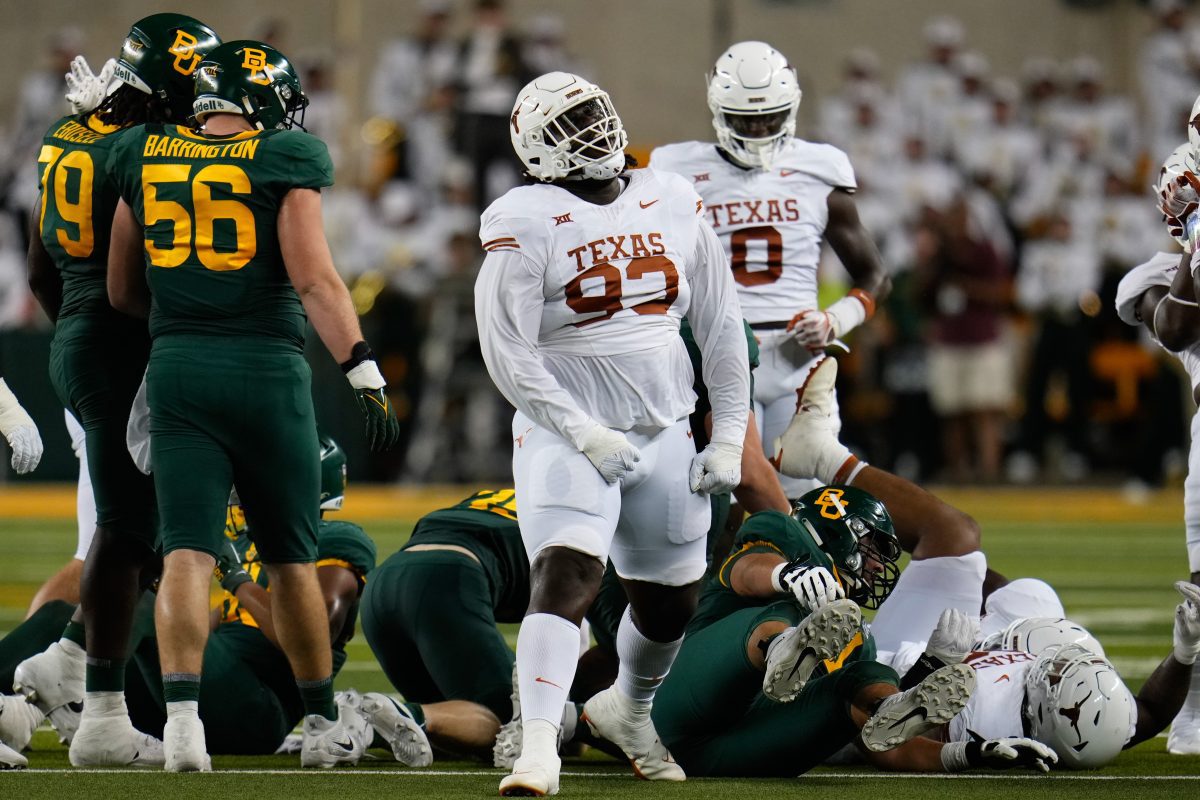 Week Four is officially in the books as the Big 12 Conference had yet another exciting weekend. The action started on Saturday morning and ended late Saturday in Manhattan, Kansas. Here is the good, bad, and ugly from Week Four in the Big 12.
The Good
Oklahoma's Defense (Beat Cincinnati 20-6)
Through the first three games of the season, the Sooners had given up a total of just 28 points. That is an average of 9.3 points per game, which is not very common in today's college football. While one can argue about who they played in those first three games, the Sooners silenced their critics on Saturday against Cincinnati on the road. Oklahoma's defense gave up just six points against the Bearcats and kept them out of the end zone for four quarters. They were able to get a pair of turnovers and while they did bend a little, they never broke once. You can say what you want about the offense, but this defense is for real.
The Skillet Stays in Fort Worth (TCU beat SMU 34-17)
Just like last week, TCU's offense came to play. Chandler Morris threw for 261 yards and three touchdowns, and the run game helped him out tremendously. The Frogs ran for almost 200 yards on the ground led by Emani Bailey who finished the day with 126 yards and a score. As for the defense, they did an excellent job against a good SMU offense.
Houston Bounced Back (Beat Sam Houston 38-7)
I will make this short and sweet. Houston got a win against a bad opponent. Donovan Smith and Parker Jenkins had good performances and the Cougars dominated as they should have. Did we learn anything from this game? Not really but at least they won. However, this guy made me a bit nauseous.
Kansas is For Real (Beat BYU 38-27)
Coming into this game, I felt like all the focus was on BYU after their road win against Arkansas. Well, the entire country was reminded about how good Kansas actually is and can be. The Jayhawks started this one off with a bang (literally) when Cobee Bryant laid the wood and got a scoop and score.
From there, Kansas used their rushing attack to really get after BYU. The Jayhawks rushed for 221 yards led by Devin Neal. Of course, I can't forget about quarterback Jalon Daniels who finished with three touchdowns passes and was efficient. With the win, Kansas is now 4-0 for the second straight season.
West Virginia Gets a Big Win (Beat Texas Tech 20-13)
It wasn't always pretty, but a win is a win and if you are Neal Brown, you take all of them you can get. In sloppy weather, West Virginia leaned on their rushing attack as they controlled the game on the ground. In fact, the Mountaineers held the ball for nearly 35 minutes in this one. That was the perfect game plan for Nicco Marchiol to take over for an injured Garrett Greene. I also must give credit to the West Virginia defense as well. That unit held Tech to just 321 total yards and only allowed them to convert two out of their 18 third down attempts. After the big win, Neal Brown had this to say.
Iowa State's Offensive Surge (Beat Oklahoma State 34-27)
Normally we only talk positively about the Iowa State defense, but on Saturday it was all about the Iowa State offense. Offensive coordinator Nate Scheelhaase opened up the playbook and wasn't afraid to throw the ball all over the yard. Quarterback Rocco Becht threw for a career-high 348 yards and three touchdowns against the Cowboys. Jaylin Noel went off in this one as he had 146 receiving yards and a score. Alongside Noel, Daniel Jackson had a great game as well. While the run game still needs some work, it was great to see Iowa State used the short passing game instead of trying to force the run.
Texas Dominated (Beat Baylor 38-6)
As impressive as the Alabama win was, this one may have been even more impressive in my book. Quinn Ewers managed the offense well by scoring a pair of touchdowns and the run game was working as Jonathan Brooks went for over 100 yards and two scores. But the star of this game was the defense. Baylor ran over 35 plays inside Texas territory and only scored six points. The Longhorns defense controlled the line of scrimmage and kept Baylor's offense out of the end zone.
Kansas State's Rushing Attack (Beat UCF 44-31)
With Will Howard a bit banged up, Kansas State used their run game in this win. The Wildcats ran wild on the UCF defense for a whopping 281 yards on the ground. DJ Giddens led the way with 207 yards and three scores as the Knights had no answer for him. He also led the team in receiving yards as well with 86 yards. The defense needs to clean a few things up, but it is going to be hard to beat this team when they run the football and control the game like they did on Saturday.
The Bad
No More Road Magic for BYU (Lost 38-27 to Kansas)
After beating Arkansas on the road last weekend, BYU couldn't get the job done this weekend against Kansas. The defense gave up way too many yards on the ground and the offense lost the turnover battle 3-0. Kedon Slovis struggled ,and the run game went nowhere as BYU ran for whopping nine yards on 22 carries. When you think about it, they did exactly what not to do on the road against a good team and they paid for it.
Tyler Shough's Injury (Texas Tech lost 20-13 to West Virginia)
With just seconds left in the first quarter, Texas Tech quarterback Tyler Shough was carted off the field due to an injury. With Shough out, backup Behren Morton came in and he struggled. The offense didn't move very well and the weather conditions made it a little tougher than usual. While the defense played decently, the offense just couldn't make enough plays in the end. Plus, this team had way too many penalties. Perhaps the worst part of the game was this play in particular. Tech had a chance to tie the game up but missed it here.  
Is Alan Bowman the Guy for Oklahoma State? (Lost 37-24 to Iowa State)
Prior to this game, Mike Gundy mentioned that they would continue to use the three-man quarterback rotation. But then just hours before kickoff it was announced that Alan Bowman would be the starter for the entire game. Bowman ended up going 23/48 throwing two touchdowns and two interceptions. He struggled with his accuracy and was inconsistent throughout the game. It's hard to put too much blame on him because his offensive line isn't great, and he really hasn't gotten a ton of playing time with his receivers either. I am not sure if Bowman is the guy, but this team needs to stick with a quarterback already.
UCF's Defense (Lost 44-31 to Kansas State)
I figured the offense would be the problem for UCF in this one, but I was wrong. In fact, I thought Timmy McClain played pretty well for a backup playing in an environment like Manhattan, Kansas. However, the issue was the defense. UCF had trouble stopping Kansas State's rushing attack as the Wildcats ran for 281 yards on the day. You can't play poorly against the run and expect to beat a team like Kansas State on the road. It just doesn't work.
The Ugly
Cincinnati's Offense (Lost 20-6 to Oklahoma)
There are many things in this world that I would rather do than watch Cincinnati's offense. After Saturday's performance, pouring hot sauce in my eyes is now one of them. Emory Jones struggled to hit his targets and he threw two costly interceptions as well. While he may be athletic, he has yet to impress me when throwing the football. Cincinnati ran a total of 39 plays inside Oklahoma territory and they only scored six points. They didn't score a single touchdown at all which is mind boggling considering how many chances they had.
Baylor (Lost 38-6 to Texas)
I am not even sure where to start with this team, but I will give it a shot. Sawyer Roberston was bad, the offensive line was bad, and the defense was, guess what? You guessed it, bad. The offensive line got zero push and gave up five sacks. Meanwhile the defense let Texas pretty much do whatever it wanted. Baylor truly didn't move the ball until backup RJ Martinez came in the game. The staff should seriously consider him as a staring option with Blake Shapen out. It was a great turnout in Waco at McLane Stadium, but unfortunately the team forgot to show up. With the loss, Baylor has now lost seven out of their last eight games dating back to last season.