Trending Now
Watch: Washington State Coach Rips ESPN Over Pac-12 Collapse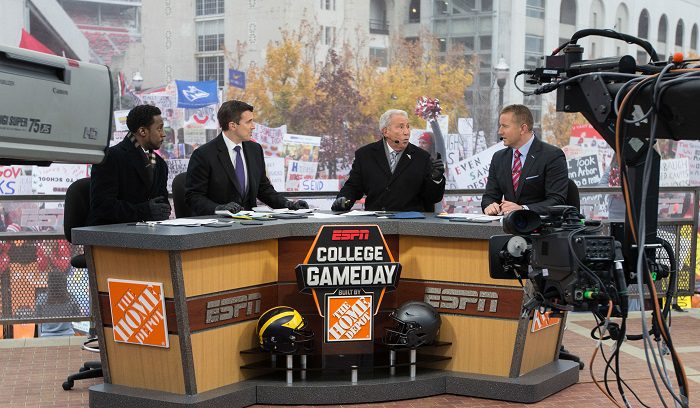 Washington State head coach Jake Dickert made headlines on Saturday following the Cougars' 38-35 win over the Oregon State Beavers, calling out ESPN for slandering the Pac-12.
Dickert mentioned comments from ESPN's Lee Corso, who referred to the game between Pac-12 members as the "no one watches bowl" saying, "It's well-documented what ESPN has done to try to get our league to where it's at."
Lee Corso is a long-time ESPN personality known for some wacky picks on College GameDay and while Corso isn't usually in the limelight when it comes to midseason beef, circumstances surrounding the Pac-12's future seem to have everyone on edge.
With headlines focusing on the Pac-12's inability to land a media rights deal occupying some prime real estate this offseason from sports networks, Saturday's matchup between Oregon State and Washington State fell through the cracks despite being a matchup of top 25 teams in the AP Poll, according to Lee Corso.
Dickert sounded off by saying, "I caught something this morning watching GameDay, Corso comes on and he says the 'no one watches bowl' and I don't understand that. What's the merit? The facts say that people watch the Coogs."
He continued by highlighting a willingness to discuss the issue with Corso saying, "Coach Corso is at the point now where they give him the sheet, he reads off of it, and they try to make a joke out of it, but it didn't even make sense. It's well-documented what ESPN's done to try to get our league to where it's at, and I would love to have a conversation with Coach Corso about the value he sees about breaking up the premiere West Coast Conference."
Washington State advanced to No. 16 in the AP top 25 after taking down Oregon State and will take the field again two weeks from now against UCLA on October 7th.