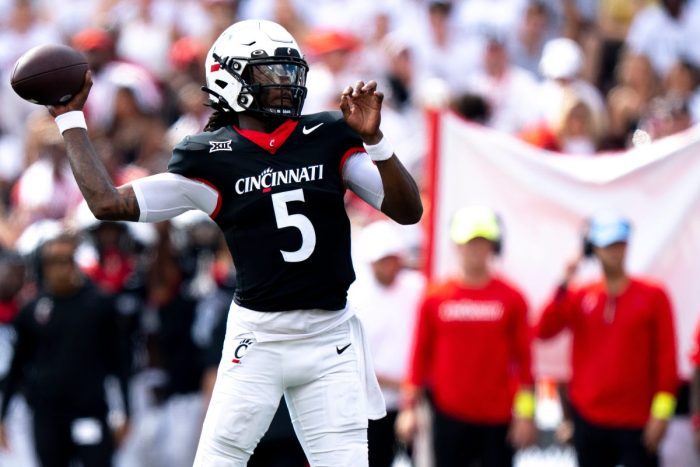 Here is everything you need to know ahead of the matchup between the Cincinnati Bearcats and the BYU Cougars.
GAME INFO
Friday, September 29; 9:15 p.m. CT; LaVell Edwards Stadium; Provo, Utah
TV: ESPN
Radio: BYU Radio (Greg Wrubell, Hans Olsen, Mitchell Juergens); Bearcats Sports Network (Dan Hoard, Jim Kelly Jr., Mo Egger)
Records: BYU 3-1 (0-1 Big 12); Cincinnati 2-2 (0-1 Big 12)
Rankings: N/A
Last Week: Kansas 38, BYU 27; Oklahoma 20, Cincinnati 6
Series History: BYU leads, 2-0-0
Last Meeting: BYU 20, Cincinnati 3 (2016)
Line: Cincinnati (-2.0)
Fun Fact: While both of these teams started their Big 12 schedules last week, this will be the first Big 12 game played inside LaVell Edwards Stadium, and on a Friday night in Provo, it could be quite the spectacle.
KEY PLAYERS
CINCINNATI BEARCATS
RB Corey Kiner
At this point, it is fair to expect up-and-down performances from Emory Jones throughout the 2023 season, which means Cincinnati might need to lean on the running game even more to be at its best. Kansas just torched the BYU run defense for 221 yards and 6.0 yards per carry last week. With one of the best rushing attacks in the country, expect the Bearcats to get Corey Kiner the ball early and often on the road.
LB Dorian Jones
While the story of the Bearcats' defense is the defensive line with guys like Dontay Corleone and Jowon Briggs up front, UC's linebackers are not something to overlook. Last week against Oklahoma, Dorian Jones played a monster game, totaling 13 tackles, with one sack and one tackle for loss. While it was in a losing effort, Cincy held OU to a season-low of 20 points and much of that credit belongs to Jones' play.
BYU COUGARS
QB Kedon Slovis
Last week against Kansas, Kedon Slovis had an up-and-down night, completing 30 of 51 attempts for a season-high 357 yards and two touchdowns. However, he also threw two costly interceptions and took three sacks on the day, and was unable to keep the Cougars within striking distance. Against a Cincinnati defense that should be even better than KU's, Slovis will need to be improved for BYU to pick up the win at home.
LB Ben Bywater
Despite it coming in a loss, BYU linebacker Ben Bywater played a fantastic game against Kansas in Week 4, collecting 10 tackles, one sack, 1.5 tackles for loss, and one pass breakup on the day. With Cincinnati wanting to push the envelope in the run game, Bywater will be busy, as will the rest of the front-seven. While Kansas' offense might be more potent, the Bearcats are going to try and be a physical, downhill team this week. Bywater will have to be on top of his game this week.
KEY STORYLINES
How does Cincinnati respond offensively after last week's performance? It was the first time the Bearcats had been held out of the endzone since their College Football Playoff appearance, and they had opportunities to get on the board against a good Oklahoma defense. Now, against a BYU defense that appears to have some trouble agaisnt the run, I expect UC to pin their ears back and try and force the Cougars to stop their running game.
On the flip side of the coin, can BYU find anything that resembles a running game? Kedon Slovis is not the kind of quarterback that can win games on his own, as much as folks in Provo might wish that were the case. In order for him to find success, the Cougars need to improve in the run game. Through four contests, they rank 128th nationally with 61.0 yards per game. Last week against Kansas, they had a total of nine yards rushing. That's simply not going to get it done.
PREDICTION: Cincinnati 27, BYU 20
I think this might be one of the most revealing games of the weekend in Big 12 play, as its clear that oddsmakers don't really know what to think about either of these teams. However, I feel fairly confident at this point that Cincinnati is a team that will finish in the top half of the Big 12 standings, while I have serious concerns about what's happening with the BYU offense. I like the matchup for the Bearcats' defensive line, and the Cincy running game should have its way while on the field. I'm taking the road dog to win in this one outright, and I feel pretty good about it.