Baylor Bears
HCS Roundtable: Biggest Winners and Losers In Week 4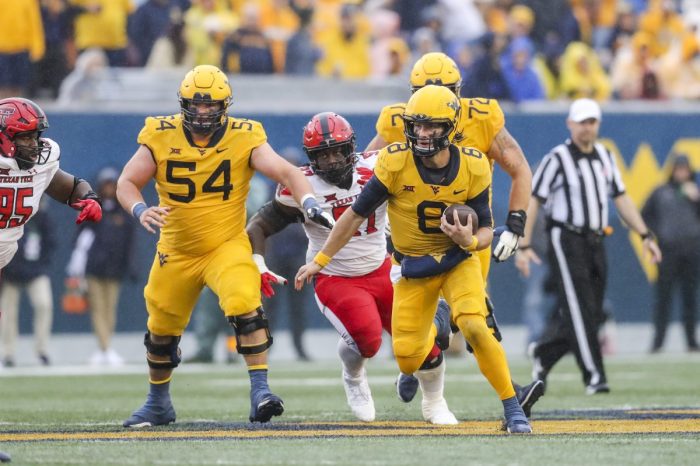 Week 4 has provided every team in the Big 12 with either a 1-0 or 0-1 record, and the conference race is officially on. Every week from here on out will be vital to the Big 12 race, with teams taking steps either closer to making an appearance in Arlington, or one step closer to them being locked out of contention.
That fact makes every weekend extremely important, with each game providing the chance to make or break a team's season.
With that being the case, the Heartland College Sports staff will take each week to name the week's biggest winner and loser. Here's a look at their answers for Week 4.
Pete Mundo
Biggest Winner: Iowa State
Someone was going to win that game between Iowa State and Oklahoma State, with the loser feeling awful, and the winner breathing a HUGE sigh of relief. That's how Matt Campbell has to be feeling following that bad Ohio loss. His offense showed some life as well under Rocco Becht and gives this team a little juice going to Norman this week. They sorely needed that.
Biggest Loser: Baylor
This was possibly Baylor's last football game against Texas for decades, and they never got off the bus in front of their home crowd. It was absolutely embarrassing. Baylor is 21 months removed from winning the Big 12 Conference, but it could not look further way from being a conference contender right now. And the thought that they're a Blake Shapen return away from contending? No chance. There are issues on both sides of the ball with this team right now.
Bryan Clinton
Biggest Winner: West Virginia
I think we all wrote off Neal Brown and the Mountaineers way too early after they dropped their season opener at Penn State earlier this month. All WVU has done since that moment is go 3-0, including wins over arch-rival Pitt and now a win over Joey McGuire and the Texas Tech Red Raiders. Sitting at 3-1 through four games, and 1-0 in Big 12 play, is a fantastic start to the year for Brown's team and it gives them eight more chances to pick up three wins to get to bowl eligibility. With games against Houston, Oklahoma State, UCF, BYU, Cincinnati, and Baylor all left on the docket, that looks extremely doable.
Biggest Loser: Texas Tech
I could've easily gone with Baylor or Oklahoma State here, but I'm going with Texas Tech here. Coming into the 2023 season, Texas Tech was as popular a dark horse pick as there was in the Big 12, with several folks, including myself, expecting them to compete for a Big 12 title. Now, sitting at 1-3 through four games, that seems so far from a possibility. After an inexcusable loss to Wyoming and a heartbreaker against a good Oregon team, Texas Tech fell on its face in a 20-13 loss to West Virginia. Right now, McGuire and Co. have work to do just to get to a bowl, as they'll need five more wins with teams like Kansas State, TCU, Kansas, UCF, and Texas still coming down the pike. Throw in the fact that they appear to have lost Tyler Shough for a substantial amount of time, and it was bad weekend for the folks in Lubbock.
Matthew Postins
Biggest Winner: Kansas
I mean, let's be serious. The biggest winner this week was new Big 12 legend Travis Kelce, former Cincinnati star, who managed to get Taylor Swift to come to a Chiefs game. Between that and the weird stock photo of actor Kevin James (you know the one), that was all that was in my Twitter feed this weekend. But Kansas? Absolutely a close second. The Jayhawks beat BYU, moved into the AP Top 25 and took another step toward being a consistently respectable program. Everything on this team has improved from last season. I'm not saying they go into Texas and win this weekend, but it won't be a walk for the Longhorns. Lance Leipold keeps building and building in Lawrence. Someone needs to throw Michigan State off the scent.
Biggest Loser: Oklahoma State
Before I got in the file Baylor and Texas Tech were already taken (thanks Pete and Bryan). But the Cowboys can hang here. Before the game, the Cowboys decided to give quarterback Alan Bowman the full game. After the game, head coach Mike Gundy wouldn't commit to who his quarterback would be in two weeks when they play Kansas State. Thank goodness the Cowboys get two weeks because I think that KSU game stands to be their season. If OSU loses, well, basketball season is right around the corner, ya know?
Joe Tillery
Biggest Winner: Kansas State
Let it be known that my first pick for the biggest winner of the weekend was the Kansas Jayhawks but since Matthew beat me to it, I'll trade in a few cards. K-State marched onto the field against a solid UCF team on Saturday and came away with a big 44-31 win to kick off Big 12 play. While the Cats were expected to win this game in the eyes of Vegas, many fans wondered about the health of Will Howard. Howard took the field at what I expected to be about 60% and performed well leading the Wildcats to a win alongside some heroics from sophomore running back DJ Giddens. As the Wildcats have a bye week to get healthy, Chris Klieman's team is my biggest winner.
Biggest Loser: Texas Tech
While I tried to keep things fresh with a new team for my biggest winner, there was just no escaping the pick for my biggest loser. Texas Tech lost a disappointing game to Neal Brown and the Mountaineers on Saturday 20-13, and while the loss stings in its own right, losing Tyler Shough for the season is significantly worse. The Red Raiders were unanimously picked as a dark-horse candidate in the Big 12 Conference by multiple members of the media (myself included), and while it is early enough in the season to turn things around, 1-3 heading into Week 5 with a backup quarterback is major grounds for concern.
Derek Duke
Biggest Winner: West Virginia
As crazy as this may sound, West Virginia is my big winner from this past weekend. Nobody gave them a chance against Texas Tech on Saturday and they pulled out a gutsy win against a good team. I know Tyler Shough got injured and that changed the outlook a bit, but I thought West Virginia stuck to their game plan of controlling the game on the ground. Even with Garrett Greene out, the Mountaineers got the dub in Morgantown. This team is going to have to win ugly games like the one on Saturday but hey, a win is a win and I loved Neal Brown's postgame comments. This team has a chip on their shoulders.
Biggest Loser: Baylor
I don't think there is any question on who the loser of the week should be in the Big 12. It was Baylor by a mile and a half. The Bears offense looks pathetic right now with Sawyer Robertson at quarterback. In fact, everyone did in their game against Texas. The offensive line isn't good and his receivers haven't done him any favors either. Plus, their defense looks like Swiss cheese. Even when Texas gave them opportunities to score, Baylor's offense never found the end zone.