Big 12 News
Jerome Tang Agrees to Contract Extension Through 2029-30 Season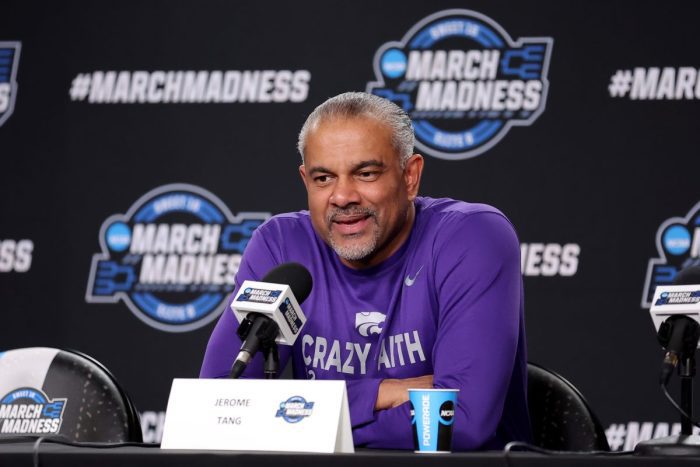 Kansas State head basketball coach Jerome Tang has officially finalized a contract extension with the Wildcats through the 2029-30 season.
Despite being named head coach for just one season in Manhattan, Jerome Tang quickly solidified himself as the face of the Wildcats' budding basketball program for a long, long time.
Tang's new contract replaces his original six-year deal signed back in March of 2022 which named Jerome Tang as the 25th men's basketball coach in school history. His new deal now adds in seven more years of Wildcats basketball that will officially run until April 30, 2030.
According to the university's official release, the second-year head coach will be paid $3 million annually each season as well as a $100,000 increase to his salary in each year of his new contract which will equate to a $3.6 million base for the 2029-30 season.
Kansas State Athletic Director, Gene Taylor, spoke on the new contract saying, "What Coach Tang and his staff did in their first year here was phenomenal. The run to the Elite Eight was remarkable, but what separates Coach Tang is his pure love of his players and the relationships that he builds with everyone that he encounters. His ability to connect with players, staff, recruits, students, and fans is special, and he is the perfect fit for Kansas State. The culture that he and his staff have built is extraordinary. We are delighted to have him, Rey, Seven, and Aylyn as a vital part of the Wildcat family and for him to continue to lead our basketball team for a very long time."
While it feels like a century ago since Jerome Tang arrived on campus and changed the culture of K-State basketball, the former Baylor assistant is here to say. Tang wrapped up his thank you announcement by saying, "I said before I didn't come here to rebuild but to elevate and the work has already begun. Last year's success was just the start. The staff and I are excited about what's ahead for this team as we start practice. EMAW!"
Jerome Tang's second year as head coach of Kansas State basketball tips off on November 1st against the Emporia State Hornets where Tang's squad will start their second attempt to recreate the magic and buzz of the previous season.