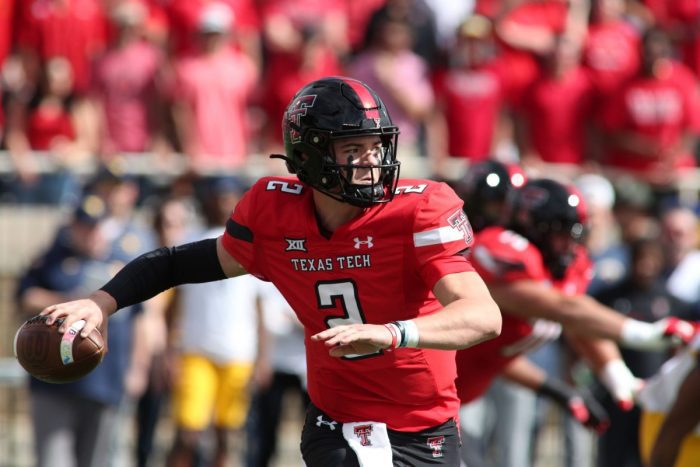 Here is everything you need to know ahead of the matchup between the Texas Tech Red Raiders and the Houston Cougars.
GAME INFO
Saturday, September 30; 2:30 p.m. CT; Jones AT&T Stadium; Lubbock, Texas
TV: FS2
Radio: Texas Tech Sports Network (Brian Jensen, John Harris, Chris Level); KPRC 950 AM (Kevin Eschenfelder, Ted Pardee, Jeremy Branham)
Records: Houston (2-2); Texas Tech (1-3)
Last Week: Houston 38, Sam Houston 7; West Virginia 20, Texas Tech 13
Rankings: N/A
Series History: Houston leads, 18-15-1
Last Meeting: Texas Tech 33, Houston 30 (2022)
Line: Texas Tech (-10.0)
Fun Fact: While the Houston Cougars currently lead the all-time series between these two programs, Texas Tech holds the edge as of late with nine wins in the last ten meetings dating back to the 1992 season.
KEY PLAYERS
TEXAS TECH RED RAIDERS
QB BEHREN MORTON
Texas Tech quarterback Tyler Shough was carted off the football field int he Red Raiders Week 4 loss to the Mountaineers, and while sophomore Behren Morton has some experience playing Big 12 football, he now steps in as the starting quarterback for a team in limbo. The Red Raiders entered the 2023 season as a dark-horse candidate to wint he Big 12, and after starting 1-3 through the first four games of the season, Behren Morton doesn't have much time to make mistakes. He now suits up against Houston in hopes of earning the first Big 12 win of the season in Lubbock.
LB JESIAH PIERRE
While Texas Tech lost linebacker Jacob Rodriguez early in the season, senior linebacker Jesiah Pierre has stepped up in a big way on the defensive side of the ball. Pierre enters Week 5 with a total 37 tackles on the season which is good for second in the Big 12 Conference only trailing Oklahoma linebacker Danny Stutsman (43). Texas Tech fans should keep an eye on Jesiah Pierre as he looks to catch up to the league leader in tackles.
HOUSTON COUGARS
QB DONOVAN SMITH
Junior quarterback Donovan Smith is the obvious player to watch for the Cougars as the Nevada native spent two seasons at Texas Tech from 2021-2023. While Smith may not enter this week as one of the best passers in the Big 12, he enters the game with something that most quarterbacks only get one or two shots at in a season, revenge. Smith has thrown for 1,012 yards and a touchdown to interception ratio of 5-3 this season and now has a chance to find some success against his former team.
DE NELSON CEASER
Nelson Ceaser is a load to deal with for any offensive lineman in the country at the moment as he enters Satuday's game with 3.5 sacks, half-of-a-sack away from matching his season total from the 2022 season. Ceaser is a 6-foot-3, 250 pound pass rusher that possesses a unique combination of speed and power that has given some fits to opponents in the non-conference schedule. Ceaser has a shot to pass his career high of 4.0 sacks on Saturday against Texas Tech and with a young quarterback under center for the Red Raiders, Ceaser should be circled.
KEY STORYLINES
TEXAS TECH RED RAIDERS
Behren Morton is the guy, that is set in stone at the moment and the red Raiders are going to need him to hit his stride fast. How will he fair with a full week preparation as the starter in Lubbock? While Morton came off the bench against a solid defense in Week 4, he did end up with ashot to win the game late in the fourth quarter but sailed a pass over the hands of his receiver to lose 20-13. Will Morton have another chance now to show what he's made of against Houston?
HOUSTON COUGARS
Revenge is sweet, and it is absolutely the storyline to follow for the Houston Cougars. Will Donovan Smith be able to rise to the occasion against his former team? Smith played quarterback aerobics with the Red Raiders and was even sat down at one point to see his opponent, Behren Morton, take the field. Houston is outmatched on paper but a burning flame and a chip on the shoulder can go along way. How will Donovan Smith handle the pressure?
PREDICTION: TEXAS TECH 30, HOUSTON 17
While Zach Kittley has shown an inherent avoidance of the rushing attack int he first four games of the season, Saturday's matchup is where it all changes. The best thing you can do with a young quarterback is help him out with a talented, veteran runningback to open some throwing lanes down the field, and Tahj Brooks has that ability. Houston will score and will put up some fight but I like the young kid, Behren Morton, to get the job done. Texas Tech gets their first Big 12 win of the season.