Baylor Bears
Baylor vs. UCF: Preview, Prediction, and Game Odds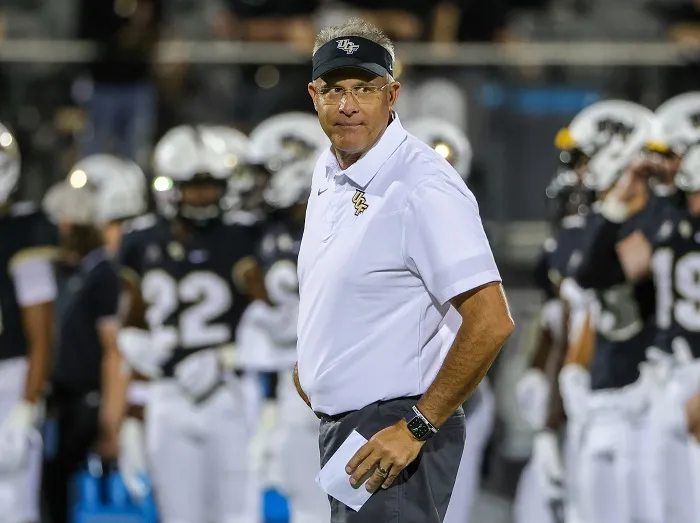 Here is everything you need to know ahead of the matchup between the Baylor Bears and the UCF Knights.
Game Info
Saturday, September 30; 3:30 p.m. ET; FBC Mortgage Stadium; Orlando, FL
TV: FS1
Radio: Baylor Sports Network (John Morris, J.J. Joe, Ricky Thompson); AM 740/FM 96.9 The Game (Marc Daniels, Gary Parris, Scott Adams)
Records: Baylor (1-3); UCF (3-1)
Last Week: Kansas State 44, UCF 31; Texas 38, Baylor 6
Rankings: Baylor (NR); UCF (NR)
Series History: UCF leads, 1-0
Last Meeting: UCF 52, Baylor 42 (2014)
Line: UCF (-11.5)
Fun Fact: These two teams have only played each other once which was back in the 2014 Fiesta Bowl where a Blake Bortles-led UCF team took down the Big 12 Champion Baylor Bears.
Key Players
Baylor Bears
QB Sawyer Roberston or Blake Shapen
As of now, Baylor head coach Dave Aranda said that quarterback Blake Shapen was day to day. Shapen has been out over the last several weeks due to injury but there is a chance he could come back to play on Saturday. In his absence, Sawyer Robertson has taken over and it hasn't gone particularly well. Roberston has thrown just one touchdown pass through three games as a starter and has thrown four interceptions. If that wasn't bad enough, his completion percentage is just 49.5%. The bottom line is Baylor needs better play from the quarterback position.
LB Matt Jones
Through four games, linebacker Matt Jones is the team leader in tackles with 26. Despite the lopsided score against Texas, Jones had a solid game where he recorded seven tackles and two sacks. Jones should get plenty of opportunities to rack up tackles against UCF.
UCF Knights
QB Timmy McClain
Much like their opponent, UCF is also playing their backup quarterback with Timmy McClain. He is filling in for the injured John Rhys Plumlee and has done a nice job so far. Timmy played well against Villanova two weeks ago and he threw three touchdown passes against Kansas State on the road last Saturday. While he may not be as athletic as a guy like Plumlee, Timmy has proven that he can get the job done for this team.
DE Tre'Mon Morris-Brash
I don't think there is any question that Tre'Mon is the best defensive player for UCF. In just four games, he has a whopping nine tackles for loss and has three sacks. He is a dangerous edge rusher in passing situations and has also done an excellent job at stuffing the run. With Baylor's offensive line struggles, I expect another big game for Tre'Mon.
Key Storylines
Baylor Bears
Does this team have a pulse right now? They got absolutely manhandled against Texas last weekend and I am curious to see if this team can even bounce back from that. The defense didn't play well, and the offense played even worse. Can Sawyer Roberston finally put together a good game or is this going to be the return of Blake Shapen? There are so many questions for this team right now and I don't even know where to begin. All I know is that this team needs to turn this ship around and do it quickly.
UCF Knights
I want to know if UCF can tighten up their run defense. Last week, they gave up way too many yards on the ground to Kansas State. Their offense played well enough to win on the road, but they just couldn't stop Kansas State's rushing attack. If they can tighten that up, then they shouldn't have too many issues on Saturday.
Prediction: UCF 28, Baylor: 21
This is the moment all UCF fans have been waiting for all offseason. The opportunity to host their first-ever Big 12 game. I expect the atmosphere to be electric and I have a feeling that the entire country is going to find out why they call it the bounce house. With the stadium rocking, there is no way UCF is losing this game. Plus, I trust UCF more than I do Baylor right now.