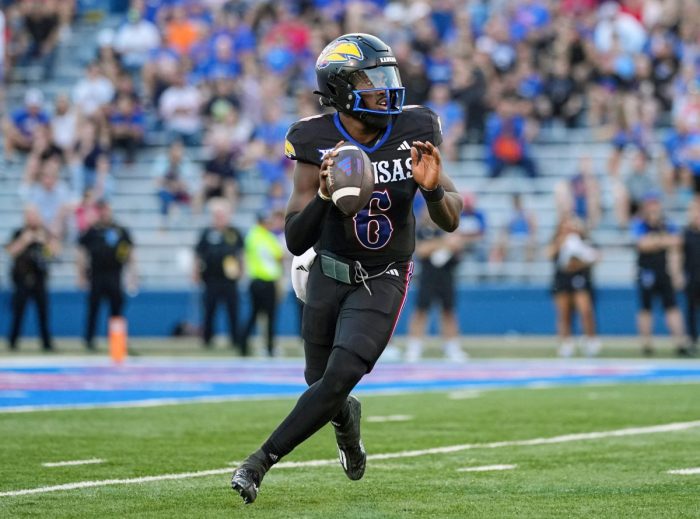 Since Lance Leipold took over the Kansas football program, the attitude toward what's going on in Lawrence, Kansas, has totally changed.
For the last 15 years, the Jayhawks have been the worst football program in all of the Power Five, and in many cases, worse than most Group of Five programs.
However, in the last two seasons, Kansas has a total record of 10-7, with a 5-0 start last season and a 4-0 start so far in 2023. To say that Leipold has changed the culture at KU is an understatement, and the college football world has certainly taken notice.
Since KU started winning football games, they've become one of the darlings of college football, and many people are actually paying attention to them for the first time.
One of those people is ESPN personality Pat McAfee. In a recent episode of The Pat McAfee Show, McAfee showed some love to the Jayhawks' program for what it's accomplished as of late.
"For Kansas, this is the second time, back-to-back years they've gone 4-0. Haven't done that since 1913 or something like that," McAfee said. "This is obviously a huge time. What [Lance] Leipold has been able to do over there is fantastic.
"We were there for [College] Gameday last year, they're building facilities, they're expecting this team to be good and they are electrifying to watch on the offensive side. And the uniforms are sick. They've got sick uniforms."
Kansas will hit the road for the first time in Big 12 play this week, as they head down to Austin for a ranked matchup with No. 3 Texas. Kickoff is scheduled for 2:30 p.m. CT (ABC) with the Longhorns currently favored by 16.5 points.
While he might not say it out loud, it sounds as if KU might have at least one member of ESPN's College Gameday pulling for them this weekend as the big underdog.