Baylor Bears
Five Big 12 Football Storylines to Follow in Week 5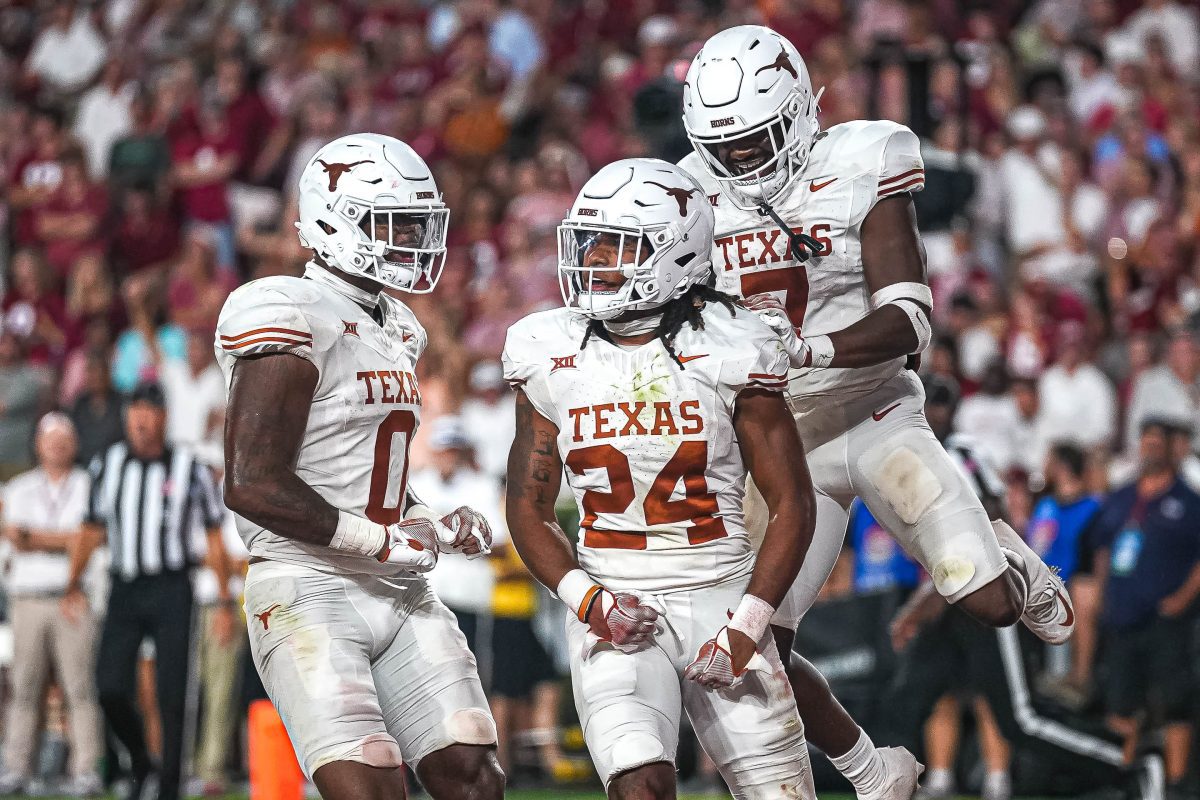 For the first time in 2023, we've got strictly conference play and two teams will take the weekend off with K-State and Oklahoma State having a bye before their Friday night clash in Week 6.
With a third of the regular season already behind us, we are starting to get a clearer picture of what the Big 12 race might look like down the stretch. Right now, it looks like Texas and Oklahoma are out front with a strong group of contenders just behind them.
However, that can all change in the matter of one weekend, and in Week 5, there is plenty of potential for chaos.
With that in mind, here are the top five storylines that you should be keeping up with heading into the fifth week of the season.
Can Texas Stay Focused in a Look-Ahead Spot?
When Texas is at its best, it has looked like one of the three best teams in the country this season. However, games against Rice and Wyoming have shown that there are still some times when the Longhorns are prone to a bit of a letdown. Fortunately for UT, they've been able to pull away and win those games in the end. However, Kansas will present a bigger challenge as the best offense that Texas has seen to this point. While that on its own is dangerous, the fact that the Red River Rivalry game against Oklahoma is next week makes this a dangerous look-ahead spot for Steve Sarkisian's group. This is quite simple really. If Texas is focused and plays its best game, it should beat Kansas and head to the Texas State Fair at 5-0. However, if they are sloppy, Jalon Daniels and the Jayhawks are plenty good enough to play spoiler to the Longhorns one last time.
Does Kansas Prove to be a Legitimate Player?
Speaking of Jalon Daniels and the Jayhawks, they are the other team in this ranked matchup, and I'm sure that is exactly how they want it. This is the best Kansas team that we've seen since they played in the Orange Bowl, and this week is their chance to prove they belong. So, when I turn this game on Saturday, I am looking to see how well KU competes. If Kansas can pull off the upset here, it might be the biggest win in school history. Knocking off the third-ranked team in the country to move to 5-0 would likely give Kansas a shot at being in the Top 15 next week. However, as 16.5-point underdogs, there's a good chance that the Jayhawks don't quite get it done. If that's the case, how competitive is KU in this game? Do they keep it within one score? Does this end in a 31-27-type game? If so, it might prove that this Kansas team is a legitimate threat to push for a Big 12 Championship appearance in December.
Much-Anticipated Big 12 Home Openers in Provo and Orlando
Cincinnati and Houston have had the pleasure of playing their first home games in Big 12 play already, while BYU and UCF had to go on the road to start conference play and return home with their first losses of the year. However, that likely won't cool off two rabid fan bases who are excited to see their teams in action back on their home turf. BYU will host Cincinnati in a Friday night matchup at LaVell Edwards Stadium, with kickoff slated for 9:15 p.m. The Cougars are currently 2.0-point dogs in the contest, but that won't keep the BYU student section from going bonkers amidst one of the most underrated venues in college football. Meanwhile, UCF will host Baylor in a 2:30 p.m. tilt on Saturday and are currently 11.5-point favorites over the Bears. It's time to see if the Bounce House lives up to its reputation as one of the best home-field environments in the sport.
Does Oklahoma Actually Have Offensive Problems?
During a 20-6 win over Cincinnati last week, Oklahoma offensive coordinator Jeff Lebby was berated on Twitter for his playcalling decisions. It's clear that OU fans are used to seeing offensive clinics, but against teams not named Tulsa and Arkansas State, the Sooners are averaging 24.0 points per game. So the question is, does OU have an offensive problem? Admittedly, the running game hasn't been up to par, as the Sooners are middling at best in several statistics tied to that part of the game. The running back rotation is a bit of a mess and the offensive line still has some things to work out. Luckily, Dillon Gabriel has been one of the best quarterbacks in the country to this point, and it hasn't mattered. Against Iowa State, who is one of the best in the nation at negating big plays in the passing game, the Sooners will have to lean more on the run. Sooner Nation will know a lot more about what it has after this week because if OU can score points against the Cyclones, they can score on just about anyone.
A Battle of "Unlikely" 3-1 Teams
Neither TCU nor West Virginia were supposed to be 3-1 coming into this game. The Horned Frogs' first four games looked like a breeze coming into the year, but a shocking loss to Colorado derailed their chances for another undefeated regular season. On the other sideline, West Virginia had a gauntlet to begin the year and was widely expected to drop at least two of its first four games against a top-ten Penn State team, Pittsburgh, and Big 12 dark horse candidate Texas Tech. That didn't happen either, as West Virginia has ripped off three straight after looking competitive against Penn State for three quarters. Now, each of these two teams has a chance to start their season with a 4-1 record, and more importantly, a 2-0 mark in Big 12 play. While TCU comes into the game as a 12.5-point favorite, it wouldn't surprise me at all to see this game come down to the last few possessions. West Virginia has something to prove, and their defense has been very stingy this season. Can Sonny Dykes and the Horned Frogs crack the code, or will Neal Brown get one game closer to bowl eligibility and potentially save his job? Tune in at 7:00 p.m. (ESPN2) on Saturday night to find out.