Trending Now
Is Now the Time to Trust the Climb With Neal Brown?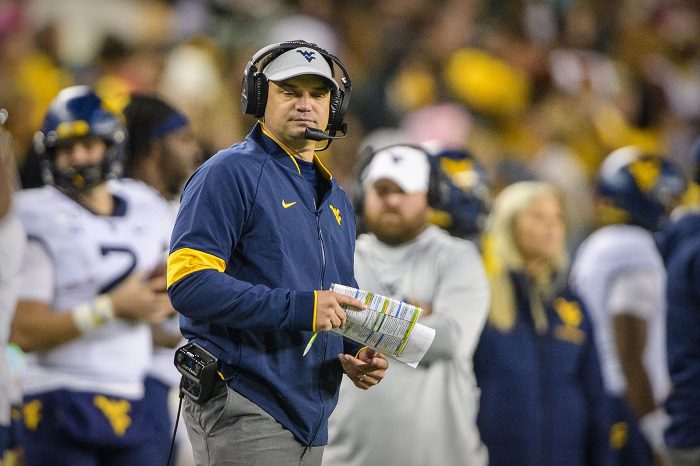 College football is a cut-and-dry business. As a head coach you either win or get fired. People always say that you are what your record shows, but if you look at West Virginia head coach Neal Brown's record, you may want to look at anything else.
Since taking over in 2019, Brown has a record of 25-26 overall and a Big 12 record of 15-21. Typically, those kinds of numbers would get you fired. However, in Neal Brown's case, it's a little bit different. Why? Because West Virginia owes him a good chunk of change.
While many folks including myself thought that West Virginia was going to fire him after an abysmal 2022 season where they finished 5-7, new athletic director Wren Baker decided to keep Brown for at least another season. This was in large part due to how much money Neal Brown was owed after the 2022 season.
Neal Brown's buyout dropped from $20 million down to $16.7 million on January 1st of this year. His contract runs through the 2026 season which means that there are still over three years left on his deal. While football brings in a ton of money for schools like West Virginia, $16M+ is still a lot of money. Maybe Wren Baker is waiting for the buyout to drop down again or maybe he is willing to give Neal Brown one last chance.
Either way, this is still Neal Brown's team and right now, he appears to be making the most out of it. Through four weeks of the season, West Virginia has a 3-1 record with their lone loss of the year coming on the road at No. 7 Penn State.
Perhaps even more impressive is the fact that West Virginia beat Texas Tech last weekend in Morgantown. The Red Raiders were highly regarded as the unanimous dark horse team to win the Big 12 Conference. While Texas Tech's starting quarterback Tyler Shough went down with an injury early in the game, West Virginia was without their starting quarterback as well, leaving Nicco Marchiol to fill in for the injured Garrett Greene and didn't have to do much in his stead.
In fact, the Mountaineers offense threw for just 99 yards against the Red Raiders but they leaned on their rushing attack to get the job done. While 157 rushing yards may not seem like a lot, the offense had the ball for nearly 35 minutes. Meanwhile, their defense was able to shut down Tech's offense and allowed them to convert just 2 out of their 18 third-down attempts.
One could point to the weather being a factor in that game and that is fine. It was wet out and the conditions were a bit ugly. Kind of like the game itself but if you are Neal Brown you will take all the wins you can get when you are on the hot seat. And I absolutely loved what he had to say after the game.
It may not look the greatest but maybe that is what this team should embrace. Control the game on the ground with and let your defense do the heavy lifting. That works when you have a veteran offensive line (which West Virginia has) and have a back to hand it off to like CJ Donaldson. When you combine that with a defense that is in the top five in most major categories in the conference then that is the way to play. 
This team has a chip on their shoulders and they need to continue to carry that around. After being picked to finish dead last in the preseason, who can blame them? I'd be pissed off too.
This team still has a lot of football in front of them. They go into Saturday as double-digit underdogs to TCU on the road. There's no question that will be a big test and I am curious to see if this team can keep the momentum going. Looking ahead, I would not count this team out just yet. Are they Big 12 title contenders? No, but I don't think a seven or eight-win season is entirely out of the question. 
Take a look at West Virginia's remaining schedule:
@TCU
@Houston
vs Oklahoma State
@UCF
vs BYU
@Oklahoma
vs Cincinnati
@Baylor
Call me crazy, but I can see them beating Houston and Oklahoma State which would get them to five wins. They also have a good chance to pick up wins against Cincinnati and Baylor as well. If they win those games, then that would put them at 7-5 with a chance to get an eighth win in a bowl game.
Whether or not that is enough to save Neal Brown's job remains to be seen, but maybe it will be. Last season was supposed to be the year where it all came together and obviously, that didn't happen. However, maybe we all just bought in a year too early and now is the time to truly trust the climb.