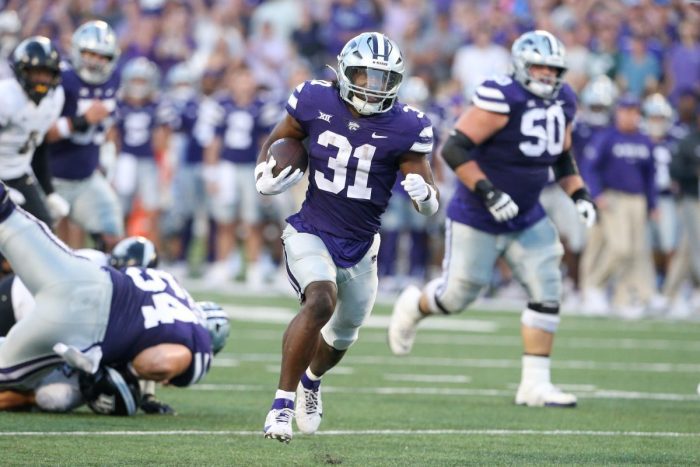 Normally I do a "reset" during the bye week regarding my prediction and expectations for K-State football for the remainder of the season. It just so happens that the bye week for K-State this year comes after the first conference game, but I think I have seen enough from K-State and other teams in the conference to adjust my preseason prediction of a 9-3 record. In general, I think K-State's prospects for making the Big 12 championship game are better than I thought they were prior to the season.
K-State sits at 3-1 overall and 1-0 in the conference. Before the season, I had the Wildcats 4-0 at this point. The Missouri loss was a stinger that I thought K-State would win, but fortunately, it will not affect them in the Big 12 Conference race. My prediction was three conference losses for K-State. I had them losing to Oklahoma State, Texas Tech, and Texas.
Oklahoma State looks a lot worse than I thought it would be at the start of the season. Two weeks ago, they lost 33-7 to South Alabama, and last Saturday they lost to Iowa State in Ames 34-27. Assuming Will Howard continues to play at a high level and the Wildcat defense continues to improve, despite the loss of Daniel Green K-State should get the victory against the Cowboys.
Texas Tech has also struggled mightily so far in 2023. They are 1-3 with losses to Wyoming, Oregon, and last week to West Virginia. Going on the road to Texas Tech will not be easy, but I have changed my prediction of that game to a win for K-State.
The other predicted loss for K-State was at Texas. Texas looks as good as advertised, and they currently sit at number three in the AP poll. They beat Alabama by 10 points in Tuscaloosa on September 9th and beat Baylor 38-6 in their first Big 12 game on Saturday. It looks like the Longhorns may roll through the league undefeated to earn a spot in the Big 12 championship game. I am staying with my prediction of a loss for the Wildcats against the Longhorns.
What about the victories I predicted? The UCF game is already complete, and the Wildcats took care of business. Oklahoma State and Texas Tech are up next, and I think K-State will be 3-0 in conference before hosting TCU on October 21st. I have not seen anything out of TCU to cause me to change my opinion that K-State should win that game.
After TCU, K-State plays Houston at home. Houston is 2-2 with losses to Rice and TCU last Saturday by 23 points. It should be a win for K-State.
After a visit to Texas, a loss I predicted, K-State gets Baylor at home. Baylor is 1-3 on the season with losses to Texas State, Utah, and Texas and a win against Long Island. K-State should get the victory.
Next up is a trip to Lawrence to play the Kansas Jayhawks. Kansas is looking pretty tough thus far and is currently ranked number 24 in the AP poll. We will see how they do against Texas this weekend. It will be a litmus test to see how good they are. At this point, I think K-State still has enough to beat them.
K-State wraps up the season against Iowa State at home. Iowa State has struggled to a 2-2 start with losses to Iowa and Ohio. K-State should take care of the Cyclones in that game.
My revised prediction? The Wildcats should finish 8-1 in conference with a great chance to make the Big 12 Championship game. The winner of the Oklahoma/Texas game should be a lock for the game, and then we will have to see how things shake out. The loser could go through the rest of the conference schedule unbeaten, and if K-State also has one conference loss, tiebreakers would apply. The bottom line is that K-State has a great shot at repeating as Big 12 champions should they continue playing well. Just keep winning, baby.