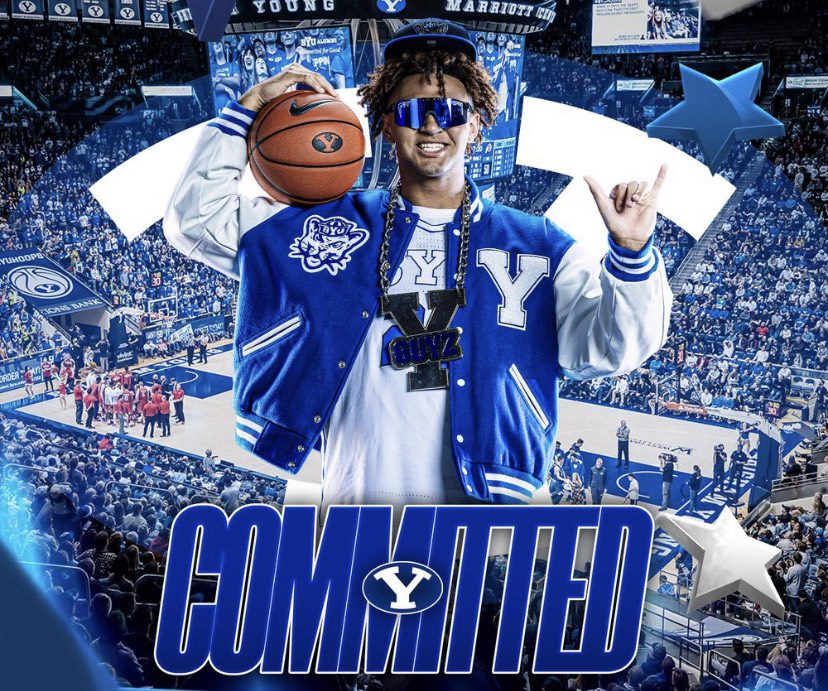 The BYU Cougars are preparing for the 2023-24 men's basketball roster and below is a preview of every player on the roster entering November's opening game.
Below are the returning players, the transfers, and the freshmen who will play a role in BYU's upcoming season.
Expected to Return
F Noah Waterman: The 6-foot-11 senior averaged 4.6 points, 2.8 rebounds and 0.8 assists in 33 games (14 starts) last season. While at Detroit Mercy he once averaged 11.9 points per game. The Cougars would love to have that sort of player for his final season.
G Trey Stewart: Is this the season the 6-foot-2 junior works his way into more playing time? He played just 10 minutes per game last season and averaged less than two points. He'll have to compete for a bigger role with a large set of guards.
G Jaxson Robinson: The 6-foot-7 junior led the Cougars with 61 3-pointers last season and averaged 8.5 points, 2.9 rebounds, and 1.8 assists per game. With 3-point shooting an important asset in the Big 12, Robinson could see his numbers go up this season, especially from distance.
F Atiki Ally Atiki: The 6-foot-10 junior brings experience back to the Cougars this season, but they would love to see Atiki bring more production. Last season he averaged 3.8 points, 3.6 rebounds and 1.1 blocks per game.
G Tredyn Christensen: Last season the 6-foot-7 Chaminade transfer played just four minutes a game. Now a senior, he'll be trying to prove he can give the Cougars more time off the bench.
G Richie Saunders: The 6-foot-5 sophomore only averaged 5.5 points, 2.4 rebounds, and 0.8 assists per game. But when BYU leaned on him in the WCC Tournament, his averages shot up to 10.7 points, 4.0 rebounds, and 1.7 assists per game. That's encouraging for the Cougars and for Saunders, who should be looking to be a full-time starter after starting just a couple of games last season.
F Townsend Tripple: With BYU, sometimes players go away for a while and do mission trips. He's 6-foot-8 and he's classified as a freshman, but he was a redshirt in 2020-21, so who knows what to expect in terms of a role this season?
G Spencer Johnson: The 6-foot-5 senior is the player to watch from the 3-point line. His 42.2 percent clip from the arc is the eighth-best in BYU history. He's been a part-time starter in his BYU career, but he earned West Coast Conference Honorable Mention honors last season after he averaged 19.9 minutes, 5.8 points, 2.9 rebounds and 0.9 assists per game. If Johnson can get into double digits and shoot that well from the arc again, that's a huge shot in the arm for the Cougars.
G Trevin Knell: Like Johnson, the 6-foot-5 redshirt junior is one of the most experienced Cougars and is a quality outside shooter. He was a redshirt last season, but for his career, he's nearly 39 percent from the 3-point line. The Cougars will be happy to have him back.
G Tanner Hayhurst: The 6-foot-6 redshirt freshman didn't play last season. The former All-State prep player in Idaho averaged  22.1 points, 7.8 rebounds, and 2.7 assists per game his senior year at Eagle (Idaho) High School.
G Dallin Hall: The 6-foot-4 sophomore should be poised to take a big step forward after an All-WCC Freshman season in which he averaged 7.3 points, 3.2 assists, and 1.9 rebounds per game. He started two-thirds of the Cougars' game last season, so he is a prime candidate to make it full-time this season. He is a former Utah Gatorade Player of the Year in high school.
G Fousseyni Traore: The 6-foot-6 junior is the player the Cougars will look to right away for leadership and scoring. Last season he earned All-WCC Second Team honors (a season after earning All-WCC Freshman honors). He averaged 12.9 points, 7.8 rebounds and 1.5 assists per game last season. But his 60.9 percent shooting in WCC play is the best in conference play in school history. He's accurate and he can produce.
G Jared McGregor: At one point, the 6-foot-3 sophomore was the team manager. Last season he played in six games.
Arrivals Via Transfer
C Aly Khalifa: The 6-foot-11 center from Charlotte has played three years of college basketball and should be a significant contributor for BYU this season. He averaged 9.8 points and 5.3 rebounds per game for his career and was the 2021-22 C-USA Freshman of the Year. Due to his redshirt year at Charlotte, he should have two seasons of eligibility remaining.
G Dawson Baker: The former UC Irvine guard comes to the Cougars after three college seasons that saw him score more than 1,000 points for his career. Last season he averaged 15.3 points and 3.2 assists per game to earn All-Big West Second Team honors. He should make an immediate impact on the guard rotation.
Class of 2023 Signees
G Marcus Adams Jr.: The 6-foot-8 wing was a late addition to the BYU roster he reclassified for the Class of 2023, committed to Kansas, left Kansas, committed to Gonzaga, left Gonzaga and then committed to BYU in September. That's a lot. At Narbonne High School in California he averaged 28.8 points and 6.8 rebounds per game. The Top 50 recruit could have an immediate impact on BYU's season.
Projected Starting Lineup: Baker, Traore, Saunders, Robinson, Khalifa
First Four off Bench: Adams, Hall, Knell, Ally Atiki
You can find Matthew Postins on Twitter @PostinsPostcard