featured
HCS Roundtable: Is Kansas a Big 12 Contender or Pretender?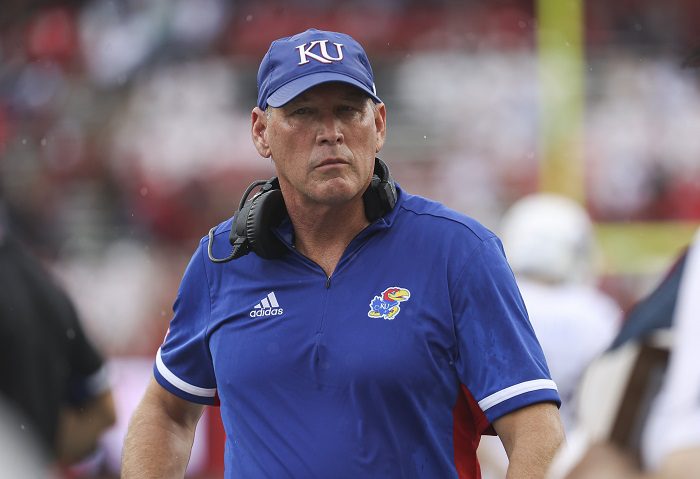 We're headed into Week 5 of the 2023 college football season which means that one-third of the schedule is officially behind us.
To this point in the year, the Big 12 has been very surprising with several teams starting the year quite differently than many had expected. Just three teams remain undefeated, all of which are ranked, with No. 3 Texas, No. 14 Oklahoma, and No. 24 Kansas.
The Longhorns and Jayhawks are set to clash this week in Austin, with Texas currently favored by 16.5 points. However, there are plenty of folks out there who think the Jayhawks are much more of a threat than Vegas projects.
So, this week, the HCS staff will answer one simple question: Are the Kansas Jayhawks a legitimate Big 12 contender, or are they just a pretender that got out to a hot start (again)?
Pete Mundo
Contender or Pretender: Contender
Even if they lose this week against Texas, the Jayhawks will be in contention the rest of the way in the Big 12. They are returning over 80% of their production, have 17 starters back, and have proven to be much improved in the trenches, where games are won. Also, it's not clear who is going to compete near the top of the Big 12 this year. Texas looks like the best team, as of today. We think Oklahoma is really good. But who else? So why not Kansas. They will be a contender.
Bryan Clinton
Contender or Pretender: Contender
It's only Week 5, and there are still several things to play out in the 2023 season, but I would caution you to fall into the trap of believing that this Kansas team will fall off a cliff like it did last season. Last year's squad couldn't hold a BYU team to nine yards rushing, nor did they show the ability to play legitimate defense when needed. While I don't believe they'll finish anywhere near the top of any statistical categories defensively, I think they've improved enough on that side of the ball to keep their offense in striking distance. With that being said, I look at what remains on KU's schedule and I can easily see an 8-4 or 9-3 finish, which makes them a contender.
Last year, teams figured out that they could run the football and keep the ball out of Jalon Daniels' (or Jason Bean's) hands, which neutralized their biggest weapon. This year, KU is finding a way to get off the field and that is huge. Now, as of right now, I don't have Kansas in the same tier as Texas and Oklahoma, but they are in the second tier of the Big 12 with K-State and TCU. The biggest thing that KU has going for it is still Jalon Daniels and the offense. Having excellent quarterback play alleviates a lot of problems, and having sub-par quarterback play can be detrimental to even the best teams (i.e. Alabama). With teams like Texas Tech, Baylor, and Oklahoma State down, Kansas has stepped up, and I think this team is a true contender.
Matthew Postins
Contender or Pretender: Contender
The cop-out is to say we find out this week against Texas. But, to be fair, you only have to finish among the Top 2 teams in the league to get to the Big 12 Championship game in December.
The fact is Kansas has passed every test so far. Before Leipold arrived they struggled to win FCS paycheck games. Now they're dominating those. They've rolled into conference play undefeated for the second straight year. They have dynamic skill position players like quarterback Jalon Daniels, running back Devin Neal and wide receiver Lawrence Arnold, and those are players Kansas has developed. Same goes for safety Kenny Logan Jr., who seems like he's been at Kansas forever. Much of their talent was there last season and they learned a lot from tailing off after their hot start.
This Kansas defense has allowed less than 300 yards per game in its first four games. That will take a ding this week, but the unit is not the pushover of years' past. The offense is among the Top 25 producers in yards and points per game.
Yeah, they're for real. Now being for real doesn't mean you'll win the conference. But it means you're part of the conversation.
Joe Tillery
Contender or Pretender: Contender
Kansas occupies the role of Texas Tech as the Big 12 Conference's dark-horse team in the 2023 season. While the majority of sports personalities thought that Joey McGuire and the Red Raiders would be in the spotlight quietly contending for a Big 12 title, Lance Leipold has occupied the space with back-to-back 4-0 starts which marks the first time Kansas has accomplished that feat since the 1910s. Leipold has the squad buzzing with a revamped defense, an impressive air-raid attack, First-Team All-Big 12 level players at the majority of skill positions, and one of the most balanced rosters in the country. While it may sound crazy to say that the Jayhawks have a comparable chance to take down the Texas Longhorns to that of the Alabama Crimson Tide in Week 5, reality can change in an instant in college sports and that's exactly what Kansas has proved. The Jayhawks look to be the real deal.