Big 12 News
Lance Leipold Emerging as 'Strong Candidate' For Michigan State Job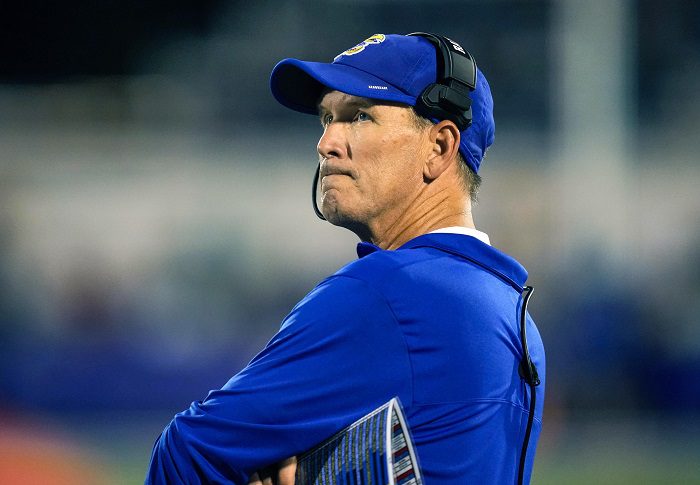 According to a report from Bruce Feldman of The Athletic, Kansas head coach Lance Leipold has emerged as a "strong candidate" for the Michigan State job in the early stages of their coaching search.
The Spartans are searching for someone to replace Mel Tucker, who was fired for cause on Wednesday following sexual harassment allegations that arose less than two years after he signed a 10-year, $95 million contract extension.
Meanwhile, Leipold and the Jayhawks are off to a 4-0 start and ranked No. 24 nationally heading into the biggest game of their season, a ranked matchup against No. 3 Texas in Austin.
This isn't the first time that Leipold has been mentioned in connection with the Michigan State job, as Feldman listed him as a potential candidate before Tucker was officially let go.
"[Lance] Leipold is practically a miracle worker for what he has done in Lawrence, Kan.," Feldman writes. "The 59-year-old from Wisconsin, who won six Division III national titles at Wisconsin-Whitewater before turning Buffalo into an AP Top 25 team, got the Jayhawks into the Top 25 last year after a putrid decade of football in Lawrence. This year, KU's off to a 3-0 start. This is a call if you're MSU, you probably have to make because Leipold is an elite football coach, and he has proven it everywhere he has been."
It would honestly be very surprising for Leipold to exit from Kansas after putting so much stock into what he's got in Lawrence and what is being built there after the success he's had to this point.
We likely won't know who will take over in East Lansing until after the season comes to an end, which means the Jayhawks fans will have to keep their fingers crossed for another couple of months.