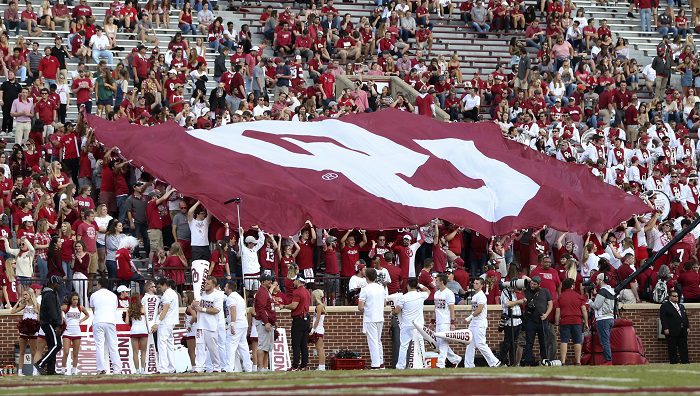 The Oklahoma Sooners rolled the Iowa State Cyclones 50-20 on Saturday night in Norman. The win moves Oklahoma to 5-0 on the season, while Iowa State fell to 2-3 with the loss.
But in the final couple of minutes of the game, Iowa State head coach Matt Campbell elected to use his timeouts, despite trailing by 30 points. Needless to say, it appeared to rile up some OU fans on social media, and at the game.
Here's some of the reaction from Norman.
Oklahoma fans yell "hot seat" at Matt Campbell as he goes up the tunnel.

Campbell points back and yells something back at the fans.

At least he didn't take any timeouts back to Ames with him I guess?

— Ryan Chapman (@_RyanChapman) October 1, 2023
Matt Campbell is the biggest loser on earth

— 𝙹𝙸𝙼𝙼𝚈 𝙶𝚁𝙴𝙴𝙽𝙱𝙴𝙰𝙽𝚂 (@soonersonly) October 1, 2023
Whole lot of booing from OU fans for Matt Campbell using all three timeouts down by 30

— Ryan Lewis (@RyanLewis_TFB) October 1, 2023
Psycho Matt Campbell taking time outs down 30…

— JG🏴‍☠️ (@SoonerJG) October 1, 2023
Matt Campbell coaching like he is in the running to be an analyst at UGA or Bama next year

— Donnie Hazlewood (@Dn4sty) October 1, 2023
Matt Campbell is so bush league for calling these timeouts

— Through the Keyhole (@KeyholePod) October 1, 2023