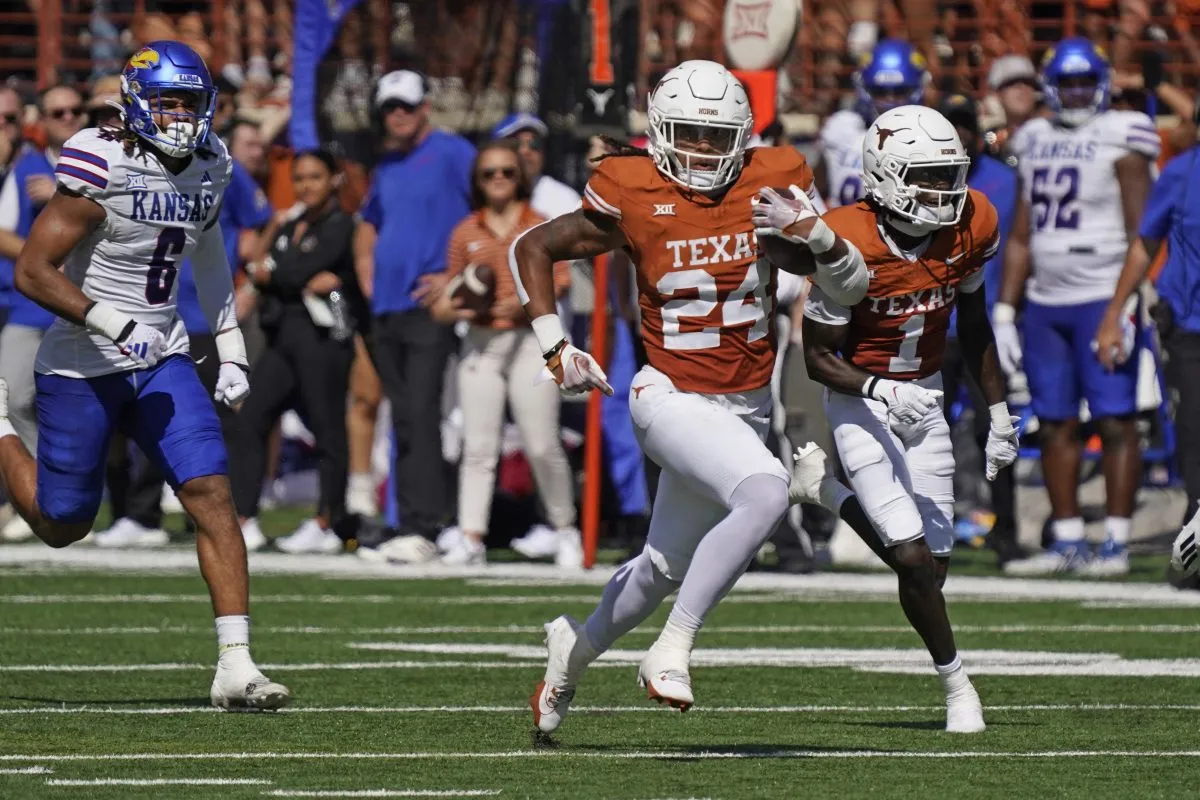 The Top 25 match up of the day in the Big 12 was down in Austin, Texas where the Texas Longhorns hosted the Kansas Jayhawks. Both teams started the day undefeated. The last time these two met in Austin, it was KU pulling off a miraculous win over UT 57-56 in overtime. But last season, it was Texas rolling the Jayhawks 55-14.
As for the 2023 version, UT ended up pulling away in the second half for a 40-14 victory. Here are three thoughts on the game.
Too Much Jonathon Brooks
Jonathon Brooks rushed for 218 yards for the Longhorns on 21 carries, along with two touchdowns. Brooks' total rushing yards were more than any Texas player had racked up in the last 20 seasons against an AP Top 25 opponent. The Hallettsville, Texas native is a former four-star prospect who had his coming-out party one season after taking over the starting role following the departure of Bijan Robinson to the NFL.
It's Brooks' third-straight 100-yard game as well as UT took advantage of KU's run defense and racked up 336 rushing yards on the day, averaging 6.6 yards per carry and part of a 661-yard output by the Texas offense.
No Jalon Daniels
We found out before the game that Kansas quarterback Jalon Daniels would miss the game after reaggravating his back injury. Jason Bean is a competent back up QB, but as the game went on, Daniels' presence was missed.
Bean struggled through the air, including early in the game missing some key passes in the flat, passes that are hard to argue Daniels would have missed. He finished 9/21 for 136 passing yards, with one touchdown. There was the fumble on a key 4th down in the third quarter, which was arguably the mistake of RB Daniel Hishaw, who did not allow Bean to pull the ball on the option.
But regardless, KU could not get its offense going, finishing 0-8 on third downs and 0-2 on fourth downs. KU got dominated on time of possession by a two-to-one margin.
But anytime you don't have the Preseason Big 12 Offensive Player of the Year, it's going to show and that's what we saw, especially as the game progressed, on Saturday.
Big 12 Hierarchy
One of the question posed during the Heartland College Sports roundtable this week, was the question as to whether or not Kansas is a Big 12 contender. I still think the answer is yes, mostly because this game may have played out differently without Daniels, and it's not clear who the No. 2 is in the Big 12 right now behind Texas.
It could be Oklahoma. It could be K-State. Could TCU come on strong as the season progresses? So, why not Kansas?
Texas plays Oklahoma in the Red River Rivalry next week, which will tell us a lot about both teams. This point that went viral on X, formerly Twitter, on Saturday, is not meant to be a knock on Texas, just a noted point that should not be overlooked.
Texas has now faced

3 time transfer JT Daniels
Bamas worst qb in 15 years
Wyoming's back up
Baylor's back up
KU's back up

— jagercrombie (@Jertriot) September 30, 2023
It will be a great match up next week, as we will find out a lot about both teams in one of the best rivalries in college football.