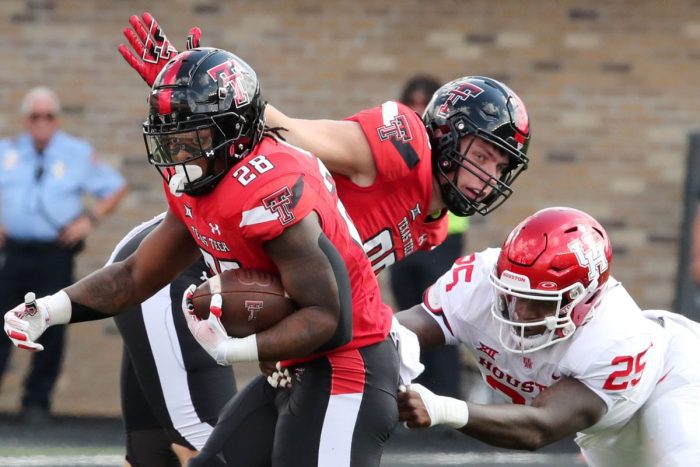 Houston and Texas Tech played out like a game from a decade ago, and it just felt right. Plus, on a day when Texas Tech was honoring their 2023 Hall of Fame inductees, the Pirate King, the late Mike Leach, must've been smiling down as his former team scored the most points they have all season and looked good doing it.
Here are three thoughts on Texas Tech's 49-28 win over Houston.
Red Hot Quarterbacks
After a good showing last week against Sam Houston, Houston's Donovan Smith played his best game of the season with 335 yards and four first-half TDs, which made me think that we were going to be in for an all-time revenge game. Smith filled in for, ironically, an injured Tyler Shough last season at Tech. Houston was down 35-28 at halftime, but in the second half, it felt like the Cougars' offense didn't know that. I blame coaching because Smith looked like the better quarterback all afternoon.
Shough had his surgery Tuesday after breaking his left fibula last week, which meant it was Behren Morton time. The sophomore was outdueled by Smith, but finished the day with 161 yards and two touchdowns. I don't think Morton has to be a quarterback who throws the ball 40 times a game because… 
Run, Run, Run the Ball
…the Texas Tech running game looked like the best in the conference. That's in part because of the defense by Houston (we'll get there), but also because of Tahj Brooks. Brooks had his third-straight 100+ yard rushing game (106 and a touchdown). Add in Cam'ron Valdez, who finished with 106 yards on just five carries and the Red Raiders had it working in the ground game. 
Because the Red Raiders were able to run the rock, you'd think they'd be able to own the clock, but that wasn't the case. The Cougars won the time of possession battle 35:00 to 24:00.
Special Teams Stuffing the State 
The Texas Tech defense played as well as they have all season, forcing four punts in the second half and keeping the Cougars off the scoreboard. But the special teams are what made the highlight reel. Drae McCray was able to score on a 100-yard kick return to tie the game back up before the Red Raiders offense even had a chance to come on the field.
MCCRAY TO THE HOUSE ‼️ He is SPEED! @TexasTechFB x @draemccray24 pic.twitter.com/kotR9bdaZ6

— FOX College Football (@CFBONFOX) September 30, 2023
Then in the second quarter, Tech blocked a punt for a touchdown to give them their first lead of the game, one they never gave back. 
The Red Raiders secured their first win in conference and may have built some confidence going forward with a road game coming up against Baylor. Houston hosts Dana Holgorsen's former team, West Virginia, after a bye week.