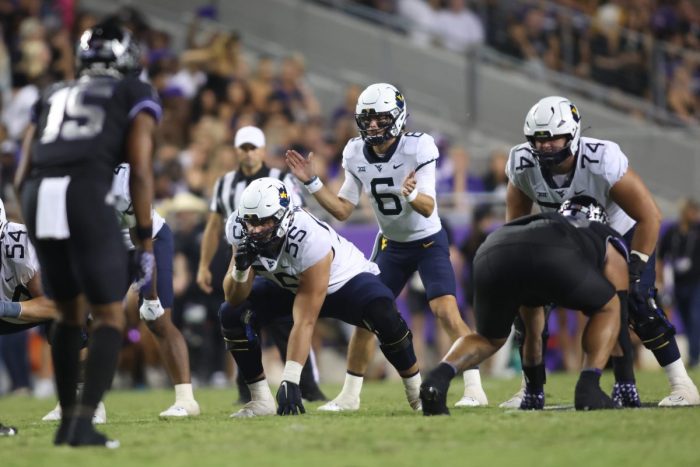 TCU hosted West Virginia on Saturday night in Week 5 of the college football season. Both teams came in with identical 3-1 records, while each program was looking to improve to 2-0 in Big 12 play. But on Saturday night, it was West Virginia riding its impressive defense to a 24-21 win over TCU in Fort Worth.
Here are three thoughts on the game.
Welcome Back, Garrett Green
West Virginia welcomed back Garrett Greene at quarterback and he had his best game of the season. Heck, it was the best game I've ever seen Greene play. Greene returned from an ankle injury suffered against Pittsburgh and finished 10 of 21 for 142 yards, while rushing it 12 times for 81 yards and two touchdowns. You may not be impressed by that stat line, but he had some big throws when he needed them, including to Hudson Clement, Kole Taylor and EJ Horton.
He was clearly the leader WVU needed in the most important moments of this game as the Mountaineers get one of its best wins during Neal Brown's tenure.
That Third Quarter and WVU Defense
West Virginia dominated the third quarter in Fort Worth. They began the second half trailing 21-14 after TCU had put up a quick touchdown in less than 90 seconds late in the first half. But in the third quarter, West Virginia dominated with 129 total yards and seven points, while TCU had a total of 11 plays with 1 net yard, good for less than .1 yards per play.
The Mountaineers continue to shut down TCU in the fourth quarter and with the game on the line, it was the defense stepping up once again, including on the final drive when on a key third down on TCU's last drive, the Mountaineers were able to get pressure to Chandler Morris with just a three-man rush against a strong Horned Frogs offensive line.
For the game, WVU's defense had five sacks and nine tackles for loss, while holding the Big 12's leading rusher, Emani Bailey, to 19 carries for 55 yards.
West Virginia's Shocking Start
The Mountaineers have now won four games in a row for the first time since 2018, meaning its the first time under head coach Neal Brown. Despite being outgained in this game, Brown's team played another clean game. The Mountaineers came into the week leading the Big 12 with fewest penalty yards, and on Saturday night they had just two penalties for 10 yards, while TCU had seven for 39 yards. WVU also had zero turnovers. That's a credit to Brown and his coaching staff.
WVU's season opened with a big loss to Penn State, and many of us wondered if Brown was a dead man walking. As it turns out, WVU has been the surprise of the Big 12 so far this season as the calendar turns to October. And when you look ahead to the next two games against Houston and Oklahoma State, the Mountaineers suddenly appear to have more winnable games in front of them.