Baylor Bears
Five Biggest Takeaways From Week 5 of the Big 12 Football Season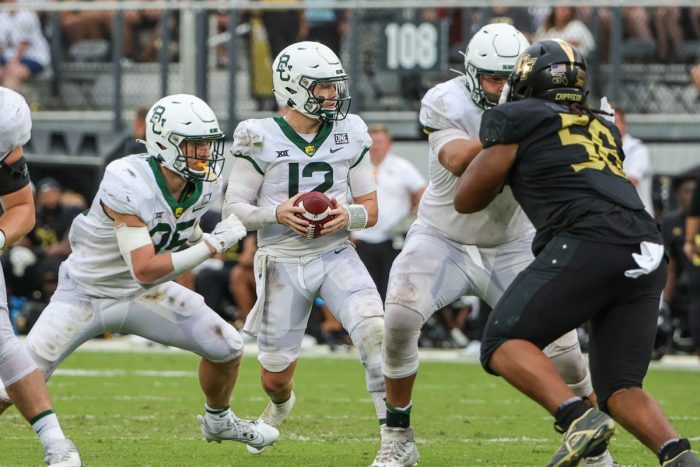 Week 5 of the Big 12 football season is in the books as the college football season gets into the thick of conference play. There were six games on the docket, and there were some impressive performances, such as Texas and Baylor, while UCF, Iowa State and Kansas were some of the more disappointing teams of the weekend.
So with another great week in the books, here are the five biggest takeaways from Week 5 in the Big 12 Conference.
What Happened in Orlando?!
No, I'm not talking about DJ Pauly D's performance. I'm talking about Baylor's 29-point comeback against the Knights to pull off an improbable 36-35 victory. At one point, UCF had a 99.9% chance of winning the game, late in the third quarter.
At the :37 mark in the third quarter, UCF led Baylor 35-10 and had a 99.9% chance of winning the game.

Then they lost.

STORY: https://t.co/vh4QyrWbBd pic.twitter.com/dqu4o4MG89

— Heartland College Sports (@Heartland_CS) October 1, 2023
Well, then the fourth quarter happened as Baylor erased the enormous deficit to win the game and take an incredible amount of heat off of Dave Aranda, for now. It was UCF's largest comeback loss in program history and Baylor's biggest comeback win in program history.
Blake Shapen, in his first game back from an MCL injury, had a strong performance, finishing with 293 yards through the air on 21-of-34 passing. Monaray Baldwin was the Bears leading receiver with seven receptions for 150 yards and a touchdown.
When did this game change? I'm going to point to the third quarter drive by Baylor down 35-7. On a key 3rd and five, Shapen hit Drake Dabney for a 10-yard play on a tough, seemingly underhand throw (I wish I could find the highlight). Baylor then elected to kick a field goal later in the drive, which had some Baylor fans all bent out of shape, but it started the comeback. Baylor then picked off Timmy McClain and scored two-straight offensive touchdowns, then had a fumble return for a score, which was followed by the game-winning field goal.
Hi Friday Night Lights
Get used to it Big 12 fans.
BYU and Cincinnati kicked off from Provo, Utah at 9:15 CST on Friday night. For those of us with early wake-up calls Monday through Friday, this was not easy. But with Arizona, Arizona State, Utah and Colorado joining the Big 12 next season, these late kick offs are only going to become more frequent, and expect the Big 12 to lean into Friday night action. There typically is not a lot of competition for quality live sports on Friday evenings, so ESPN and FOX may view the Big 12 as a prime candidate to fill some of their inventory. And it might work well for the Big 12 too. The league would get featured in some Friday night prime slots on ESPN or FOX vs. sitting with games on ESPNU or FS2 during a busy Saturday.
But just know, that this is only going to continue as the Big 12 enters a new era in 2024.
Is West Virginia for Real?!
The Mountaineers are now 4-1 after beating TCU 24-21 on Saturday night in Fort Worth. This WVU team was able to come from behind on multiple occasions in this game, as Garrett Greene's return gave this team a confidence boost to make some plays that needed to be made to win on the road.
But the defense remains the star of the show at WVU, with West Virginia piling up five sacks and nine tackles for loss against a stout TCU offensive line. WVU held the Big 12's leading rusher Emani Bailey to just 55 yards.
West Virginia dominated the third quarter in Fort Worth. They began the second half trailing 21-14 after TCU had put up a quick touchdown in less than 90 seconds late in the first half. But in the third quarter, West Virginia dominated with 129 total yards and seven points, while TCU had a total of 11 plays with 1 net yard, good for less than .1 yards per play.
That defense travels and now WVU is officially the shocker of the Big 12 thus far.
Texas is (Almost) Back
The Longhorns are 5-0 for the first time since 2009 after crushing Kansas on Saturday. UT absolutely manhandled KU on Saturday to the tune of 661 total yards to KU's 260. Texas controlled the ball for 40 minutes, while Kansas went 0 for 8 on third down. On top of that, Texas ran more plays in Kansas territory than Kansas ran all day.
There's no doubt Texas looks like one of the best teams in the country. However, UT has gotten fortunate in who they've faced at quarterback. On Saturday, Jalon Daniels was a late scratch after reaggravating his back injury. Texas has also faced Baylor and Wyoming's back-up quarterbacks, three-time transfer JT Daniels and Alabama's toughest quarterback situation in 15 years.
That's not taking anything away from them, but just simply noting this as the QB play steps up in a big way next week against Dillon Gabriel and the Oklahoma Sooners.
No, Matt Campbell's Seat Isn't Hot
Type "Matt Campbell hot seat" into X, formerly Twitter, and you'll get plenty of commentary. And it remains one of the stupidest things going right now.
There's no doubt that Iowa State needs to get this program back on track under Campbell. But this guy, who led Iowa State to a Big 12 Championship Game in 2020, has not forgotten how to coach. It was another ugly Saturday for ISU in a 30-point loss to Oklahoma in Norman. But let's be serious here, Matt Campbell is the greatest coach in Iowa State football history, and it's not close.
Iowa State is the kind of program that should feel like a bowl game is an expectation, while every 4-5 years, with the right set of veterans, transfers, etc. they can be in the Big 12 title hunt in the final month of the season.
That isn't settling, that feels like a realistic expectation. And based on what Campbell has done there, he deserves plenty of time to right the ship. And by the way, he will, regardless of what some big mouths think.