Baylor Bears
Big 12 Football Week 5: The Good, the Bad, and the Ugly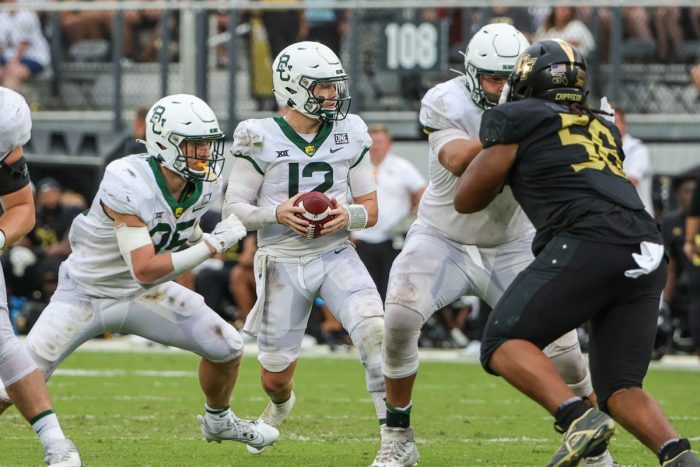 Week Five is officially in the books as the Big 12 Conference had yet another exciting weekend. The action started on Saturday afternoon and ended late Saturday in Fort Worth. Here is the good, bad, and ugly from Week Five in the Big 12.
The Good
BYU Found a Way (Beat Cincinnati 35-27)
This BYU team is tough to figure out. Sometimes they look good and sometimes they look horrible. But does it really matter as long as you win? The Cougars did little offensively for the first 29 minutes of the game until Kedon Slovis led a three play 82-yard touchdown drive with just six seconds left in the first half. That drive gave life to the offense, which ended up scoring touchdowns on their first two drives of the second half. Then in the fourth quarter, LJ Martin ran one in for a score to give BYU a 35-20 lead and held on for the win. The defense got a pick six early in the game and the offense did just enough to get the job done. Congrats on the conference home opener win BYU. Provo was rocking.
The Second Half from Texas (Beat Kansas 40-14)
It's no secret that the Longhorns have had some slow starts in games this season. It seems like they are a bit sloppy in the first half before waking up. The good news is that when they do wake up, they are one of the best teams in the country as Texas outscored Kansas 27-7 in the second half. Surprisingly, it wasn't Quinn Ewers and the passing game for Texas, it was the rushing attack that seems to get better each week. Jonathan Brooks led the Longhorns with 218 yards and two scores as Texas rushed for 336 yards on the day. When you can run the ball like that you can beat just about anyone. Plus, it helps when your defense doesn't allow your opponent to convert a single third or fourth down all game.
Texas Tech Special Teams (Beat Houston 49-28)
It's not often you see two special teams scores by one team in the same game, but Texas Tech found a way to do it. First, Drea McCray ran a kickoff back 100-yards before Tech blocked a punt for a score later in the game to give them the lead. Along with their superb special teams play, the offense got the job done on the ground as the Red Raiders had two 100 plus yard rushers in Tahj Brooks and Cam'Ron Valdez. After a rough start to the season, it felt like Texas Tech finally looked who we though they were going to be. However, the schedule only gets tougher from here.
Baylor's Miracle Comeback (Beat UCF 36-35)
The Baylor Bears played about as poor as a team could play for three quarters. They gave up a ton of big plays early on and had a costly turnover that costed them six. Yet despite being down 35-7 with under four minutes left in the third quarter, the Bears just kept chipping away. Little by little, Baylor made plays. In fact, they scored on every drive in the second half including a big 72-yard fumble return by Caden Jenkins to pull the Bears within two points. Then on their final drive, Blake Shapen hit Monoray Baldwin for a big gain to set up the go-ahead field goal. From there, the defense held on for the win. In the end, Baylor scored 26 points in the fourth quarter to complete their largest comeback in school history. I am not sure if we will ever see anything like that again and since I was at the UCF vs. Baylor game, it will be one I never forget.
Oklahoma's Offense (Beat Iowa State 50-20)
While the defense had some bad moments in the first half, the offense picked up the slack. Dillon Gabriel threw for 366 yards and three touchdowns against a good Iowa State defense. He did a good job of spreading the ball around and the Sooners were also able to control the game a bit by running the football. I will say that the defense made some great second half adjustments that put this game away for good.
It's time to Trust the Climb (West Virginia Beat TCU 24-21)
Before the season started, nobody (including myself) gave this team a chance. This was a huge opportunity for West Virginia as they were double digit underdogs going into Fort Worth. But the Mountaineers did what they do best which is run the football and play stingy defense. Garrett Greene didn't have to do anything fancy as the ground game was working as West Virginia rushed for over 200 yards and held the ball for nearly 34 minutes of the game. Meanwhile, the defense got key stops when they needed to and shut out TCU's offense completely in the second half. If you haven't already, it's time to buy in.
The Bad
Cincinnati Can't Get Out of Their Own Way (Lost 35-27 to BYU)
Much like their opponent, the Cincinnati Bearcats have had their moments this season. Offensively, the Bearcats have had trouble finding the end zone. Their second quarter touchdown broke a drought that dated back to the Miami of Ohio game two weeks ago. And once again, Emory Jones made a costly mistake by throwing a pick six to start the game. Combine that with a special teams miscue and inconsistency in the secondary and that doesn't give you a good chance to win any game. Especially on the road in a place like Provo. This team needs to figure out a way to get out of their own way because the mistakes are killing them right now.
Kansas Needs Jalon Daniels (Lost 40-14 to Texas)
I was completely caught off guard when the news of Jalon Daniels broke. Not long before the game, it was announced that the starting quarterback for the Jayhawks would be out due a lingering back injury. And while Jason Bean did a decent job keeping Kansas in the game for a half, it just wasn't enough to keep up with Texas for four quarters. The defense gave up over 300 yards on the ground and the offense failed to convert a single third and fourth down attempt. Ouch.
Houston Still Has a Problem (Lost 49-28 to Texas Tech)
I find it wild that Donovan Smith throws for 335 yards and four touchdowns and Houston still ends up losing by three touchdowns. To be fair, I won't blame this game on the offense. It was the poor defense and special teams that cost Houston the game. They couldn't slow down Texas Tech's rushing attack and the special teams gave up two touchdowns. You can't do those things and expect to win on the road or anywhere for that matter.
TCU's Second Half (Lost 24-21 to West Virginia)
The Horned Frogs had their chances to win this game, but they totally mismanaged time towards the end. After a close third down conversion in West Virginia territory, Sonny Dykes kept his offense out on the field before decided to rush the field goal team out with just a little over ten seconds left on the play clock. And instead of using one of his three timeouts, they rushed the kicked and it got blocked. Then on the final drive of the game Chandler Morris was sacked twice. That is just flat out unacceptable and of course their final field goal attempt was blocked as well.
Iowa State's Defense (Lost 50-20 to Oklahoma)
If there was one thing I would have counted on for Iowa State in this game, it would have been their defense. Instead, it was there offense in the first half that surprised me by scoring 20 points. Unfortunately for Iowa State, their defense was torched for almost the entire game. They couldn't get pressure on Dillon Gabriel and their secondary got picked on quite a bit. There were some positive takeaways offensively, but the defense did not play well enough at all which caught me off guard.
The Ugly
UCF's Blown Lead (Lost 36-35 to Baylor)
Sometimes I have a lot to say and sometimes I am left speechless. This is one of those teams where I am speechless. Well, almost. UCF played an excellent game for nearly three full quarters before folding up like cheap tent. This team was up 35-7 with four minutes left in the third quarter. To blow a lead like that is unheard of and I may not ever see something like this happen again in my lifetime.
UCF's defense couldn't stop Baylor's offense at all in the second half and while that was happening, the offense completely stalled out. Timmy McClain did not look like the guy we saw in the first half and that fumble that went the other way for a score was costly to say the least. It was an interesting call on third down to snap it to your running back who ended up fumbling the snap. There was nothing that went right for UCF in the final 20 minutes of this game, and it may have been the biggest lead I have ever seen blown. In fact, you would have to go all the way back to 2017 when UCLA made that miracle comeback against Texas A&M.