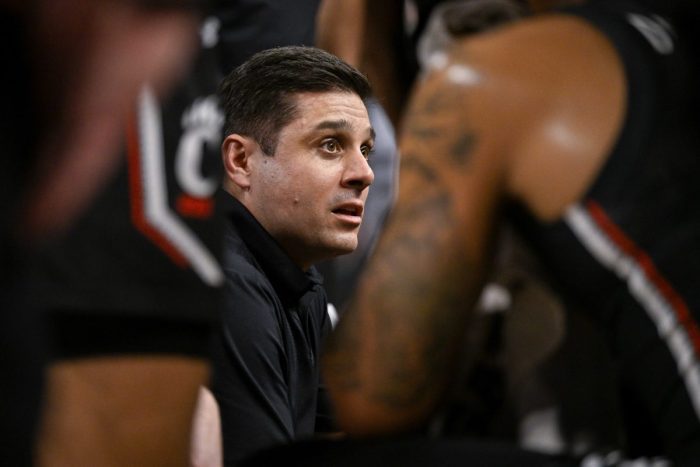 The Cincinnati Bearcats are preparing for the 2023-24 men's basketball roster and below is a preview of every player on the roster entering November's opening game.
Below are the returning players, the transfers and the freshmen that will play a role in Cincinnati's upcoming season.
Expected to Return
Sage Tolentino
The 7-foot-1 forward could make a bigger impact this season for Cincinnati after only playing a total of eight minutes last season due to a medical redshirt.
John Newman III
The 6-foot-5 wing only got to play in one game last year as a fifth-year senior as an injury suffered against Chaminade ended his season. He's on the Bearcats' roster, which would lead one to believe that he got the injury waiver to play this season that the Bearcats were hoping for. As a senior in 2021-22, he averaged 6.9 points and 4.2 rebounds.
Ody Oguama
The 6-foot-9 forward is back on a COVID waiver after he averaged 5.5 points and 5.4 rebounds a year ago. He started 21 of Cincinnati's games. He's never averaged double-digits in scoring in a season.
Dan Skillings Jr.
The 6-foot-6 sophomore guard should play a bigger role for the Bearcats this season after playing in nearly every game as a true freshman. He only averaged 5.3 points and 3.3 rebounds but did so in 14 minutes of action. He's capable of getting into double figures and did it four times last season (one of those games was a double-double against Bryant). And when Skilling scored in double figures Cincinnati was 4-0. Coming out of high school he was a Top 50 recruit and one of the first players coach Wes Miller was able to bring in on the back of the school's commitment to the Big 12.
CJ Anthony: In high school, he scored more than 2,000 points. But in two seasons with the Bearcats, the 6-foot guard hasn't been able to make much of a dent on the floor. He's played in just 24 games in two seasons. Is this the year Anthony finally gets significant playing time?
Josh Reed
The 6-foot-7 guard was a true freshman last season and came in as a Top 150 player in the nation. He didn't get much playing time and averaged fewer than two points per game. As a sophomore, he's looking for an increase in playing time and the Bearcats hope he can make an impact.
Chase Kirkwood
The 6-foot-1 walk-on guard played in nine games last year. He was a former team manager before earning the walk-on spot.
Viktor Lakhin
The 6-foot-11 redshirt junior is going to be hard to handle after he averaged 11.6 points and a team-high 7.1 rebounds last season. He started nearly every game and his 61.7 percent shooting from the floor was Top 15 in the country. He also blocked 1.4 shots per game. He'll immediately be one of the most imposing interior players in the Big 12 this season.
Arrivals Via Transfer
G C.J. Fredrick
In April the 6-foot-3 guard announced he would transfer from Kentucky and play his final season with the Bearcats. He's hoping for more opportunity to produce. With the Wildcats he averaged just 6.1 points and 1.5 assists per game. Injuries have also been an issue. He missed the entire 2021-22 season with surgery for a left hamstring injury. Before Kentucky, he played three seasons at Iowa and topped out at 10.2 points per game with the Hawkeyes in 2019-20. He's capable of producing, but the backcourt looks crowded and talented.
The 6-foot-10 senior transferred in from Temple in April. He brings with him a solid 2022-23 in which he averaged 10.1 points and 5.4 rebounds on 60.4 percent shooting. He only played 22 games last season, but his numbers at Temple represented a significant jump from 2021-22 (3.4 points and 2.0 rebounds). Reynolds should complete for a starting role on a team that has limited frontcourt experience.
Simas Lukošius
The 6-foot-8 guard/forward transfer from Butler could be an answer for the Bearcats on offense. He averaged 11.6 points last season for the Bulldogs and also had 2.9 assists per game. He was a productive player in two seasons with Butler and now he'll try and boost the Bearcats' chances to be successful in their first Big 12 season.
Landen Long
The 5-foot-11 guard played four years at Ohio Northern, a Division II school. He is transferring after averaging 10.9 points last season for the Polar Bears. He is a 39 percent shooter from the 3-point line, which could make him a good rotational asset off the bench.
Aziz Bandaogo
The 7-foot forward was one of the best transfers of the offseason and the Bearcats landed him. With Utah Valley he was the WAC Defensive Player of the Year, helped the Wolverines to a program-record 28 wins and NIT Final Four appearance and averaged 11.4 points and 10.5 rebounds per game. He was also third in the nation in blocked shots (106) last season. He can step into a starting role right away in America's best conference.
Day Day Thomas
It will be an intriguing transition for the 6-foot junior and former juco product from Kilgore (Texas) College, where he averaged 19 points, six rebounds and 3.1 assists per game for the Rangers. He also led the team in steals last season with 37. A group of Big 12 schools were after him, along with Texas A&M, Arizona State and Memphis. He carries with him a redshirt, so he can sit and transition from NJCAA to NCAA without losing any time.
Class of 2023 Recruits
G Jizzle James
Out of Olympia High School (Orlando, FL), the 6-foot-1 James was signed as a Top 100 player per 247Sports. That puts him in position to make a contribution in his true freshman season. He's picked up several accolades including MVP honors at the Nike EYBL's fourth and final circuit in Kansas City. He chose Cincy over Florida and Georgia.
F Rayvon Griffith
The 6-foot-7 swingman played his last season of prep ball at Compass Prep (Chandler, AZ), but he's a Cincinnati native and played at Taft High School before transferring to Compass Prep. He's another Top 100 player in the 2022 class and was considered one of the top shooting guards in the entire class. Like James, he should push for playing time right away.
Starting Five: Bandaogo, Skillings, Fredrick, Lakhin, Newman
First Four off Bench: Long, Reynolds, Lukošius, Anthony
You can find Matthew Postins on Twitter @PostinsPostcard