Trending Now
Look: Matt Campbell Yells Back at Oklahoma Fans Chanting 'Hot Seat'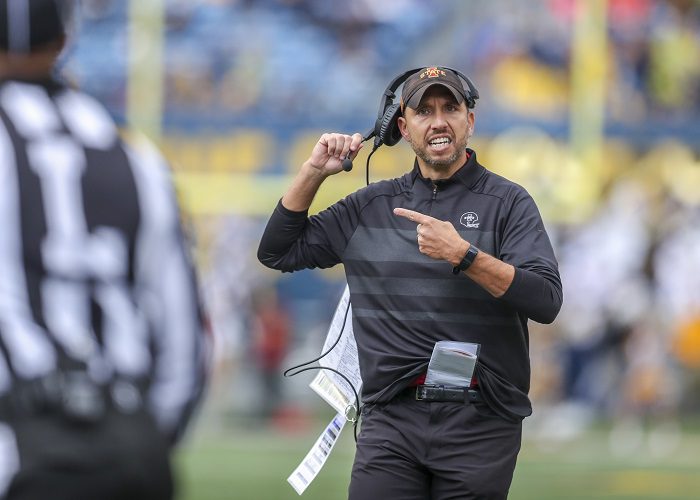 For the second time in three weeks, Matt Campbell has voiced his displeasure with fans giving him grief over Iowa State's losses.
Two weeks ago, Campbell went viral for yelling back at a fan who told him he was on the hot seat. He had to be restrained by coaches and players from giving that fan a piece of his mind.
Matt Campbell = a little heated pic.twitter.com/62BGFLIkTP

— 𝐊-𝐒𝐭𝐚𝐭𝐞 𝐖𝐢𝐥𝐝𝐜𝐚𝐭 𝐅𝐚𝐧 𝐏𝐚𝐠𝐞 (@KStateWildcatFP) September 16, 2023
During the week, Matt Campbell responded by saying, "Emotion got the best of me. At the end of the day, I'm not perfect. Got to have a better response from my end."
Well on Saturday, after Oklahoma trounced Iowa State 50-20, some OU fans decided to heckle Campbell with their own chants of "Hot Seat!" Campbell was running into the tunnel after the game and clearly heard the fans and appears to have yelled something back to them as he pointed in their direction.
Here's the video.
Campbell's postgame comments about being on the hot seat pic.twitter.com/OZ0nI72UoK

— jake burton (@_jakeburton) October 1, 2023
There's no doubt it's been a tough go of it since the 2020 Big 12 Championship Game. Iowa State underachieved with many of the same pieces back in 2021 and then won one Big 12 game last year. ISU is off to a 2-3 start this season, including the bad loss at Ohio and a 30-point loss on Saturday.
But to suggest Campbell is on the hot seat is insane. Matt Campbell is the greatest coach in Iowa State football history, and it's not close. Iowa State is the kind of program that should feel like a bowl game is an expectation, while every 4-5 years, with the right set of veterans, transfers, etc. they can be in the Big 12 title hunt in the final month of the season.
That isn't settling, that feels like a realistic expectation. And based on what Campbell has done there, he deserves plenty of time to right the ship.