Big 12 News
Oklahoma Continues to Climb in Week 6 AP Top 25 Poll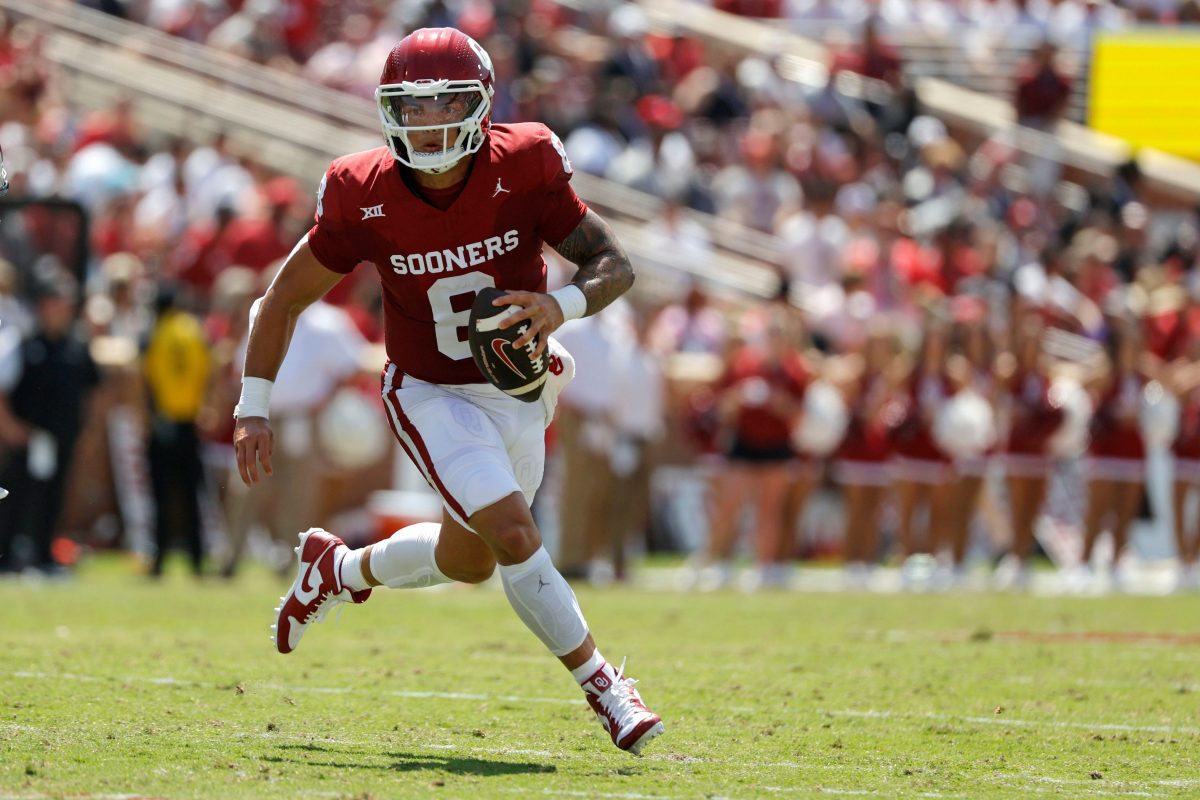 Following an impressive slate of football games in the Big 12 Conference during Week 6 of the college football season, two teams from the previous week remained in the AP Top 25 with one team falling out after a big loss.
The Oklahoma Sooners have had an impressive start to the 2023 season climbing to 5-0 record after a 50-20 blowout win over Matt Campbell and Iowa State. The team has continued to climb through the AP Poll as Brent Venables' squad started the season off at the No. 20 spot before advancing to No. 12 five weeks later.
The Texas Longhorns stayed in the same spot as the previous week at No. 3 on the list after beating the Kansas Jayhawks, who entered the AP Top 25 in the previous week at No. 24. Texas knocked Kansas off at home 40-14 to push them out of the Top 25.
Kansas State (44), West Virginia (5), and Kansas (1) all received votes in this week's poll.
Here's a look at the entire poll, courtesy of the Associated Press.
AP TOP 25 POLL: WEEK 6
| Rank | Team |
| --- | --- |
| 1 | Georgia (5-0) |
| 2 | Michigan (5-0) |
| 3 | Texas (5-0) |
| 4 | Ohio State (4-0) |
| 5 | Florida State (4-0) |
| 6 | Penn State (5-0) |
| 7 | Washington (5-0) |
| 8 | Oregon (5-0) |
| 9 | USC (5-0) |
| 10 | Notre Dame (5-1) |
| 11 | Alabama (4-1) |
| 12 | Oklahoma (5-0) |
| 13 | Washington State (4-0) |
| 14 | North Carolina (4-0) |
| 15 | Oregon State (4-1) |
| 16 | Ole Miss (4-1) |
| 17 | Miami (4-0) |
| 18 | Utah (4-1) |
| 19 | Duke (4-1) |
| 20 | Kentucky (5-0) |
| 21 | Missouri (5-0) |
| 22 | Tennessee (4-1) |
| 23 | LSU (3-2) |
| 24 | Fresno State (5-0) |
| 25 | Louisville (5-0) |
OTHERS RECEIVING VOTES: Maryland 81, Kansas St. 44, Texas A&M 31, UCLA 19, Tulane 8, Air Force 7, Wisconsin 6, Clemson 5, West Virginia 5, Kansas 3, James Madison 3, Colorado 1