UCF Knights
UCF, Not Disney World, is Really the Happiest Place on Earth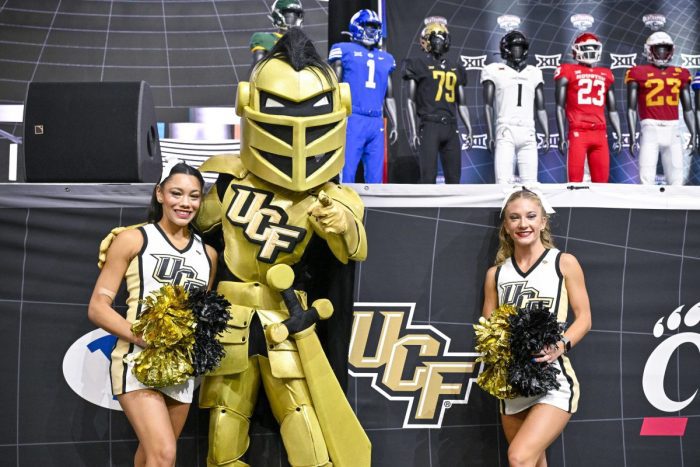 Before the season even began, the staff at Heartland College Sports was discussing who and how we could get to each of the new Big 12 program's conference openers. Without hesitation, I volunteered to head to Orlando for UCF's conference home opener against Baylor.
It's been a trip that my wife and I had been looking forward to for some time. We planned to spend a few nights in Orlando before checking out Daytona Beach for a couple of days. When the plane wheels touched the ground around 11:15 a.m. local time on Friday, I had finally arrived in Orlando.
Of course, the first thing on my mind when I arrive at my vacation destination is, "Where can I get a drink?" Luckily, I didn't have to look too far because I found a great local place in Sideward Brewing Company. The food was excellent, and the beer was cold. I mean, what more can I ask for?
After lunch, the wife and I decided to drive around for a bit to check out some local scenery. From the Milk District to Lake Ivanhoe Park, we built up our thirst and made our way over to Ivanhoe Park Brewing Company for Round Two.
And just like Sideward Brewing Company, this place had outstanding beer. In fact, this may have been one of my favorite breweries I have ever been to when it comes to the beer itself.
As the day went on, we decided to stop by Otto's High Dive for a happy hour drink. This place was highly-recommended by several folks in Orlando. And let me tell you, it did not disappoint. There I had some of the best craft cocktails you can find for under ten bucks. If you are ever in Orlando, be sure to give this place a try and see if Frank is behind the bar because I dare you to find a better bartender than him.
To cap off a great Friday night, the final stop was for dinner at Lazy Moon Pizza. Being from Texas, I thought everything was bigger in the Lone Star State, but I was not prepared for the pizza sizes here.
I mean just look how freaking big this delicious slice was. We also saw plenty of people balancing the 30" to-go pizza boxes to go on the top of their heads.
With Friday in the rear view, it was time for the entire reason for this trip. Gameday.
UCF Gameday
Normally, I would sit in the press box and get a media pass, but I decided to sit in the stands with my wife and get a true gameday feel inside and out. And as crazy as it may sound, I haven't sat in the stands of a college football game in nearly ten years, so what better way to break that streak that at a game like this?
Now it was time to make our way to the stadium. While there were plenty of parking options around the stadium, we used the park and ride which was FREE! You simply park, a bus picks you up and drops you off. As soon as we were dropped off, you walk right into the wonderful UCF tailgate scene.
Everywhere you looked there was a tailgate full of people having a great time. My wife was wearing a Baylor shirt (don't ask why) and I cannot tell you how many people thanked her for being there to visit. Neither one of us saw that coming. It was a total surprise.
As we made our way through the tailgates, we found ourselves at Memory Mall which is where all the students tailgate. I could say that it smelled like pee, beer, and vape pens, but you know what I say? It smells like college football, and I loved every bit of it. It felt like Memory Mall was never ending because of how many people were there.
After walking through all the craziness there, we went back to the alumni side and met up with UCF tailgate host and UCF graduate Neal Surrena. I got a chance to speak with him about just how far UCF's football program has come over the years.
Fan Reaction
"My mom went to school here back in the 80's and they had to take a bus downtown to go to an off-campus stadium." Neal said. "Back then UCF was known as a commuter school. Now you see for yourself that there are tens of thousands of people here to watch a UCF game. I can remember being a student here years ago and being in the front row of the student section and there wouldn't be more than a few dozen people. Now they are having to turn away students because everyone is trying to get in."
As for the tailgating scene, Neal said "The lots aren't allowed to open until 9:30 a.m. I decided to come here at 8:15 in the morning to set up and there were already tailgate tents all over with drinks and music flowing."
Neal was kind enough to give us a round of drinks and if you are a UCF fan looking for a button, then Neal is the man to see so be sure to give him a shout (@BouncyButtonCo).
Now that we were fueled up, it was time to make our way to the Pauly D concert. We walked through East Plaza Drive, and it felt like walking through a movie set.
Thankfully, Burger U sold beer to go so of course we had to grab one before Pauly D. And speaking of Pauly D, you could hear the music from a mile away. We turned the corner, and the place was jumping (literally).
Before heading inside, we were told to watch the band march into the stadium. And boy, was I glad we did.
As the band marched their way through the street, it was finally time to enter the stadium. The first thing I did should surprise nobody. I grabbed one of these bad boys.
Walking to our seat was easy and there were tons of great food and drink options everywhere. Plus, there were restrooms all around and water filling stations as well to stay hydrated.
Inside the Stadium
Once we got to our seats, it didn't take long for us to realize why this place was called the Bounce House. The stadium literally shakes all game long.
The energy inside the stadium was electric and you could easily tell just how excited people were for this moment. The crowd had plenty to cheer about early on. The sun was behind the clouds and there was a cool breeze throughout the game. Unfortunately, for UCF fans they didn't get the ending they wanted due to their team blowing a 35-7 lead to Baylor.
Despite the sour outcome, UCF fans were still positive, for the most part. As we headed back to the bus to drop us off, people were just as friendly after the game as they were before it.
Tired, hungry, and thirsty, there was only one final move left to make. That of course was a second trip to Lazy Moon Pizza to grab a slice and watch even more college football.
After dinner, we decided to call it a night and head back to our hotel so I could get a little work done. As I am sitting here typing this, I can't help but smile. Sure, UCF didn't get their fairytale ending today, but I learned something on my trip here. UCF belongs in the Big 12 and the conference should be thrilled to have a school and program of this caliber. From the tailgate to the stadium experience, it was a 10/10.
I have been to Orlando a few times and each trip has resulted in me going to Disney World. People always say that Disney World is the happiest place on earth. To those people, I would say, have you been to a UCF game?