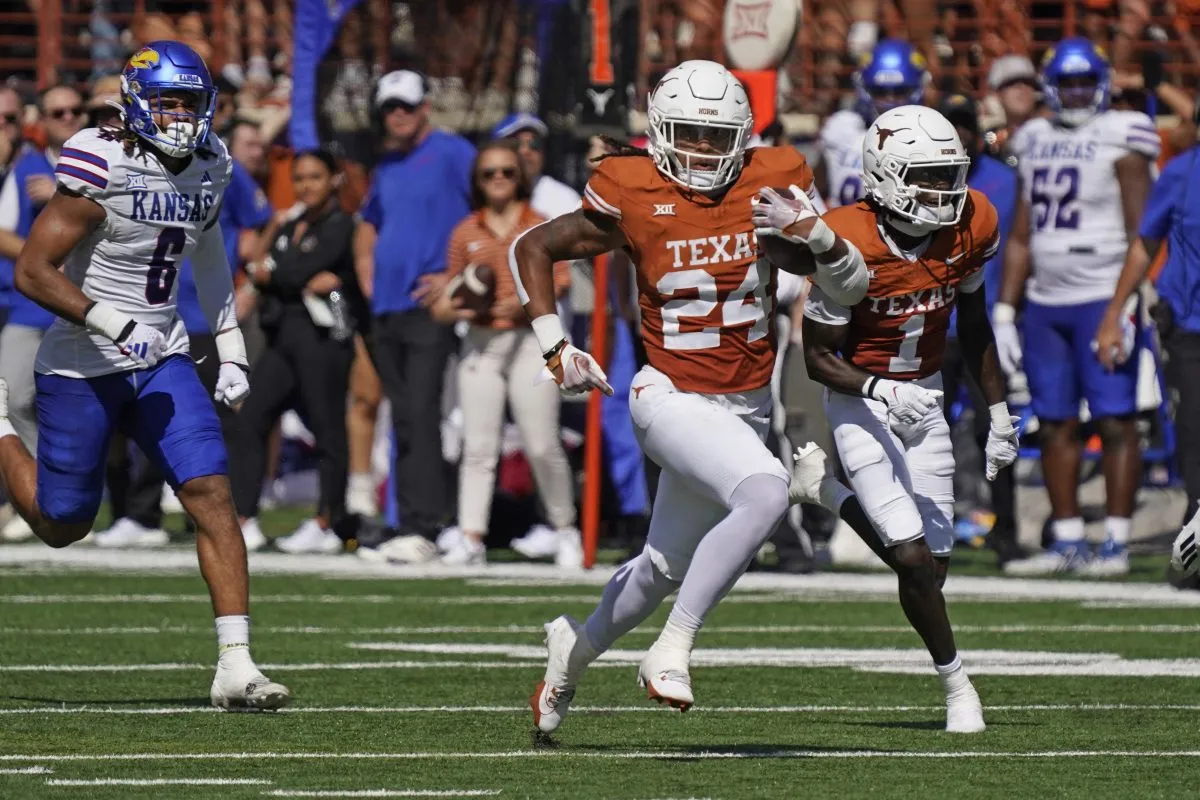 The 2023 college football season is underway with the Big 12 Conference having some wild games to highlight Week 5.
So now it's time for our Big 12 Power Rankings. Here's a reminder on how I've done this for years: It's about how your team looked and how it played, not always about if your team won or lost. And last week's rankings have little impact on this week's. That's what makes this fun. These are also not predictions for the way the season will end, just Power Rankings based on the most recent performances.
So with that being said, here are our Week 6 Big 12 football Power Rankings.
1. Texas Longhorns (Last Week: 1)
There's clearly no question who deserves to be No. 1 and that's the Texas Longhorns. UT dominated Kansas 40-14 on Saturday in impressive fashion, running more plays in Kansas territory than KU ran all afternoon. Texas is one of just seven teams in the nation in the Top 25 of offensive and defensive scoring efficiency.
2. Oklahoma Sooners (Last Week: 3)
Speaking of the other six teams, Oklahoma is on that list as well. OU manhandled Iowa State by 30 on Saturday night in Norman, as Dillon Gabriel continues to make his case for being the best QB in the Big 12, while the defense pitched a shutout in the second half. The Red River looms large for these two and College GameDay will be there.
3. West Virginia Mountaineers (Last Week: 7)
The West Virginia Mountaineers skyrocketed to No. 3 after a hard-fought road win at TCU on Saturday night to improve to 4-1 on the season. WVU is also the only team in the Big 12 to play four games against Power 5 opponents.
4. Kansas State Wildcats (Last Week: 4)
Kansas State was off this past week, but based on what happened around the Cats, there's no reason to move them off the No. 4 spot right now.
5. Kansas Jayhawks (Last Week: 3)
KU caught a tough break not having starting QB Jalon Daniels in this game at Texas, and there's a case to be made the final score doesn't do this game justice. But regardless, KU was completely overmatched in this game, however something tells me we will be saying that about a lot of teams after they play Texas this season.
6. BYU Cougars (Last Week: 6)
The Cougars were able to open up Big 12 play at home with a solid win against Cincinnati. In fact, BYU is the only one of the "New 4" Big 12 teams to notch a conference win so far this season. We knew there would be an adjustment period, and BYU looks like it might be the team best suited to handle the upgrade in schedule.
7. TCU Horned Frogs (Last Week: 5)
TCU lost its first conference game at home under Sonny Dykes on Saturday night, and it went down in fairly ugly fashion. The Horned Frogs didn't put a single point on the board in the second half, and totaled one net yard in the third quarter on 11 plays. No doubt WVU has a stingy defense, but TCU is clearly still trying to work through a lot of new faces on both sides of the ball.
8. Texas Tech Red Raiders (Last Week: 11)
The Red Raiders finally get back into the win column with a 49-28 victory over Houston, including pitching a second half shut out against the Cougars. Tech still has plenty of issues on both sides of the ball, but they had to win this game to get this season back on track and that's exactly what they did.
9. Baylor Bears (Last Week: 14)
Baylor was looking at being No. 15 in the Power Rankings this week (insert bad joke here), but then lightning struck and the Bears came back from a 35-7 deficit with 29 unanswered points and beat UCF on the road. It was the largest comeback in Baylor history. Blake Shapen, who was getting hit all day, played one of the grittiest games you will see from a QB. That being said, there's a lot of work still to do in Waco.
10. Cincinnati Bearcats (Last Week: 10)
Cincinnati stays at No. 10 after a road loss at BYU. Cinci has to be kicking itself after having more than 200 total yards than BYU, being better on third downs and tripling the Cougars in rushing yards. But they lost the turnover battle and were the sloppier team on the night.
11. Iowa State Cyclones (Last Week: 9)
Iowa State got blown out by Oklahoma in Norman on Saturday. The offense wasn't to blame, at least not in the first half when they scored all of their 20 points. However, OU's defense made the halftime adjustments, while ISU's offense did not. And if Iowa State's defense, which has given up nearly 40 points per game in two Big 12 games, is not going to be the Iowa State defense of recent seasons, it could be a long year in Ames.
12. UCF Knights (Last Week: 8)
It's one thing to lose in Manhattan. It's another to blow a 35-7 lead to one of the worst teams in the league, at home. From the coaching (why are the Knights running plays with 15-20 seconds left on the play clock) to the players (Timmy McClain trying to do too much up three scores), it was a mess of a final 15 minutes for the Knights. That's an awful loss.
13. Oklahoma State Cowboys (Last Week: 13)
Oklahoma State couldn't lose last week since they had a bye week. So OSU stays at No. 13. But this weekend they have to take on Kansas State on Friday night.
14. Houston Cougars (Last Week: 12)
Houston drops to No. 14 after their loss to Texas Tech by 21. That's two Big 12 games and two losses by a combined 44 points. It's not shaping up to be a good fall in Houston.