Baylor Bears
HCS Roundtable: Biggest Winners and Losers In Week 5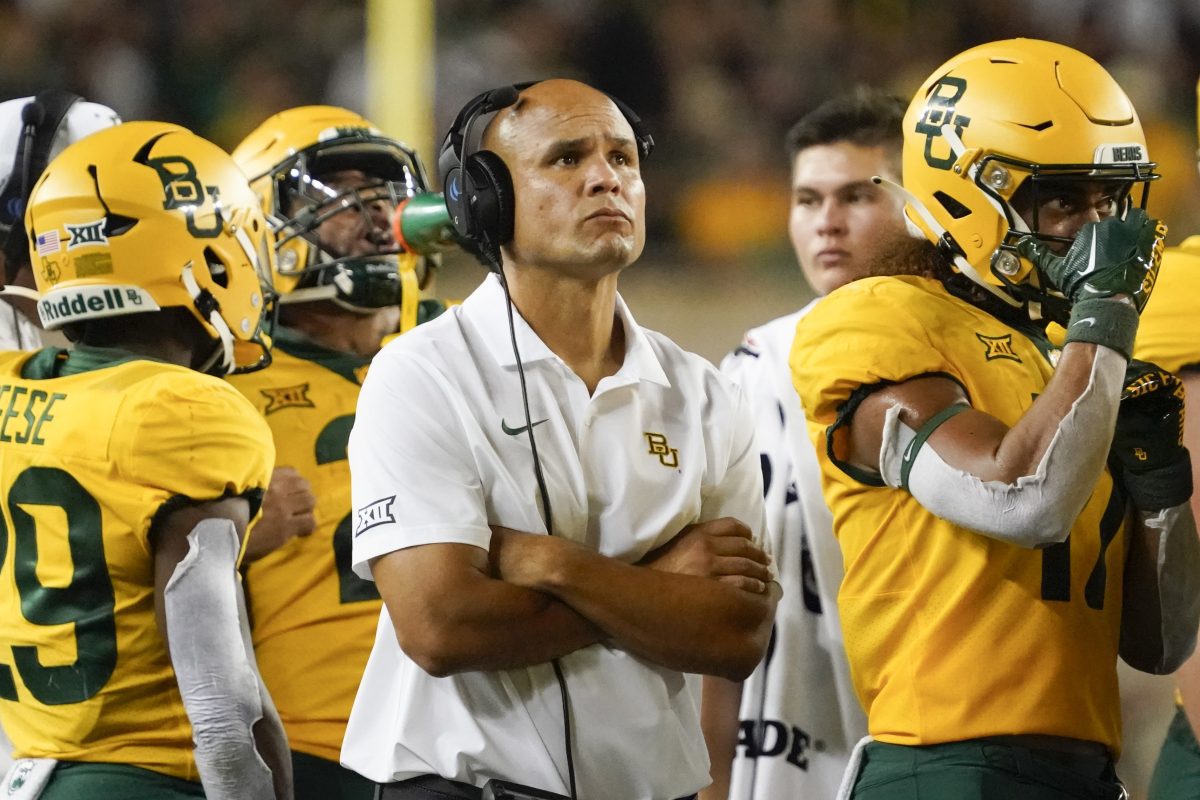 We've now had five weeks' worth of Big 12 football, and just two teams remain undefeated as Texas and Oklahoma have worked their way to 5-0 records on the year.
Meanwhile, teams like West Virginia, BYU, and Kansas all share 4-1 records and the Mountaineers are the only team outside of OU and Texas to have a 2-0 record in Big 12 play.
The Red River Rivalry will take all the headlines heading into Week 6, but there are several other important games on the docket this week, with several teams trying to keep pace in the conference race.
With that being said, the Heartland College Sports staff will take each week to name the week's biggest winner and loser. Here's a look at their answers for Week 5.
Pete Mundo
Biggest Winner: Neal Brown
Maybe we're supposed to just pick a team, I don't know I just work here, but Neal Brown went from a burning hot seat to 4-1, and just beat TCU on the road as a double-digit underdog, after beating Texas Tech as an underdog. This win was one of the best of Neal Brown's WVU tenure as they came down from seven points behind at halftime, shut out TCU's offense in the second half, and got the win on the road. It's not crazy to think WVU is 8-1 going to Norman in mid-November.
Biggest Loser: Matt Campbell
I'll keep on the coaching theme here for a second. Yes, UCF is the obvious answer, but Campbell and the Cyclones put up a goose egg in the second half in Norman, lost by 30, and then Campbell had another moment where he yelled at, or gestured to OU fans trolling him walking off the field after the game. Something similar happened two weeks ago following the loss to Ohio. Losing to Oklahoma is nothing to be ashamed of, but the lack of halftime adjustments, combined with the after-the-game nonsense, which should just be ignored, is weird. And it all feels so out of character for Campbell, which makes it even more strange.
Bryan Clinton
Biggest Winner: The Red River Rivalry
While the game itself has remained extremely entertaining (excluding 2022), the buildup to the Red River Rivalry has lacked over the last several seasons compared to what it was in the late 2000s and early 2010s. Now, for the first time since 2011, both Oklahoma and Texas will come into the game undefeated and ranked inside the Top 12. After dominant wins over Kansas and Iowa State, the Longhorns and Sooners have done their part to help this rivalry live up to the hype that it once captured on an annual basis. College Gameday has announced that it will be set up at the Texas State Fair for the game, and the college football world is already buzzing around what might prove to be the biggest game in the Big 12 this season. As much as the remaining 12 teams might not like it, the reality is that Texas and Oklahoma have looked like the top two teams in the conference in 2023.
Biggest Loser: UCF
This answer is quite simple, as UCF was well on its way to a 4-1 start and its first win in Big 12 play. However, the Knights found a way to squander a 35-7 lead by giving up 29 unanswered points, including 26 points in the fourth quarter from a Bears' offense that was held in check for 45 minutes. To make matters worse, Baylor looked like one of the worst teams in the conference through its first four games, so this is a loss that will sting UCF for some time. Bad late-game management from quarterback Timmy McClain helped keep the Bears in it, while the sudden late disappearance of the Knights' defense ensured that Baylor was able to complete its biggest comeback in school history. Now sitting at 3-2, UCF hopes to get John Rhys Plumlee back soon, as its next three games come against Kansas (4-1, 1-1), Oklahoma (5-0, 2-0), and West Virginia (4-1, 2-0).
Matthew Postins
Biggest Winner: Baylor
I could easily choose West Virginia here, or even BYU, which I covered in person on Friday and showed they're ready for the big time. But I'll take Baylor, which put together the biggest rally in program history when it beat UCF (with our Derek Duke in attendance). Yes, this was a massive, awful botch of a loss for UCF. But Baylor needed something after, frankly, a horrible first month and this sort of win can be a momentum boost for sure. Every once in a while you need to do something you're not supposed to do. And Baylor did that.
Biggest Loser: My 51-Year-Old Body
Trying not to be redundant here and a lot of folks are going to take UCF. But I'm taking me. In the last 12 days, I've driven to Kentucky, Cincinnati, across the country to BYU, then through Utah and New Mexico to get home. I covered Cincinnati at home and then Cincinnati on the road (which wasn't really the plan but that's how it works sometimes) and I got to see two of the Big 12's new venues and two incredible fan bases. I also got to see parts of the country I'd never seen before. But there's nothing telling you that you're not 25 anymore quite like driving 4,000-plus miles in less than two weeks. I'll be on the road again, but I'm probably gonna fly this time.
Joe Tillery
Biggest Winner: Dave Aranda
Dave Aranda, you can now exhale. While Baylor fans had not completed a full turnaround on Dave Aranda following his struggles in 2022 and at the start of 2023, the air in Waco felt a little bit uncomfortable surrounding the football team. A 36-35 comeback win may not be a sustainable feat to accomplish on a weekly basis, but getting your quarterback healthy and proving that the team is headed in the right direction is a massive positive for the program.
Biggest Loser: Kansas
The biggest loser of the weekend absolutely has to be Kansas. In just one week's time, Jayhawk fans had to endure Lance Leipold heading to Michigan State rumors, another Jalon Daniels injury, and a blowout loss to the Texas Longhorns. Things were firing on all cylinders for the Jayhawks heading into Week 5 making their debut in the AP Top 25, and then shortly after, what feels like an inedibility at this point happened. While very little is known about Jalon Daniels being sidelined for Saturday's game, if his injury continues into Week 6, the Jayhawks could find themselves listed as biggest losers a few times this season.
Derek Duke
Biggest Winner: West Virginia
Before the season began, nobody (including myself) gave this team the time of day. In fact, they were picked to finish dead last in the preseason, and head coach Neal Brown said that he and his players didn't like that. Well, right now this team is playing pissed-off football and I love it. After upsetting Texas Tech, they just went on the road and beat TCU who was a double-digit favorite. This team doesn't play flashy at all. They play great defense and control the game on the ground. West Virginia clearly has a chip on their shoulder, and they absolutely should. Now after beating the Horned Frogs, there is an opportunity here for West Virginia to cause some disruption in the Big 12.
Biggest Loser: UCF
As much as I enjoyed my trip to Orlando this past weekend, the game itself had to leave a bad taste in the mouths of UCF fans. They had a 35-7 lead with less than four minutes left to play in the third quarter and somehow lost the game. The offense went silent in the second half and the defense couldn't stop Baylor's offense at all. I knew when UCF fumbled the ball and Baylor scooped it up and scored that the Knights were in serious trouble. For as great as the scene was inside and outside the stadium, the second half on the field was the exact opposite.