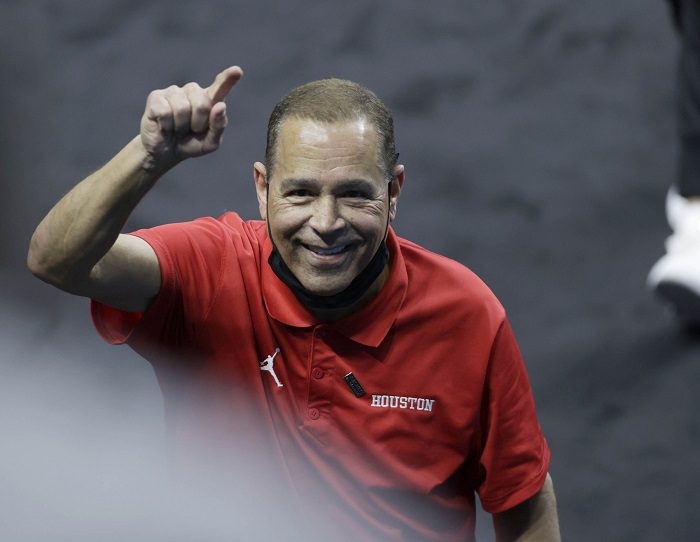 The Houston Cougars are preparing for the 2023-24 men's basketball roster and below is a preview of every player on the roster entering November's opening game.
Below are the returning players, the transfers and the freshmen that will play a role in Houston's upcoming season.
Expected to Return
Mylik Wilson
The 6-foot-2 guard enters his redshirt senior season looking to make any sort of impact. He transferred in from Texas Tech before last season, but he took the redshirt and didn't play. With Tech, he didn't have many chances to produce. In his last full college season in 2021-22, he averaged 2.5 points, 1.7 rebounds, 1.2 steals, 1.7 assists and 0.5 blocks per game.
Jamal Shead
The 6-foot-1 guard was the American Athletic Conference Defensive Player of the Year last season. He'll be one of the top lock-down defenders in the league. The senior also returns as the Cougars' leading returning scorer from a season ago, as he averaged 10.5 points. He also had 3.0 rebounds per game. Last season he also joined Reid Gettys (of the Phi Slama Jamma teams of the 1980s) as only players in school history with multiple 200-assist seasons in their careers.
Cedric Lath
The 6-foot-9 center used his redshirt last season. He used that as a chance to catch up with the rest of his team. He grew up in the Ivory Coast and played basketball in Canada and in the U.S., the latter in Henderson, Nev. Plenty of Big 12 teams were on his trail as a recruit, including BYU, TCU and Kansas State.
Ramon Walker Jr.
The 6-foot-4 junior guard only managed 2.5 points and 2.9 rebounds in 10 games a season ago and had to seek a medical redshirt after the season, per his Houston bio.
Ja'Vier Francis
The 6-foot-8 junior forward played in 35 games last season, making one start, and averaged 4.3 points and 3.5 rebounds. But his best asset was on defense, where he averaged 1.5 blocked shots per game, which was third-best in the American Athletic Conference.
J'Wan Roberts
The 6-foot-7 senior forward returns after averaging 10 points and a team-high 7.7 rebounds in 2022-23. He played his best ball in league action, as he was the American Athletic Conference's Improved Player of the Year, Second-Team selection and All-Tournament Team selection. He has a chance to have an even bigger role this season.
G Ryan Elvin
The 6-foot-1 senior guard played in 15 games last season, logging just 44 minutes.
Emanuel Sharp
A 6-foot-3 redshirt sophomore guard, he got his first significant playing time last season and averaged 5.9 points and 2.2 rebounds. That earned him American Athletic Conference All-Freshman Team honors. He's an exceptionally good free-throw shooter (88.1 percent) and drained 43 3-pointers, which was third-best for the Cougars. He was an ESPN Top 100 player coming out of high school.
Terrance Arceneaux
The 6-foot-6 guard is coming off a true freshman season in which he was a valuable bench performer and averaged 3.7 points and 2.5 rebounds. He also claimed nearly a steal per game. Another ESPN Top 100 player coming out of high school at Beaumont (Texas) United, he should make a more considerable impact this season.
Arrivals Via Transfer
LJ Cryer
The 6-foot-1 senior guard spent three season at Baylor and won a national championship in 2021 as a backup. The last two seasons he's been one of the best 3-point shooters in the league and should help smooth Houston's transition to the Big 12. He was an All-Big 12 Third-Team selection last season who averaged 15 points, 2.1 rebounds and 2.0 assists. He's a Katy, Texas, product, so the transfer brings him closer to home.
Damian Dunn
The 6-foot-5 guard transferred in from Temple and will be a graduate student. With the Owls he was a Third-Team All-American Athletic Conference selection who averaged 15.4 points and 3.6 rebounds. He was instrumental in the Owls upsetting the Cougars during AAC play last season. He was a 2022 -American Athletic Conference Second Team pick, a 2021 American Athletic Conference All-Freshman Team pick and a three-time All-Philadelphia 5 selection.
Class of 2023 Signees
Joseph Tugler
A 6-foot-7 forward stayed home, as the Cougars signed him out of Cypress Falls High School right there in Houston. A Top 100 recruit, he was invited to the USA U19 National Team Training Camp, was an All-State player in Texas and was an exceptional shot blocker in high school.
Jacob McFarland
A 6-foot-11 center out of Rancho Verde (Moreno Valley, Calif.) was a Top 100 player and four-star recruit who helped Houston procure a Top 25 overall class. His Houston bio is short on season averages but he has the potential to be a high-level rebounder and shot blocker right away.
Kordelius Jefferson
Jefferson is a 6-foot-3 guard from Arlington, Texas, who went to Martin High School and was a Top 100 player per 247Sports. The All-State performer has a balanced game and helped Martin to deep playoff runs.
Starting Five: Shead, Cryer, Roberts, Dunn, Arceneaux
First Five off Bench: Sharp, Wilson, Francis, McFarland, Tugler
You can find Matthew Postins on Twitter @PostinsPostcard