Baylor Bears
Overreaction Monday: West Virginia is Legit, Big 12 Newcomers are in Trouble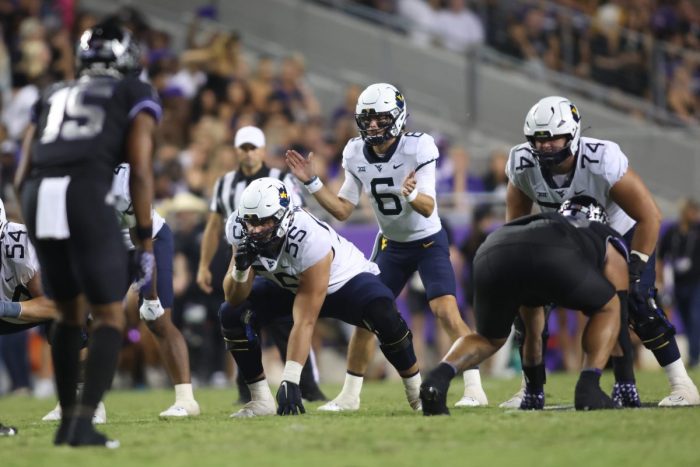 Week 5 delivered some more intel for us to make updated projections for the Big 12 race moving forward, but it also provided a lot more questions.
What do we make of West Virginia, who is now 4-1? Are Texas Tech and Baylor going to turn things around after 1-3 starts? Are the newcomers in trouble after mostly rough starts?
Let's overreact to what we saw in Week 5.
Texas Tech, Baylor Have Turned it Around
Overreaction
Don't get things twisted here: Getting wins over Houston and UCF was a very good sign for both Texas Tech and Baylor in Week 5. However, those wins don't dismiss what we've seen from the Red Raiders and Bears to this point, either. Texas Tech is starting to show that it is a different team at Jones AT&T Stadium than it is when it is on the road. In wins over Houston and Tarleton State, plus a 38-30 loss to Oregon, Tech has looked like a respectable team. But, with losses in both of their games on the road, Tech showed major flaws. In contrast, Baylor hit the road for just the first time this week and picked up its best win of the year, but needed to come back from a 35-7 deficit to do so. It's still hard to see past the loss to Texas State, and the 38-6 beatdown at the hands of Texas in Week 4. These two teams will face off in Week 6, and hopefully will give us a better idea of who can actually turn things around.
It's Time to Take West Virginia Seriously
Not an Overreaction
As is the case in almost any season, getting to 4-1 is something to be proud of. However, when you're picked to finish last in the conference but have started 2-0 in Big 12 play, it makes it that much more sweet. West Virginia is playing the perfect brand of football to produce wins right now, with stingy defense and ball-controlling offense. What is even better about the Mountaineers' success to this point is that it appears their schedule is about to get even more manageable than it has been. West Virginia's next four games come at Houston, vs. Oklahoma State, at UCF, and vs. BYU. There's a legitimate chance that they could be favored in all of those games, and winning each of them would bring Neal Brown's squad to 8-1 on the year, with their only loss being at Penn State. A tough game in Norman awaits on November 11, but games against Cincinnati and Baylor to finish the year aren't exactly daunting. While it's still early, there's a real chance that West Virginia could be the story of the year in the Big 12, and it's time to take them seriously.
After 5-0 Starts, OU-Texas is Biggest Game of the Year
Not an Overreaction
I think there's little doubt that the 2023 Red River Rivalry is the biggest game of the season for the Big 12, and it's not particularly close right now. While some people might claim this is the case is the year, that's simply not true. Last season, Texas' 49-0 victory over Oklahoma had little impact on the Big 12 race, as neither team ultimately ended up in the conference championship game. Over the last decade or so before that, Texas made the conference title game just once (2018), making the OU-Texas game in Dallas less meaningful. However, this season feels different heading into the game, as both teams are undefeated and ranked inside the Top 12 for the first time since 2011. From what we've seen thus far, this very well could be a preview of the Big 12 Championship in December. Like it or not, the Sooners and Longhorns matchup in the Cotton Bowl is the biggest, and most meaningful game for the Big 12 in 2023.
Kansas Will Wilt Again Like it Did in 2022
Overreaction
Last season, we watched Kansas bolt to a 5-0 start before it dropped seven of its last eight games to finish the year 6-7. Now, after a 4-0 start, the Jayhawks just got their doors blown off by Texas with a 40-14 loss in Austin. Are we set to see history repeat itself? I'm not quite ready to go that far just yet. First of all, Texas is ranked third nationally, and by all accounts, looks deserving of that ranking. Plus, Jalon Daniels missed the game unexpectedly and that certainly hurt KU's chances. There are still a few tough games on the schedule with both Oklahoma and K-State coming to Lawrence, but the Jayhawks could be favored the rest of the way. It's still too early to draw conclusions on any team, let alone a team like Kansas that can light up the scoreboard in a hurry.
The Newcomers Are In Over Their Heads (Revisiting)
Not an Overreaction
Last week, I told you that it was an overreaction to believe that the Big 12 newcomers might be in over their heads in 2023. However, I'm starting to believe that I had a bad read on this one. In games against Texas Tech and Baylor, who have looked terrible to this point, Houston and UCF each provided them their first win of Big 12 play. Meanwhile, Cincinnati dropped its third game of the season to BYU, giving the Cougars its first conference victory. Against the preexisting Big 12 teams, the newcomers are a combined 0-6 through two weeks of action. That doesn't bode well for their chances moving forward, at least for the most part. BYU does stand at 4-1 and 1-1 in Big 12 play and has looked like the best prepared of the newcomers to take on Big 12 rosters. However, the three former members of the American Athletic Conference look to be doing everything they can to tread water in the deeper end of the pool.