BYU Cougars
HCS Mailbag: Cincinnati's Struggles, Impact Players, Neal Brown for Big 12 COTY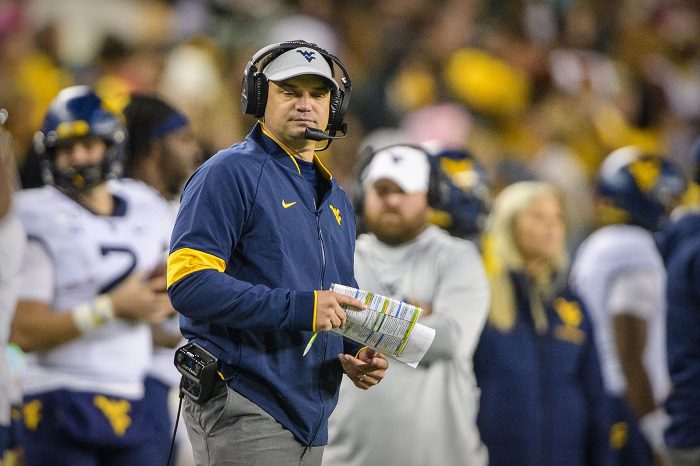 Welcome to the HCS Big 12 Football mailbag. This mailbag is for all you football junkies out there who root for a Big 12 school, and not only have questions about your team but other teams in the conference as well. So, join me, grab a cold brew or your favorite drink, and relax as I answer all your Big 12 questions. I want to thank each one of you who submitted a question this week and for tonight's drink of choice? I am still in Florida for the next few days, and I ended up taking a six-pack of this back to my room. Cheers!
@Beenjamn_Gee asks: Why do this week's games look so ho-hum?
Duke: I am not really sure what you mean by that, but I am looking forward to another weekend of Big 12 football. It's what I do best. With that said, I am assuming you aren't fond of the games outside of Texas and Oklahoma? While there may not be another top-ten matchup in the conference this weekend, there is still a lot on the line when it comes to the Big 12 title race. I suggest you find a nice comfortable chair and soak in all the action.
@BearcatMta says: None of my questions are answerable as a Cincy fan.
Duke: It's been a rough three weeks for Cincinnati fans. Losing to Miami of Ohio, Oklahoma, and now BYU. You went from 2-0 to 2-3 really fast and the bye week could not have come at a better time for your team. I guess if there was a positive take away it is that they have shown flashes of being a decent team but unfortunately, they have a lot of bad moments of being inconsistent across the board. Most importantly at the quarterback position.
@CFBHome asks: Naming one player from each of the New 4, which 4 players have made the biggest impacts so far?
Duke: It is really hard to just pick one so I would like to name a player on each side of the ball for each team.
Houston: WR Samuel Brown and DB Malik Fleming
UCF: QB John Rhys Plumlee, WR Kobe Hudson, and DL Tre'mon Morris-Brash
BYU: WR Chase Roberts and LB Ben Bywater
Cincinnati: WR Xzavier Henderson and DL Dontay Corleone
@Vectoze_ asks: If WVU finishes 7-5 or better, do you think Neal Brown is a front-runner for the Big 12 Coach of the Year this season? Also, good luck to your Astros, but go Braves!
Duke: Unless you are Kansas from last season, 7-5 isn't good enough to win Coach of the Year honors. Yes, West Virginia was picked to finish dead last in the preseason, but he would have to win nine or even 10 games to win an award like that. If you are a betting man, I would say put the money on whoever you think is going to win a Big 12 title. My guess right now would be Texas head coach Steve Sarkisian. Also, go Astros.
@HonCalebWayne says: Checking in on the preseason poll to actual standings.
Duke: The preseason poll looked like this:
Texas
Kansas State
Oklahoma
Texas Tech
TCU
Baylor
Oklahoma State
UCF
Kansas
Iowa State
BYU
Houston
Cincinnati
West Virginia
Here's what the actual standings look like:
Texas (5-0, 2-0)
Oklahoma (5-0, 2-0)
West Virginia (4-1, 2-0)
Kansas State (3-1, 1-0)
Kansas (4-1, 1-1)
BYU (4-1, 1-1)
TCU (3-2, 1-1)
Baylor (2-3, 1-1)
Iowa State (2-3, 1-1)
Texas Tech (2-3, 1-1)
Oklahoma State (2-2, 0-1)
UCF (3-2, 0-2)
Cincinnati (2-3, 0-2)
Houston (2-3, 0-2)
@D3vJaVu asks: Can Tech ACTUALLY make the Big 12 championship?
Duke: While it may not time for everyone to jump off the Texas Tech bandwagon just yet, but I have already jumped off after the loss to West Virginia. Losing Tyler Shough was a big blow, and this team just hasn't quite put it all together yet. I am not sure if Behren Morton is going to be the guy to lead them to a Big 12 title and that offensive line of theirs is still concerning to me. I just don't see them as a true Big 12 contender right now but maybe they will prove me wrong.
@wart222 asks: What is the best kickoff time for games? I'm all in on night games under the lights.
Duke: I, like you, am a sucker for night games. I don't know why but they feel more important, and the crowd always seems more energized. Maybe it's the extra tailgating time, but it just feels so different when a game is at night instead of during the day. Some fans may disagree with that though.