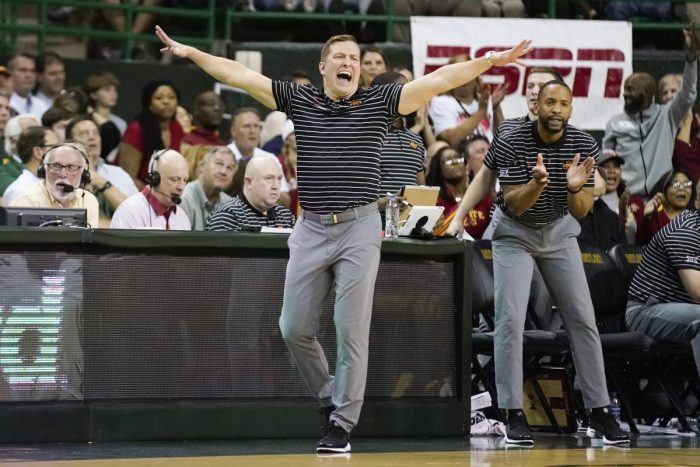 The Iowa State Cyclones are preparing for the 2023-24 men's basketball roster and below is a preview of every player on the roster entering November's opening game.
Below are the returning players, the transfers and the freshmen that will play a role in Iowa State's upcoming season.
Expected to Return
Tamin Lipsey
If a single returning player could blow up this season for ISU, it's Lipsey. The 6-foot-1 sophomore is an Ames, Iowa, native and is coming off a season in which he was an All-Big 12 Freshman selection. He averaged 7.3 points, 4.0 rebounds and a team-high 146 assists. He was a tremendous facilitator all season. Where the Cyclones want him to improve is shooting, specifically from distance, where he shot just 20 percent. A significant jump there is doable. The Cyclones would also love it if Lipsey could duplicate this again as a sophomore. Last season he was one of two players in the country, and just the ninth in the last 10 years in NCAA Division I men's basketball, to average at least 7.3 points, 4.4 assists, 4.0 rebounds, 2.2 steals and 2.45 or fewer turnovers.
Demarion Watson
The 6-foot-7 sophomore guard has the potential to get more playing time. He played in 29 games last season but only cleared double-digits once, with 10 points against North Dakota. He's a stealthy defensive weapon, as he had 15 blocked shots as a freshman, which was second on the team. Right now, you're leaning into his potential, especially what he showed at Totino-Grace (Minn.) High School, where he led them to their first state title.
Tre King
The 6-foot-7 senior forward finally got a break in terms of playing time and came on as a starter late in the year after the departure of Caleb Grill. King finished the season with averages of 6.1 points and 4.1 rebounds. He started the final five games and injected some life into the Cyclones and ended up leading ISU in rebound average for the season. He was one of three players to shoot at least 50 percent and was a 77.8 percent free-throw shooter. He should be a starter from the get-go, but he'll have competition from this talented freshman class.
Robert Jones
The Cyclones are thrilled that the 6-foot-10 forward exercised his COVID waiver to return for one more season. He can start, he can come off the bench and he provided steady play. He averaged 5.7 points and 3.8 rebounds last season. But, when he scored double figures last season, the Cyclone were 7-2. Do with that as you will.
Hason Ward
The 6-foot-9 senior forward hasn't had his breakthrough season yet, and now is the time. He averaged nearly three points per game last season. Before joining ISU, he was at VCU and while he didn't have gaudy scoring numbers he was a former Atlantic-10 All-Defensive selection. That was a season in which he averaged career-bests of 6.4 points, 5.1 rebounds and 2.4 blocks per game. That last number is key to Ward making an impact this season. If he does nothing else, the Cyclones need him to block shots.
Conrad Hawley
The 6-foot-5 junior and former Kansas quarterback is the 'Chief Energy Officer' for the Cyclones, as Otz likes to call him. He's unlikely to play much, but you won't be able to miss him on the bench.
Arrivals Via Transfer
Keshon Gilbert
The 6-foot-4 junior guard is a player that Cyclones coach T.J. Otzelberger is familiar with. Gilbert signed with Otz when he was the head coach at UNLV and opted to stay with the Runnin' Rebels. Now, he's coming to play for the Cyclones after he averaged 11.4 points, 3.8 rebounds, 3.2 assists and 1.2 steals last season. He's also a 38 percent 3-point shooter. Like the other transfer guards, he brings quality shooting from distance, something the team needs entering the season.
Curtis Jones
The Cyclones got a proven scorer out of the transfer portal in Buffalo's Jones, a 6-foot-4 senior guard who is coming off a season in which he averaged 15.0 points per game. He was a 36 percent 3-point shooter, grabbed 4.8 rebounds and dished out 3.0 assists. For that, he was Third-Team All-Mid-American Conference. It should be noted that last season was a huge jump over his 2021-22, when he averaged 2.5 points and 1.3 assists. He'll challenge for a starting job.
Jackson Paveletzke
The 6-foot-2 sophomore guard is coming off an exceptional freshman season for Wofford, where he averaged 15.1 points, 2.7 rebounds and 3.7 assists per game. He was the Southern Conference Freshman of the Year. What he brings to ISU is a rock-solid shooting touch from all over the floor, as he shot nearly 50 percent from the field, 84.2 percent from the free-throw line and 39.3 percent from the arc. The Cyclones need his ability to stretch defenses. He also comes with some built-in chemistry with Omaha Biliew and Milan Momcilovic, as the trio were invited to USA Basketball U19 Training Camp.
Class of 2023 Recruits
Omaha Billew
Billew may end up being the coup of Otzleberger's career at ISU. The 6-foot-8 forward from Waukee Senior High in Waukee, Iowa, stayed home to play for the Cyclones. The five-star player and a McDonald's All-American (just the third in ISU history), he's the centerpiece of perhaps the best recruiting class in Cyclones history. Biliew is the highest-ranked signee for Iowa State in the modern era. He was a member of Team USA at the FIBA U19 World Cup and the Nike Hoops Summit. He was ranked No. 11 in the country by both Rivals and ESPN. Whether he starts or comes off the bench, he's playing this season and has the potential to be the most impactful freshman in the Big 12. If things break right for him, the Cyclones could be a way-station on his way to the NBA next summer.
Milan Momcilovic
The 6-foot-8 forward played his prep ball at Pewaukee, Wis., and was considered a four-star recruit and consensus Top 40 player in the country. The three-time state champion scored more than 2,000 points in his high school career and went to the 2023 USA Basketball U19 Training Camp with Biliew and Paveletzke.
Jelani Hamilton
The 6-foot-6 guard from Cumberland Christian Academy (Austell, GA) brings scoring ability and championship pedigree, as he won three state titles in four seasons as a prep player in Georgia. Rivals rated him a four-star recruit and he was just outside their national 100 overall players. The path for Hamilton to join the program was clear. Both of his parents attended Iowa State and his brother is a team manager.
Kayden Fish
The 6-foot-6 forward from Staley High School in Kansas City, Mo., was considered a three-star recruit by most services and he's been running around with Biliew on the AAU circuit. He scored more than 1,000 points in high school and won a Peach Jam title with Biliew as part of MoKan Elite.
Cade Kelderman
The 6-foot-1 guard prepped at Waukee Northwest High School in Iowa. As a senior he averaged 16.7 points per game, 5.8 assists, 3.4 rebounds and 1.5 steals per game. Given the sheer depth of the freshman class, it wouldn't be a surprise to see Kelderman redshirt.
JT Rock
The 7-foot-1 center is reclassifying into the Class of 2023 so he can start with the Cyclones this season. He will be the tallest player on the Cyclones' roster, but it's unclear if he's a fit for playing time this season. The height says yes. It's whether he's ready for the physical rigors of the college game. Rock has participated in the National Basketball Players Association Top 100 camp and the Under Armour Future 60 camp. Before his reclassification, In the 2024 recruiting rankings, Rock was ranked No. 68 by ESPN. He moved to No. 89 by Rivals and No. 96 by 247 Sports in their class of 2023 rankings.
Starting Lineup: Lipsey, King, Curtis Jones, Robert Jones, Paveletzke
First Four Off Bench: Biliew, Gilbert, Watson, Momcilovic
You can find Matthew Postins on Twitter @PostinsPostcard