Baylor Bears
Texas Tech vs. Baylor: Preview, Prediction, and Game Odds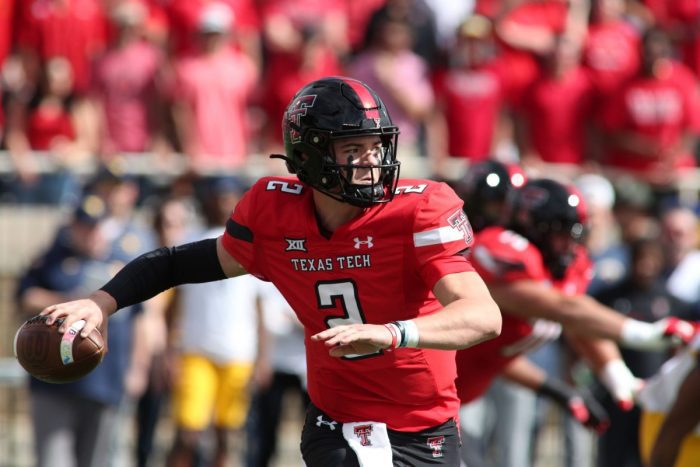 Here is everything you need to know ahead of the matchup between the Texas Tech Red Raiders and the Baylor Bears.
GAME INFO
Saturday, October 7; 7:00 p.m. CT; McLane Stadium; Waco, TX
TV: ESPN2
Radio: Texas Tech Sports Network (Brian Jensen, John Harris, Chris Level); Baylor Sports Network (John Morris, J.J. Joe, Ricky Thompson)
Records: Baylor (2-3); Texas Tech (2-3)
Last Week: Baylor 36, UCF 35; Texas Tech 49, Houston 28
Rankings: Texas Tech Not Ranked; Baylor Not Ranked
Series History: Baylor leads 41-39-1
Last Meeting: Baylor 45, Texas Tech 17 (2022)
Line: EVEN
Fun Fact: Coming into this week, Texas Tech and Baylor have had identical seasons when it comes to outcomes. Both took losses in Week 1, Week 2, and Week 4, while picking up wins in Week 3 and Week 5. This week will be the first time in 2023 that they have differing outcomes.
KEY PLAYERS
BAYLOR BEARS
QB Blake Shapen
The Baylor offense scored 29 of its 36 points in a comeback win over UCF, and much of the credit for that must go to Blake Shapen. Under Sawyer Robertson, the Bears' offense lacked an identity and struggled to get hardly any points on the board. Shapen's return to the lineup is big for the offense, but they need to find a way to keep him upright, given his injury history. Last week, Shapen took four sacks and the Bears have allowed 12 on the year.
LB Josh White
Baylor starting middle linebacker Mike Smith will miss the remainder of the 2023 season with a torn ACL, and Dave Aranda will turn to redshirt junior Josh White to take his place. The Bears' defense has been atrocious through five games, allowing 28.4 points per game (13th in Big 12), 394.6 yards per game (13th in Big 12), and 184.0 rushing yards per game (last in Big 12). Losing a key player in the middle just makes matters worse, which means there's a ton of pressure on White to step up in a big way.
TEXAS TECH RED RAIDERS
QB Behren Morton
With Tyler Shough injured for the third straight season, it's now time for the Red Raiders to hitch their wagon to Behren Morton and see what he can do. In his first start of the year, Morton went 14-22 for 161 yards and two scores through the air in a 49-28 win over Houston. The Texas Tech running game piled up 239 yards and three scores in that game and will need to continue with that kind of success to keep the offense rolling. As Morton settles in, things will get better, and luckily Baylor should give him a chance to do that.
LB Jesiah Pierre
After missing last week's game, Texas Tech linebacker Jesiah Pierre is set to return to the field for the Red Raiders. As one of the top tacklers on the team and a player who has shown flashes of being an excellent defender, Pierre is a welcome sight for Joey McGuire and Co. With Blake Shapen back under center for Baylor, this week's opponent will see an uptick offensively. However, with the way that the Bears' O-Line has looked, Pierre and the TTU defense should have chances to pressure Shapen.
KEY STORYLINES
BAYLOR BEARS
Can Baylor shore up major defensive problems against a Texas Tech team that is coming off its best performance of the year? The Bears have been the worst rushing defense in the Big 12 this season, and Texas Tech just hung 239 rushing yards on a Houston team that has performed similarly. If TTU has that kind of success in Waco on Saturday, it'll be a long day for Dave Aranda's guys.
TEXAS TECH RED RAIDERS
Can Texas Tech get its road issues figured out? The Red Raiders are 2-1 at home, and their lone loss at Jones AT&T Stadium was a valiant effort against a very good Oregon team. However, on the road, Tech is 0-2 with losses to Wyoming and West Virginia. While Baylor is feeling good about themselves after a huge comeback win last week, Texas Tech needs to prove that it can win a game outside of Lubbock, because the schedule gets a lot tougher starting next week.
PREDICTION: Texas Tech 30, Baylor 27
Coming into the year, this might've been a game that was set to be a sneaky good matchup with some real intrigue. Now, both teams limp into the week at 2-3 and looking to turn their seasons around. With several key injuries on both sides, this game is likely going to be decided by who can take care of the football and play defense. While that might've given the advantage to Baylor in past years, it doesn't in 2023. I'm going to take Texas Tech to win this game and get back to .500, while Baylor falls to 2-4 going into their bye week.