BYU Cougars
Tuesday Takes: WVU Can Win 10 Games, Big 12 Nightmare Scenario, Newcomers Can't Hang in 2023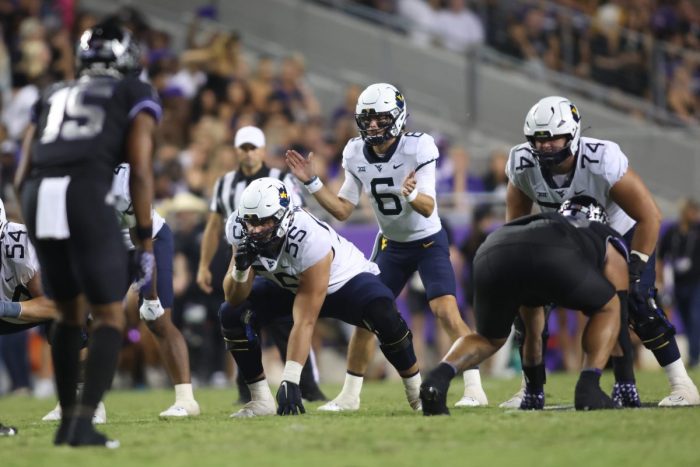 Tuesday is the final day of the week during the college football season in which it is acceptable to look back on the previous week's action and draw conclusions. When the clock hits midnight and Wednesday is officially here, it is your responsibility as a fan to start the countdown to Saturday and start getting prepared for what comes next.
But for the time being, we are going to finish up relishing, or loathing, what happened on the most recent Saturday of action, and that is just what we will do on Tuesday Takes.
Each week, I will give you three definitive facts (otherwise known as my opinions) that I've formed over the last couple of days. So without further ado, here we go.
West Virginia Could Win 10 Games in 2023
Coming into the 2023 season, West Virginia was quite literally at the bottom of the barrel in the Big 12 preseason poll. Neal Brown and the Mountaineers were picked to finish dead last in the league, and it certainly wasn't lost on him that Big 12 media were all but ready to send him packing with another disappointing year.
"It really pisses me off, " Brown said on SiriusXM radio at Big 12 Media Days. "There is some solace in the fact that the people who vote on the Big 12 Media Poll have never gotten it right. I just don't believe it's accurate and I think it's lazy reporting in a lot of senses."
Now sitting at 4-1 through five games, and 2-0 in Big 12 play, it appears that the West Virginia ball coach might get the last laugh in this feud. The Mountaineers have taken down Texas Tech and TCU already, two teams that were perceived to be among their toughest opponents in 2023. If you take a look at what remains on the schedule, it becomes quite clear that this team might be set up for one helluva run to finish the year: @ Houston (10/12), vs. Oklahoma State (10/21), @ UCF (10/28), vs. BYU (11/4), @ Oklahoma (11/11), vs. Cincinnati (11/18), @ Baylor (11/25).
Outside of the game against Oklahoma, I'd probably favor West Virginia in every other game that they've got left. Hypothetically, that would give them a very good shot at landing in the Big 12 Championship game with an 8-1 record in conference play. Sure, it's still early and things could fall off a cliff, but as of right now, I like where the Mountaineers stand.
Big 12 Nightmare is Playing Out in 2023
In their final year with the conference, it appears that Texas and Oklahoma might have returned to the Big 12 mountaintop ahead of an exit to the SEC. While this is certainly great news for those fan bases, it leaves the rest of the conference with a perception problem.
Right now, Texas (-140) and Oklahoma (+200) lead the Big 12 odds of winning the conference championship by quite a wide margin, with Kansas State (+900) being the only other program with better than +2500 odds, per BetMGM. In short, it looks like the Longhorns and Sooners are set for a collision course in early December. The Red River Rivalry game this weekend could very well be a preview of the Big 12 Championship game, and that would be a major problem for Brett Yormark and the Big 12.
Put yourself in this scenario: Imagine Texas (12-0) and Oklahoma (11-1) facing off in a Top 10 clash for the Big 12 Championship, and College Gameday is on site. What is the narrative going to be? It certainly won't be folks blushing about how good the Big 12 is. No, it will almost assuredly be about how the best two programs from the league, who just ran through their final season in the conference are set to take the Big 12 Trophy with them and leave the Big 12 to become a second-tier league.
Do I actually believe that to be the case? Not at all. But what you and I believe, versus what the mainstream narrative is, aren't going to align. There's no two ways about it: Texas and Oklahoma are football giants and their exit will sting. But, the new-look Big 12 is going to produce excellent teams in years to come, as it has in the past. It's just unfortunate that the league appears to be down at the worst time possible.
AAC Newcomers are Still a Year Away
To expand on my last take, part of the reason that the Big 12 feels down this year is that its newest additions have stumbled out the gate. Against preexisting Big 12 schools, BYU, Cincinnati, Houston, and UCF are a combined 0-6. BYU is the only newcomer with a win in Big 12 play, and it came against Cincinnati in Provo this past weekend.
BYU is 4-1 (1-1) and has an impressive win over Arkansas in Fayetteville. I'm not confident that is something that any of the other newcomers could pull off at this time, but the Cougars got it done. How? Well, after years of playing an independent schedule, BYU played Power Five schools on a semi-regular basis. While it's not a substantial advantage, I would say their roster might've been ever-so-slightly better equipped to play in the Big 12 in Year 1.
Meanwhile, Cincy, Houston, and UCF are transitioning from the American Athletic Conference, and while they had sustained success there, the Big 12 is still a major step up. Now, it's not all bad news for the new guys, because it appears that the rest of the league might be in something of a rebuild right now as well.
UCF isn't getting its doors blown off, and in fact, it had a 35-7 lead over Baylor in the second half last week. Unfortunately, they couldn't hang on, and the Bears prevailed 36-35. Against Kansas State, their defensive line found itself on rollerblades as the Wildcats' running game proved too much in front of a home crowd.
Cincinnati held Oklahoma to 20 points at Nippert Stadium but managed only six points in return. Then, against BYU in Provo, the Bearcats vastly outgained the Cougars but two costly turnovers proved too much to overcome.
BYU managed to keep things close with a Jalon Daniels-led Kansas team despite just nine yards rushing on the night and then found a way to get the passing game going against Cincy on Friday night.
Honestly, the only team that has yet to be competitive in Big 12 play is Houston, and the Cougars had to replace one of the best QB/WR duos the school has ever seen. Games against TCU and Texas Tech, both of which have been disappointing, never seemed within reach.
I fully believe that Cincinnati, Houston, and UCF are going to be integral parts of the Big 12 race in future seasons, but it might take them a little while to get off the ground.