Baylor Bears
Big 12 Announces 2023-24 Women's Basketball Preseason Awards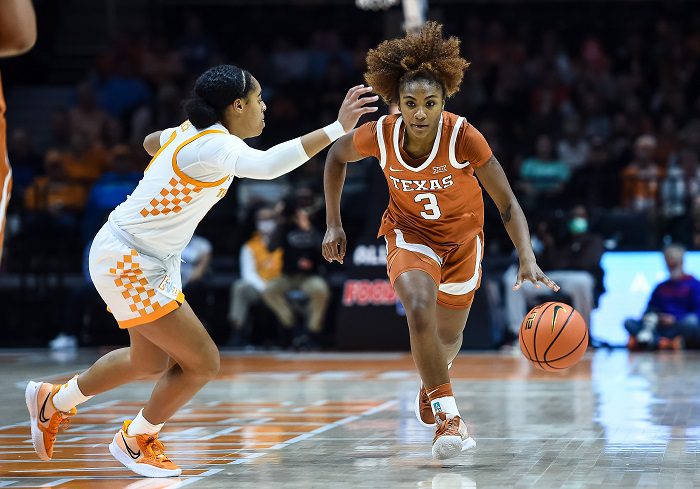 The Big 12 Conference announced its women's basketball preseason awards for the 2023-24 season on Wednesday, with the season just a matter of weeks away at this point.
Texas' Rori Harmon was voted Big 12 Women's Basketball Preseason Player of the Year, Baylor's Jada Walker was selected Preseason Newcomer of the Year, and Texas' Madison Booker was named Preseason Freshman of the Year by a vote of the league's coaches.
According to a Big 12 press release, Harmon was the Conference's Defensive Player of the Year in 2022-23, earning First Team All-Big 12 and All-America honors in the process. The applied movement science major helped the Longhorns to a share of the Big 12 regular season title while averaging 11.2 points and a program-record 7.3 assists per game. The Houston native was the Most Outstanding Player of the 2022 Phillips 66 Big 12 Championship.
Walker comes to Baylor after averaging 12.9 points and a league-leading 2.6 steals at Kentucky in 2022-23. The Richmond, Virginia native was an SEC All-Freshman team selection in 2022, maintaining a scoring average of 11.7 in 62 games over two seasons in Lexington.
Booker is a McDonald's All-American who rates as the No. 12 recruit in her class. She won a Gold Medal with the United States at the FIBA U19 World Cup over the summer, scoring seven points with 10 rebounds in the gold medal game. Booker, a native of Ridgeland, Mississippi, intends to major in mechanical engineering.
Harmon was one of four players who were unanimously selected to the Preseason All-Big 12 team, joined by Sarah Andrews (Baylor), Taiyanna Jackson (Kansas) and Gabby Gregory (Kansas State). Darianna Littlepage-Buggs (Baylor), Emily Ryan (Iowa State), Ayoka Lee (Kansas State), Skylar Vann (Oklahoma), DeYona Gaston (Texas) and JJ Quinerly (West Virginia) rounded out the team.
Here's a look at the entire list of preseason awards, courtesy of the Big 12 Conference.
Preseason Player of the Year
Rori Harmon, Texas
 
Preseason Newcomer of the Year
Jada Walker, Baylor
 
Preseason Freshman of the Year
Madison Booker, Texas
Preseason All-Big 12 Team
Sarah Andrews, Baylor*
Darianna Littlepage-Buggs, Baylor
Emily Ryan, Iowa State
Zakiyah Franklin, Kansas
Taiyanna Jackson, Kansas*
Gabby Gregory, Kansas State*
Ayoka Lee, Kansas State
Skylar Vann, Oklahoma
DeYona Gaston, Texas
Rori Harmon, Texas*
JJ Quinerly, West Virginia
*- Denotes unanimous selection
A tie for the 10th spot resulted in 11 selections
 
Honorable Mention
Lauren Gustin (BYU), Holly Kersgieter (Kansas), Serena Sundell (K-State), Lior Garzon (Oklahoma State), Sedona Prince (TCU), Shaylee Gonzales (Texas), Aaliyah Moore (Texas), Bailey Maupin (Texas Tech)