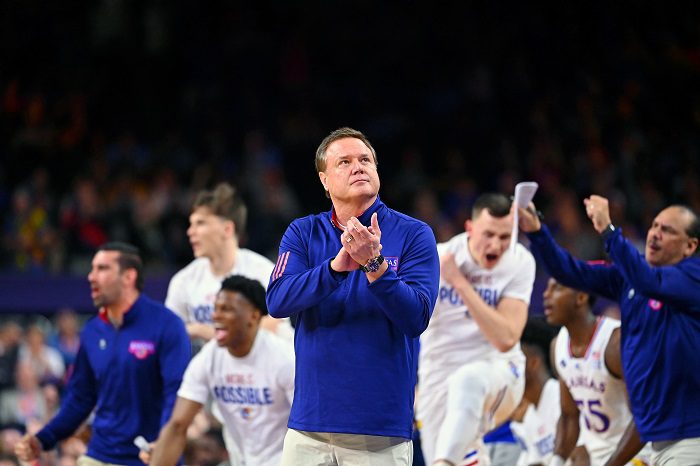 The Kansas Jayhawks are preparing for the 2023-24 men's basketball roster and below is a preview of every player on the roster entering November's opening game.
Below are the returning players, the transfers and the freshmen that will play a role in Kansas' upcoming season.
Expected to Return
Zach Clemence
It was an awfully interesting offseason for the 6-foot-11 sophomore forward. He played in 20 games last season, with 28 points and 25 rebounds. After two seasons of little playing time, he went to the transfer portal, only to return several weeks later. Clemence can clearly play. The problem has been consistent playing time. If he can play his way into being Hunter Dickinson's primary backup, that would get him 10-15 minutes per game and help him start to fulfill the potential Kansas had for him when he arrived in 2021.
Kevin McCullar Jr.
The 6-foot-7 guard went through the NBA Draft process for the second straight year but opted to return for one final season of college, as it was unlikely he would be drafted. The three-time All-Big 12 selection was a Naismith Defensive Player of the Year semifinalist in 2021-22 and 2022-23, He has 1,040 points, 589 rebounds, 231 assists and 178 steals for his career. He may not be Kansas' leading scorer or rebounder, but he will touch each of the five major columns of the box score most games. He will also likely draw the toughest defensive assignment each game, regardless of position.
Dajuan Harris Jr.
When it comes to the backcourt, it's the 6-foot-2 redshirt junior's show now. He's evolved into one of the best point guards in the college game. Harris only averaged 8.9 points per game, but he shot 40.5 percent from the 3-point line and he averaged a team-high 6.6 assists and 2.2 steals. He was the Big 12 Defensive Player of the Year. He ranks 14th on the Kansas career assists list with 455 and tied for 15th for career steals with 165. He has led the Big 12 in assist-to-turnover ratio each of the last two seasons.
KJ Adams Jr.
The 6-foot-7 sophomore forward was the Jayhawks' "small 5" last year and adapted his game to do what Kansas needed someone to do in the pivot. He averaged 10.6 points and 4.3 rebounds. Selected as an All-Big 12 Freshman two seasons ago and the All-Big 12 Most Improved Player last season, he can now move to the power forward position with the transfer of Dickinson, which should better suit his game and allow him to make more progress as a player.
Charlie McCarthy
The 6-foot-2 sophomore guard likely won't play much beyond mop-up duty as he is an invited walk-on for the program. But, he's been with the Jayhawks two seasons and he has a national championship ring from the 2021-22 season. He averaged 16.5 points, 8.0 rebounds, 5.0 assists and 1.5 steals per game in 2020-21 at Shadow Hills High School in Indio, Calif.
Wilder Evers
The 6-foot-4 freshman is a preferred walk on who didn't play in a game last season.
Michael Jankovich
The 6-foot-4 senior guard is an invited walk-on and has played in 34 games while at Kansas and has a national championship ring.
Dillon Wilhite
The 6-foot-9 redshirt freshman forward has a national title ring and just a handful of games played for the Jayhawks.
Patrick Cassidy
The 6-foot-1 junior guard is an invited walk-on who previously served as a manager for the Kansas basketball team for two seasons.
Arrivals Via Transfer
Hunter Dickinson
The 7-foot-2 forward is the thing last year's team was missing — dominant height in the paint. A three-time All-Big Ten selection at Michigan and a consensus All-America Second Team in 2021, he has averaged 17.2 points and 8.4 rebounds for his career and led Michigan in points and rebounds each of the last three seasons. For his career, has 1,617 points, 787 rebounds and 149 blocked shots. Much of Michigan's offense will flow through Dickinson. He led Kansas in scoring with 28 points against the Bahamian National Team and averaged 7.0 rebounds and 2.0 steals per game in exhibition play.
Nicolas Timberlake
The 6-foot-4 senior guard is a Towson transfer and he's going to bring 3-point shooting to the Jayhawks. He has shot 40 percent there the past two seasons, and with Towson a season ago he averaged 17.7 points per game. A two-time All-Colonial Athletic Association First Team selection, he will play a big role on the perimeter and is a likely starter in the opener. He has already scored 1,500 points for his collegiate career.
Parker Braun
The 6-foot-10 senior forward is the brother of former Kansas guard Christian Braun and transferred in from Santa Clara to play his sixth season of college basketball. He began his career at Missouri, where he was a redshirt in 2018-19, and played two seasons before transferring to Santa Clara the past two seasons. His career includes 109 games, 65 starts, 570 points, 420 rebounds, 102 blocked shots and 39 steals. Last season he averaged 7.7 points and 5.5 rebounds at Santa Clara last season.
Justin Cross
The 6-foot-8 junior guard is walking on at Kanas after he averaged 2.8 points, 4.4 rebounds and 1.4 blocked shots per game for John A. Logan College, which won the 2023 NJCAA D1 National Championship.
Chris Carter
The 6-foot-4 redshirt freshman guard is actually transferring from Cal State Northridge but is walking on to the program. He redshirted last season.
Class of 2023 Signees
The 6-foot-3 guard from South Kent, Conn., is the highest-rated player in the Class of 2023 for the Jayhawks. He was ranked the No. 20 recruit in the nation per 247Sports.com. He is a five-star player who averaged 10.6 points per game with the Jayhawks on their Puerto Rico tour. Expect the McDonald's All-American to get some run in his first season.
Jamari McDowell
Another four-star recruit in the class, the 6-foot-4 guard from Manvel, Texas, was ranked No. 108 in the nation. He played 12 minutes per game with Kansas on its Puerto Rico trip.
Johnny Furphy
The 6-foot-9 guard joined Kansas in August when a spot opened up on its scholarship roster. The Australian played for the country's Centre of Excellence (CoE), which is Basketball Australia's development program hosted at the Australian Institute of Sport alongside NBA Global Academy. He reclassified for the 2023 Class and he averaged 14.3 points and was 22-for-56 (39.3 percent) from 3-point range, to go along with 5.6 rebounds in 12 games played in 2023.
Starting lineup: Harris, McCullar, Adams, Dickinson, Timberlake
First Four off bench: Braun, Jackson, Clemence, McDowell
You can find Matthew Postins on Twitter @PostinsPostcard