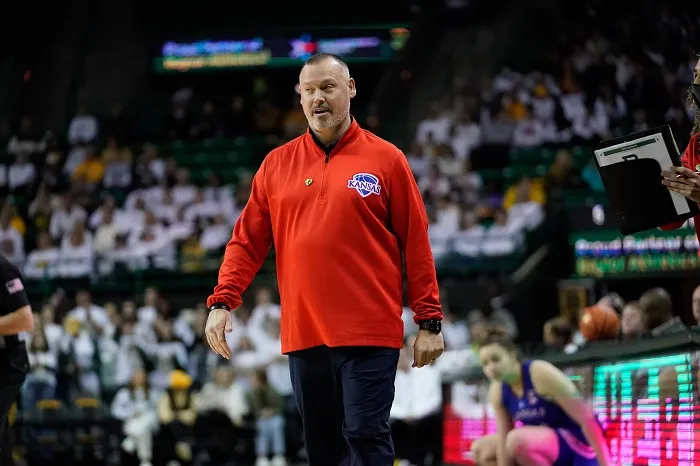 The Kansas Jayhawks are preparing for the 2023-24 women's basketball roster and below is a preview of every player on the roster entering November's opening game.
Below are the returning players, the transfers and the freshmen that will play a role in Kansas' upcoming season.
Expected to Return
Wyvette Mayberry
The 5-foot-7 senior transferred to Kansas before last season from Tulsa and moved into the starting lineup. She averaged 11.4 points and nearly three assists. She was fourth on last year's team in scoring, but only shot 28 percent from the 3-point line. She came from Tulsa with a better percentage (43 percent) and the Jayhawks hope she can recapture that form this season. She'll have to help more at the point this season, which should be no problem as he was second on the team in assists.
Taiyanna Jackson
The 6-foot-6 super senior center became a player in full last season. She averaged a double-double — 15.2 points and 12.7 rebounds per game — and was the 2022 Big 12 Defensive Player of the Year. She also took All-Big 12 First Team honors. She was also the WNIT Most Valuable Player. Her height and skill set makes her one of the hardest players in the conference to deal with.
Holly Kersgieter
The 5-foot-11 super senior guard announced that she would return for one more season as a result of a COVID waiver. She averaged 13.8 points and a team-leading two steals per game a season ago. The reality she has been one of this team's steadiest players her entire career. Capable of scoring in bunches or settling into a complementary role, she fits into whatever Kansas needs or she's asked to do. She has previously been an All-Big 12 First Team selection and is No. 13 in KU's all-time scoring list (1,559 points).
Danai Papadopoulou
The 6-foot-4 junior center from Greece will be competing for whatever playing time Jackson doesn't use. Frankly, there hasn't been much. But, a reminder of her ability — she averaged 6.6 points and 3.7 rebounds for Greece in the FIBA U20 European Championships last summer.
Zakiyah Franklin
The 5-foot-8 super senior guard is back, like Jackson and Kersgieter, on a COVID waiver. She emerged as the team's leading scorer last season, with 15.7 points. Franklin also led the team with 3.1 assists. The departure of Chandler Prater to the transfer portal (she is now at Oklahoma State) will mean even more reliance on the First Team All-Big 12 and WNIT All-Tournament Team selection of a season ago.
Zsófia Telegdy
The 6-foot-3 sophomore forward from Budapest is looking for more playing time after averaging 1.5 points and 1.7 rebounds in 32 games last season. She did make one start as a freshman and had a career-high 10 points against Iowa State.
Nadira Eltayeb
The 6-foot-4 senior center averaged 5.9 minutes per game last season. She'll compete for a rotational spot behind Jackson.
Transfers
Skyler Gill
Another guard/forward from Alabama, Gill is a 5-foot-10 junior who played at North Alabama. There, she was a two-time ASUN Conference Defensive Player of the Year (2022, 2023) and All-ASUN Second Team selection. She was also the ASUN Freshman of the Year in 2022. She has averaged 10.3 points, 8.5 rebounds, 3.0 blocks and 2.6 assists per game while shooting 38.4 percent from the field in her collegiate career. With a stacked backcourt, playing time will be a bit difficult to come by. But she could emerge in a sixth player role this season and turn into a full-time starter next season.
Ryan Cobbins
The 6-foot- super senior wing can play guard and forward and is transferring in from Alabama. She didn't play much at Alabama, as she averaged 13.6 minutes. But, before that, she played at North Dakota State where she averaged 10.5 points and was on the Summit League All-Newcomer Team in 2019-20. The connections? She's a former Kansas prep star and KU assistant Morgan Paige was her coach at NDSU.
Class of 2023 Recruits
S'mya Nichols
Getting the 6-foot Overland Park, Kan., product to stay home was quite the coup for coach Brandon Schneider and his staff. The forward is a five-star prospect, ranked No. 5 at her position and No. 22 in the country by Collegiate Girls Basketball Report. She was a member of the 2022 Team USA U18 National Team and won a gold medal at the FIBA U18 Americas Championship. The Jayhawks are stacked with experience, but she has the kind of game that will get her on the floor in a rotational role, at least to start.
Laia Conesa
The 5-foot-10 guard grows Kansas' international pipeline, as she comes to KU from Barcelona, Spain. She has played for the Spanish National Team during the FIBA U16 Women's European Challengers (2021), FIBA U17 Women's Basketball World Cup (2022) and the FIBA 3×3 U17 Europe Cup (2022). Kansas won't need to lean on her right away, but her international experience will be helpful.
McKenzie Smith
The 6-foot guard/forward is from Amarillo, Texas, where she was a two-time Texas Association of Basketball Coaches (TABC) All-State Selection. She averaged 16.8 points, 5.9 rebounds and 1.8 steals per game as a senior and had 1,519 career points. She's a strong candidate to be a starter next season while she learns from players like Franklin, Kersgieter and Mayberry.
Paris Gaines
Gaines, a 6-fooft-3 center, should spend the season watching Jackson's every move. With Jones High School in Orlando, Fla., she averaged 5.7 blocked shots per game last season, along with 10.0 points, 10.5 rebounds and 3.6 blocks per game over her final two seasons. She could be the future in the pivot for Kansas. Stealing her out of UCF's backyard doesn't hurt.
Starting Five: Jackson, Franklin, Kersgieter, Mayberry, Gill
First Four off Bench: Nichols, Cobbins, Papadopoulou, Smith
You can find Matthew Postins on Twitter @PostinsPostcard