Kansas Jayhawks
What-If Wednesday: Friday Night Football, Yormark Avoids Red River and Jalon Daniels' Health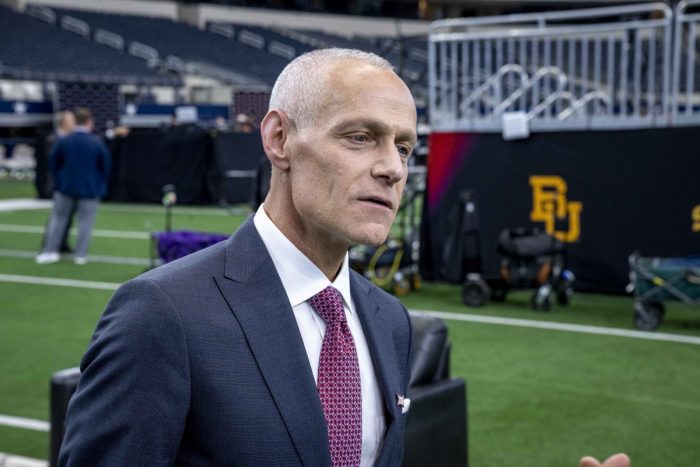 Welcome in to our newest feature we're calling, "What-If Wednesday". In this column, I'll propose a handful of questions that, at this point, have not come to fruition. But IF they do, what will come out of it? What's the end game?
Join us for this one and let's have some fun.
What if Friday night football games are here to stay in the Big 12?
Then you better get used to watching college games on your phone (or listening via transistor radio for your old heads) from the high school bleachers.
I see a future with many Big 12 games kicking off on Friday nights (this Friday it's Kansas State vs. Oklahoma State). Maybe it's each team gets at least one Big 12 game per season, similar to how the NFL will often give certain teams at least one Thursday night game per season. You don't want to overdo it, but commissioner Brett Yormark knows that ESPN and FOX will like it. Friday night typically has limited competition for live sports, so why not catch a great Big 12 match up on main ESPN or FOX? It beats getting a game buried on ESPNU or FS2 on a Saturday with an awkward kick off time. Or, God forbid, ESPN+. It's a win for the networks. And if the conference wants to keep cashing their sizable check(s), this is the kind of stuff it will likely have to do going forward.
But if you're a high school football nut too, you'll likely have a conflict or two each fall. Such is life in the ever-changing world of college football.
What if Brett Yormark was going to the Red River Rivalry?
He would've just been a distraction.
There was absolutely no point in Brett Yormark going to the Texas State Fair this weekend for the Red River Rivalry, unless he was really craving a corn dog. But those can wait. He's better off skipping this one, instead of watching the game in person.
And for those OU or Texas fans knocking him for not going, please. If he would've gone, you would've mocked him for trying to "take credit" for each team too. You can't have it both ways.
This makes the most sense for everyone involved for Yormark to just stay away and view this game like the SEC match up it basically is. That's not a knock on anyone, it's just the reality of the situation.
What if Jalon Daniels' back never gets right?
Then Kansas' season goes from 10-win potential to "Let's make a bowl game, boys".
Jason Bean is a nice quarterback in the Group of 5. I don't feel good about him winning me several games in this league. Daniels was the Preseason Big 12 Offensive Player of the Year. He's as dynamic a player as there is in the conference. You can't just lose him and replace him with a back up and not expect a big drop off.
And the Jalon Daniels back injury appears like it might be more concerning than we initially expected early in the season. This is a tenuous situation at KU that could quickly change the expectations and direction of this 2023 football season.