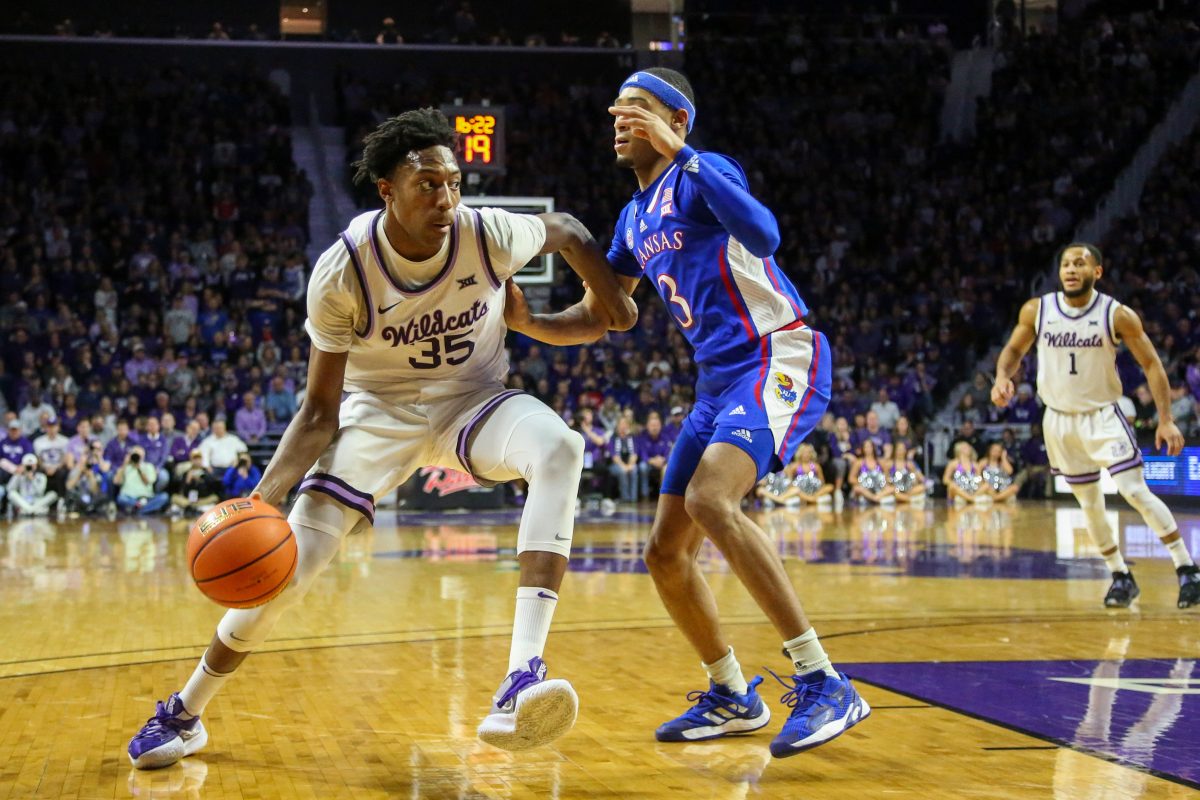 The Kansas State Wildcats are preparing for the 2023-24 men's basketball roster and below is a preview of every player on the roster entering November's opening game.
Below are the returning players, the transfers and the freshmen that will play a role in Kansas State's upcoming season.
Expected to Return
Cam Carter
The 6-foot-3 junior guard was a part-time starter last season and should push for a starting role this season. He averaged 6.5 points and 3.0 rebounds in his first year with the Wildcats in 2022-23. Perhaps as evidence of his emergence this season, he averaged 16.0 points, 6.3 rebounds and 2.7 assists per game on K-State's Israel trip this summer, which featured three exhibition games.
David N'Guessan
The 6-foot-9 senior forward from The Netherlands was a vital player off the bench for the Wildcats last season. He averaged 6.4 points on a team-best 70.6 percent shooting, with 3.5 rebounds, 0.8 assists and 0.5 blocks in 19.5 minutes per game. He'll need to get better at the free throw line to get more playing time. With the Dutch National Team over the summer he averaged 9.0 points, 6.3 rebounds and 1.0 blocked shots per game in the FIBA Olympic Pre-Qualifying Tournament.
Nae'Qwan Tomlin
The 6-foot-10 forward tested the NBA waters, but that was really a move to get his report card to find out where he needed to improve. The senior has NBA potential and is coming off a season in which he averaged 10.4 points, 5.9 rebounds and 1.0 blocked shots per game. He averaged 13.3 points and 6.3 rebounds in Israel. He projects as a stretch four in the NBA and as a Big 12 Player of the Year candidate this season.
Jerrell Colbert
The 6-foot-10 center redshirted last season when it was clear there wasn't much playing time to go around. He originally transferred in from LSU, where he played his first season in 2021-22. He was Tang's first signee of any kind. He only played four games at LSU. In Israel he averaged 7.0 points and 7.3 rebounds, so that could be a sign that a breakout is coming. If nothing else he'll compete for frontcourt rotation time.
Taj Manning
The 6-foot-7 redshirt freshman wing made the smart decision and took the redshirt for his first season as there likely wasn't much playing time for him. He's the one Bruce Weber recruit who stuck around after the coaching transition to Jerome Tang. On the Israel trip he averaged 3.0 points and 3.0 rebounds per game.
Dorian Finister
The 6-foot-4 sophomore guard was coach Jerome Tang's first signee. Expected to redshirt, the freshman played in six games last season for the Wildcats as he earned the right to be on the active roster. He played in all three games of the Wildcats' Israel trip this summer, averaged two points per game. He'll be looking to work his way into a bigger rotational role.
Arrivals Via Transfer
Tylor Perry
The 5-foot-11 fifth-year guard is a North Texas transfer who could give the Wildcats what Markquis Nowell gave them as season ago. He averaged 17.3 points, 3.4 rebounds and 2.1 assists for UNT last season. He was the 2023 Conference USA Player of the Year and the 2023 NIT Most Outstanding Player as UNT made a run to the championship.
Ques Glover
The 6-foot fifth-year guard was a late arrival in Manhattan, as he committed just after school started. He previously played at Florida and, more recently, Samford. Last year with the Bulldogs he averaged 14.7 points, 2.5 rebounds and 2.1 assists in just 19 games. The season before, in 29 games, he averaged 19.2 points. Most notable about Glover is that his 3-point shooting improved last season to nearly 38 percent.
Arthur Kaluma
Another late transfer for the Wildcats, the 6-foot-7 junior from Creighton averaged 11.8 points and 6.0 rebounds last season. Kaluma hit double figures in both season with the Bluejays and looks poised to add to the Wildcats' frontcourt rotation.
Taymont Lindsey
The 5-foot-8 guard joins the Wildcats after spending part of his college career at Manhattan Christian College. He is classified as a fifth-year player.
Will McNair Jr.
The 6-foot-11 fifth-year forward is another late arrival, as he joined the Wildcats after the fall session started. He previously played at New Mexico State and Mississippi State. He's been a rotational depth player throughout his career and has never averaged more than 6.6 points in a season.
Class of 2023 Signees
Dai Dai Ames
The 6-foot-1 guard was the top-rated recruit in Illinois and played at Kenwood Academy in Chicago, one of the nation's biggest prep talent hotbeds. Per 247sports.com Ames is the seventh-highest rated KSU recruit in the site's history. He could push for playing time right away. He scored more than 1,500 for his prep career and was named a 2023 Jordan Brand Classic All-American. He averaged 7.3 points on Kansas State's Israel trip this summer.
R.J. Jones
The 6-foot-3 guard was the highest-rated player in the state of Utah and the sixth-highest rated Kansas State recruit in the history of 247Sports.com. He played his prep ball at Wasatch Academy in Mount Pleasant, Utah.
Macaleab Rich
A Top-5 recruit from the state of Illinois, the 6-foot-6 forward played at East St. Louis High. He helped round out a Kansas State class that was ranked in the Top 15 when it signed last year.
Starting Five: Perry, Tomlin, Glover, Kaluma, Colbert
First Four off Bench: N'Guessan, Ames, Manning, McNair
You can find Matthew Postins on Twitter @PostinsPostcard