featured
Exclusive: HCS Interview With Kansas State Safety Kobe Savage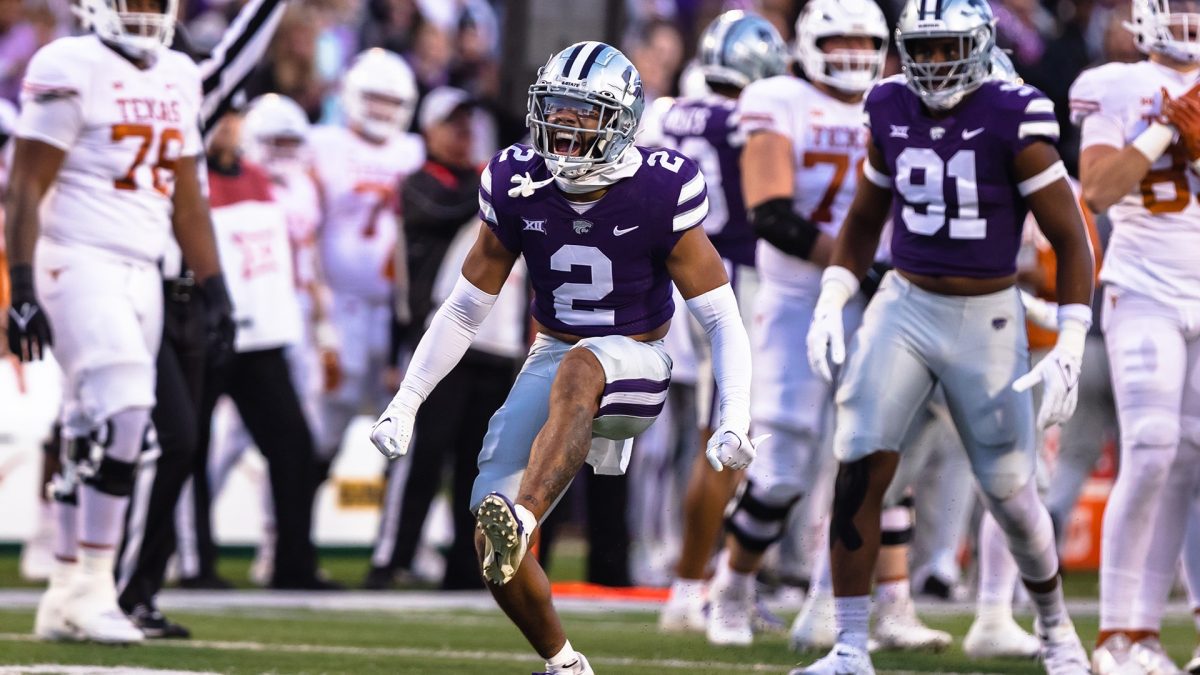 Kansas State safety Kobe Savage quickly became one of the best defenders in the Big 12 Conference last season after transferring from Tyler Community College, and during the Wildcats' off week, he sat down with Heartland College Sports to discuss his comeback season.
HCS: HOW DID YOUR INJURY IN 2022 SHAPE YOUR RETURN IN 2023?
Savage: "Really just missing the field with the guys is what motivated me a lot, and just to be able to recap and redo what we did last year and have another successful season this year. Getting to another great bowl game and another conference championship were some motivating factors in what pushed me to be able to get my leg back stronger than it used to be."
HCS: DID YOU EXPERIMENT WITH ANYTHING IN THE MENTAL GAME WHILE SIDELINED TO SHARPEN YOUR MIND FOR YOUR RETURN?
Savage: "Definitely. I feel like I indulged in a lot more deep into film study, just seeing the little things I could work on in my game, and what I could take away from opponents. Doing a lot of meditation and visualization just visualizing myself getting back on the field, doing well, and doing good with both my knees regardless of surgery. I did a lot of meditation throughout my injury and our coaching staff does a good job of helping us out through meditation."
HCS: WHAT WAS IT LIKE TALKING TO COACH KLIEMAN AFTER THE BAYLOR GAME AND HEARING HIM CONSOLE YOU FOLLOWING THE INJURY?
Savage: "It was really good. He actually let me sit in first class with all the other coaches when I got hurt so I could sit in the isle with my leg extended. He leaned over and told me some kind words that meant the world because I've never missed any games so I felt like I was letting everyone down for that, but him just reaffirming that I'm good and that everything will be okay just made me feel a whole lot better about the process. He's a great coach and I've always bought into everything he's said so hearing those words meant a lot to me."
HCS: AFTER FLIPPING SOME PLAYERS AROUND IN THE SECONDARY AHEAD OF THE UCF GAME, HOW HAS YOUR POSITION IN THE DEFENSE CHANGED?
Savage: "I'm kind of like an extra linebacker and a post-safety, it's a hybrid of everything. You can play man, you can blitz, it's a lot of different things but I'm really excited about it because I get to go sideline to sidelines instead of staying on the boundary side."
HCS: K-STATE IS CURRENTLY SIXTH IN THE NATION AND FIRST IN THE BIG 12 AT STOPPING THE RUN, WAS THAT AN INCREASED FOCUS, OR IS THAT THE BENEFIT OF HAVING PLAYMAKERS AT EACH LEVEL OF THE DEFENSE?
Savage: "It's definitely been a conscious effort. I don't think anybody just killed us last year in the run, but I feel like Coach Klanderman does a good job of enforcing the mob mentality and just having their mind on the ball for all 11 guys. After a while, whoever we're going up against, whether it be a quarterback or running back will eventually cough up the ball and get tired of it. It's demeaning to an offense to see all those guys running to the ball."
HCS: DID TAKING ON UCF FEEL ANY DIFFERENT THAN TAKING ON A BIG 12 TEAM FROM LAST YEAR?
Savage: "They're definitely a good Power 5 school, they definitely proved themselves to be that. They have a lot of speed as you saw with the running back, quarterback, and wide receivers. I feel like they are going to be a great addition to this conference. They are a really solid team even without having their starting quarterback."
HCS: ANY EXTRA CHIP ON THE SHOULDER FOR PLAYING TEXAS/OKLAHOMA IN THEIR FINAL YEAR WITH THE CONFERENCE?
Savage: "I feel like there probably is, but since it's my second year, I don't have anything towards them I just want to hard because it's Texas. I grew up a big fan when I was younger, I was raised that way so I'm really excited to play those schools. Hopefully, like you said, we get to play OU in the Big 12 Championship and get to be 2-0 against them since my career started here."
HCS: IS IT TRUE THAT YOU AND AUSTIN MOORE ARE THE BIGGEST TRASH TALKERS ON THE TEAM?
Savage: "Yeah that's definitely true. The thing about Austin, he's not even a big talker, he says it so sternly that everybody will hear it but you can't even tell if he's talking or not because his helmet doesn't move or anything. Another person I'd say is Marques Sigle, he's a slick trash talker."
HCS: WHAT IS IT LIKE HAVING THE BEST LAST NAME POSSIBLE FOR A DEFENSIVE BACK TO HAVE?
Savage: "Yeah I mean it's always been cool, especially growing up in a small town. A lot of people knew my family so they would just call us savages, even in high school, everyone would call me by my last name. Really just living up to the name, I mean if I have that on the back of my jersey I have to go hard every play, every snap. Really just embracing my family name and playing for them."
HCS: IS DJ GIDDENS THE KAWHI LEONARD OF FOOTBALL?
Savage: "That's 100% spot on. He's just a dog who never talks or makes a smile or anything. DJ's a really cool dude if you can get him to talk, he's a really down-to-earth dude. He is crazy strong too, I watched him power clean 315 and just drop it with a straight face like it was nothing. He's a dog, everybody in the locker room will tell you, but he's definitely like the Kawhi Leonard of football."
Savage and the Kansas State Wildcats are set to play Oklahoma State on Friday night, with kickoff set for 6:30 p.m. on ESPN.