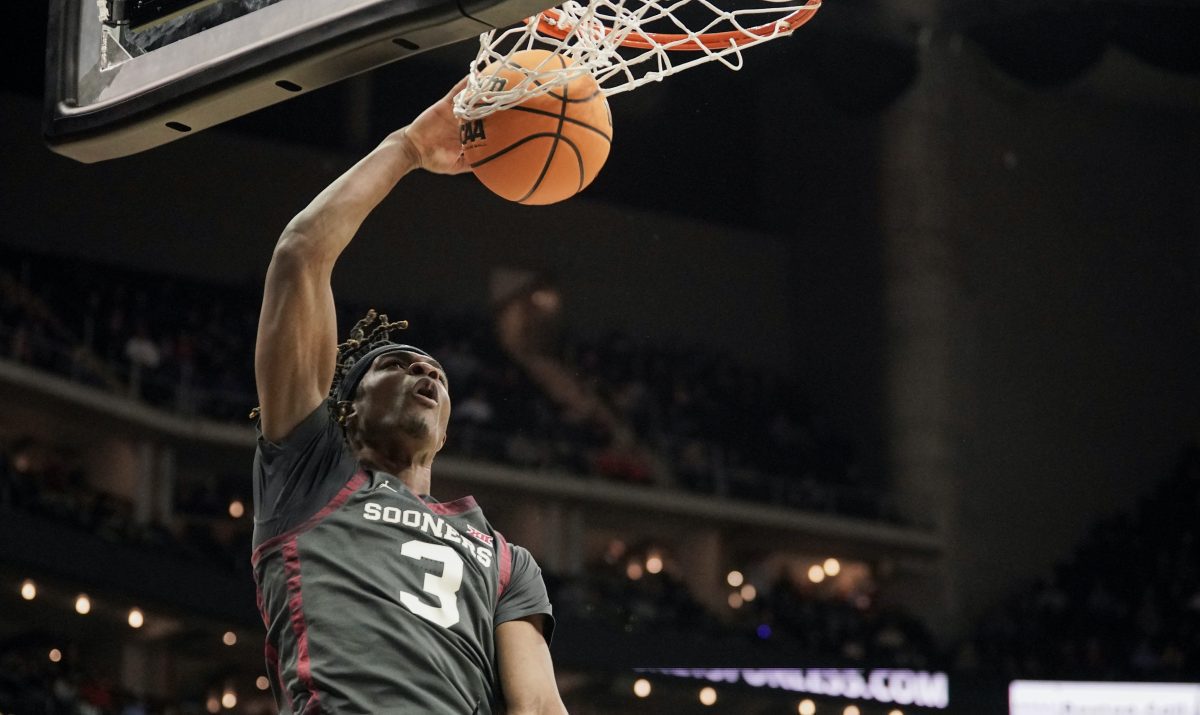 The Oklahoma Sooners are preparing for the 2023-24 men's basketball roster and below is a preview of every player on the roster entering November's opening game.
Below are the returning players, the transfers and the freshmen that will play a role in Oklahoma upcoming season.
Expected to Return
Otega Oweh
The 6-foot-5 sophomore guard was a highly-regarded recruit last season but only got a starting job late in the campaign, as he finished with averages of 4.8 points and 2.1 rebounds. But showed more promise than the box score indicates. He scored 10 points in four different games. The former four-star recruit was a Top 100 player coming out of Blair Academy. He has the potential to be OU's leading scorer this season.
Sam Godwin
The 6-foot-10 senior forward gave the Sooners some solid minutes off the bench last season, averaging nearly five points and more than three rebounds per game. He enters this season pushing for a spot in the starting lineup.
Yaya Keita
The 6-foot-9 redshirt sophomore played just two games last season. He transferred in from Missouri, where he suffered a season-ending knee injury in February of 2022. It's fair to say the Sooners don't know what they're getting from the former Top 150 recruit who started his career at Missouri.
Milos Uzan
The 6-foot-4 sophomore guard was the other freshman that earned significant playing time last season, as he started 24 of the team's 32 games and averaged 7.6 points and 2.7 rebounds while dishing out 96 assists, second only to Grant Sherfield. He should be the starting point guard right away for the Sooners as he seeks to score in double figures.
Jake Moser
The 6-foot-3 junior walk-on guard played in seven games last season.
Luke Northweather
The 6-foot-11 redshirt freshman is the tallest player on the roster but didn't play last year. He'll get a chance to show the talent that made him the 2022 Missouri Gatorade Boys Player of the Year.
Arrivals Via Transfer
John Hugley IV
The 6-foot-9 forward played just six games last season due to injury (8.0 points, 3.6 rebounds). But his career numbers are solid — He averaged 12.2 points and 6.6 rebounds. His sophomore year (2021-22) saw him average 17.7 points and 7.1 rebounds while earning All-ACC Honorable-Mention honors. It's quite the coup for OU to get him through the transfer portal.
Maks Klanjscek
The 6-foot-5 guard is a graduate of Houston Christian and transfers to the Sooners after averaging 15.0 points, 3.8 rebounds, 2.4 assists and 1.1 steals for the Huskies. Before that he spent time at Maine, where as a junior he averaged nearly 10 points per game. Before that he was at Salt Lake Community College. The Slovenia native has played for his national team since his days with the U-14 team.
Javian McCollum
Last season the 6-foot-2 junior guard was at Siena, where he averaged 15.9 points, 3.9 assists and 2.1 rebounds per contest and was named to the 2022-23 All-Metro Atlantic Athletic Conference Third Team. He's a 36 percent 3-point shooter. He has the potential to start right away for the Sooners, who need consistent guard play and outside shooting.
Le'Tre Darthard
The 6-foot-4 graduate student transfers in from Utah Valley, where he helped the Wolverines reached the NIT Final Four last season. Last season he averaged 13.8 points, 3.5 rebounds, 1.6 assists and 1.2 steals and shot nearly 36 percent from the 3-point line. For his collegiate career he averaged 10.5 points, 2.8 rebounds and 1.4 assist. The Sooners need his touch from outside.
Jalon Moore
The 6-foot-7 junior forward from Georgia Tech comes to the Sooners after two seasons with the Yellow Jackets. Last year he started 15 games and played in 32, as he averaged 7.6 points, 4.7 rebounds and 0.8 assists per game. That was improvement over his 2.8 points and 1.9 rebounds from his freshman season.
Rivaldo Soares
The 6-foot-6 senior guard was a part-time starter in two seasons with the Oregon Ducks, averaging 6.0 points, 3.1 rebounds and 1.3 assists. He started his college career at South Plains College, where he was NJCAA All-America First Team. With South Plains he averaged 15.2 points, 6.8 rebounds and 2.5 assists.
Class of 2023 Signees
Jacolb Cole
The 6-foot-7 product of Link Academy in Branson, Mo., is a consensus four-star player who is considered by most to be a Top 100 national player. He attended the 2022 USA Basketball Junior National Team April minicamp and selected as one of 16 finalists for the 2021 USA U16 National Team. He's actually from Bellaire, Texas.
Kaden Cooper
The 6-foot-5 guard was a consensus four-star player coming out of The Skill Factory in Atlanta, Ga. Before that, he played for Ada (Okla.) High School. He's averaged nearly a double-double for The Skill Factory and has the talent to challenge for playing time now. He also has a nice Sooners in, as he played for Team Trae Young on the Adidas 3SSB Circuit.
Reid Lovelace
The 5-foot-11 sophomore guard played his prep basketball at Crossings Christian in Oklahoma City. He was not on the Sooners' roster last year.
Starting Five: Uzan, McCollum, Oweh, Hugley, Darthard
First Four off Bench: Cole, Moore, Godwin, Klanjscek
You can find Matthew Postins on Twitter @PostinsPostcard