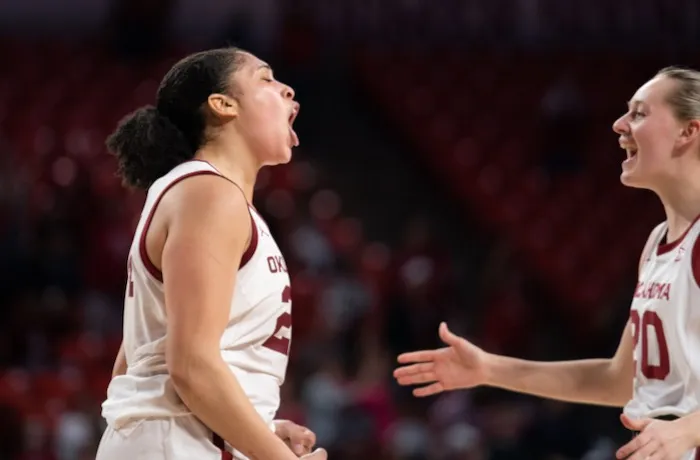 The Oklahoma Sooners are preparing for the 2023-24 women's basketball roster and below is a preview of every player on the roster entering November's opening game.
Below are the returning players, the transfers and the freshmen that will play a role in Oklahoma's upcoming season.
Expected to Return
Kayla Cooper
The 5-foot-9 sophomore guard was a Top 70 national player a year ago and a huge part of OU's 2022 recruiting class. With the departures of players like Ana Llanusa, Madi Williams and Taylor Robertson, Cooper should have a better shot at playing time this season.
Beatrice Culliton
The 6-foot-3 sophomore center carved out a backup role as a true freshman, averaging 10 minutes and 4.2 points and 3.0 rebounds per game. She earned selection to the All-Big 12 Freshman team last March. She was the first OU freshman center to do that since Courtney Paris. Among the most interesting games she had last season was her 10 assists against Texas Tech on Feb. 15. The former Top 100 player was a three-time All-State selection in Kansas during her prep career in Overland Park, Kan.
Aubrey Joens
The 5-foot-9 senior and younger sister of Iowa State legend Ashley Joens transferred in before last season and assumed a bench role for the Sooners in her first season in Norman. She averaged 6.1 points and shot 41.4 percent from the 3-point line. With Robertson gone, Joens should take on a much bigger role from distance this season.
Kiersten Johnson
The 6-foot-4 sophomore forward was another piece of OU's terrific freshman class a season ago. The four-star forward and Top 100 player managed three points, 2.2 rebounds and 0.7 assists per game off the bench. Her 1.2 blocked shots per game was third most in the Big 12 and the most for a freshman. She should challenge for more than the 9.2 minutes she played last season.
Jordan Moser
The 6-foot-1 redshirt senior forward is the daughter of Oklahoma men's coach Porter Moser and played in three games last season.
Reyna Scott
The 5-foot-10 sophomore guard played in 24 games last season backing up the team's talented and deep backcourt. Part of a great recruiting class, she averaged 3.0 points, 1.0 rebounds and 1.2 assists per game. Given all the hype around Taylor Robertson breaking the NCAA 3-point record, few noticed that Scott might be a potential heir, as she shot 41.7 percent from 3-point range.
Liz Scott
Under-recognized by the overall Big 12 community, the 6-foot-2 redshirt senior forward started all 33 games las season and averaged 8.6 points and 6.3 rebounds per game. Both were career highs for the Houston, Texas, product.
Nevaeh Tot
The 5-foot-3 senior guard started every game last season for the Sooners and helped set up their talented trio of super-seniors. He dished out 121 assists and managed to score 7.5 points per game, a career high. The former All-Big 12 Freshman will be looking to increase her offense while making sure the rest of the offense runs properly.
Kennady Tucker
It's time for the 5-foot-10 redshirt senior guard to challenge for a starting job in the backcourt. She's done her time as a backup, as she averaged 2.7 points, 2.1 rebounds and 1.7 assists per game last season. In the season before she averaged 5.0 points, 2.6 rebounds and 2.2 assists.
Payton Verhulst
The 6-foot-1 junior guard transferred from Louisville at midseason and had to sit out the rest of the season. In eight games with the Cardinals she averaged 6.4 points, 1.5 rebounds and 1.1 steals per game in 15.1 minutes. She was an All-ACC Freshman selection in 2021-22.
Skylar Vann
The 6-foot senior forward has been the Big 12's Sixth Player of the Year. This should be her season to be the starter and the leading scorer. She averaged 11.5 points and 6.8 rebounds per game. She also had 2.1 assists and led the Sooners with five double-doubles. She was the only player in Division I to average 11.5 points and 6.5 rebounds without a start last season.
Arrival Via Transfer
Lexy Keys
The 5-foot-7 senior guard transferred in from arch-rival Oklahoma State after she averaged 9.5 points and 3.9 rebounds last season. She emerged as one of OSU's best defenders under then-first year coach Jacie Hoyt. She'll add outside shooting, along with that defense, to a team that lost significant pieces from last season.
Class of 2023 Recruits
Landry Allen
The 6-foot-3 forward is from Tuttle, Okla., and she was the state's No. 2 recruit in the Class of 2023. She was also considered a four-star player by several recruiting outlets and was the nation's No. 10 center as rated by ESPN. She averaged 17.2 points, 9.1 rebounds, 3.6 blocks and 1.1 assists per game as a senior.
Sahara Williams
Coach Jennie Baranczyk reached back into her old backyard (she used to be the head coach at Drake in Des Moines) and snagged the 5-foot-10, five-star guard from West High School (Waterloo, Iowa) who was considered a Top 25 player by two different recruiting services. By the end of her senior season she averaged 21.2 points, 10.1 rebounds, 4.7 assists and 3.2 steals per game and was a McDonald's All-American.
Starting Five: Vann, Tot, Liz Scott, Joens, Johnson
First Five off Bench: Keys, Verhulst, Tucker, Culliton, Williams
You can find Matthew Postins on Twitter @PostinsPostcard