Baylor Bears
The BUTT Bowl: The Big 12 Game Nobody is Talking About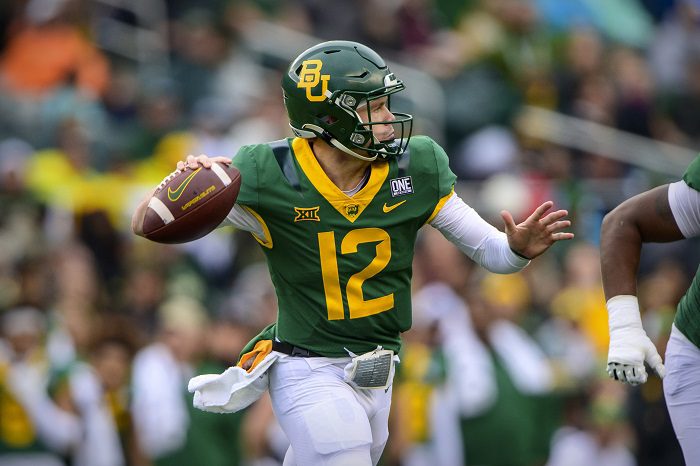 As we enter another great weekend of college football, I got to thinking a bit. Don't worry I didn't hurt myself doing it, but there is a game out there that nobody is paying attention to in the Big 12.
While the Red River Rivalry will steal all the national headlines, the game I am talking about is the BUTT Bowl. What is the BUTT Bowl you ask? Well, maybe it is just easier for me to show you than to tell you. I think this picture here says it all.
The rivalry between Baylor and Texas Tech is an underrated one. These two schools have played 81 times since their first meeting back in 1929 and have played every year since 1956. There is no love lost between these two schools, which are just a little over 350 miles apart.
For a while, this wasn't much of a rivalry at all. The Red Raiders won 15 straight from 1996 to 2010. However, this game got a bit more interesting after that. Since 2011, Baylor has won nine out of the last twelve meetings. And from 2009 to 2018, this game was played either in the Cotton Bowl or inside AT&T Stadium in Arlington.
While it is fun to look back at the past, I find this game coming up very interesting for a few reasons. Before the season started, both teams had high expectations. In the preseason media poll, Texas Tech was picked to finish fourth while Baylor was picked to finish sixth in the Big 12 Conference.
While both Baylor and Texas Tech had high hopes entering the 2023 season, it hasn't really all come together yet for either team. The Bears got off to a 1-3 start with losses to Texas State, Utah, and Texas. It wasn't until last weekend against UCF that they got their first conference win of the year. In fact, it was their first conference win since November 5th of last season. And if you are looking to find their last Big 12 home win, you would have to go back all the way to October 22nd of last year when they beat Kansas.
Meanwhile, Texas Tech's season hasn't gone much better. They opened the season off with a loss to Wyoming on the road before blowing a late lead against a good Oregon team at home. Then just two weeks later, they had an ugly loss to West Virginia in Morgantown where they lost starting quarterback Tyler Shough.
With Baylor and Texas Tech already having a loss in Big 12 play, this weekend is a must-win for both teams. While the winner of this game will keep their conference title hopes alive, the loser is likely out of that conversation. As for the loser? Things will be pretty bleak because I would imagine that a loss here would probably mean that you will be fighting for bowl eligibility which is not exactly what either team was hoping for before the season.