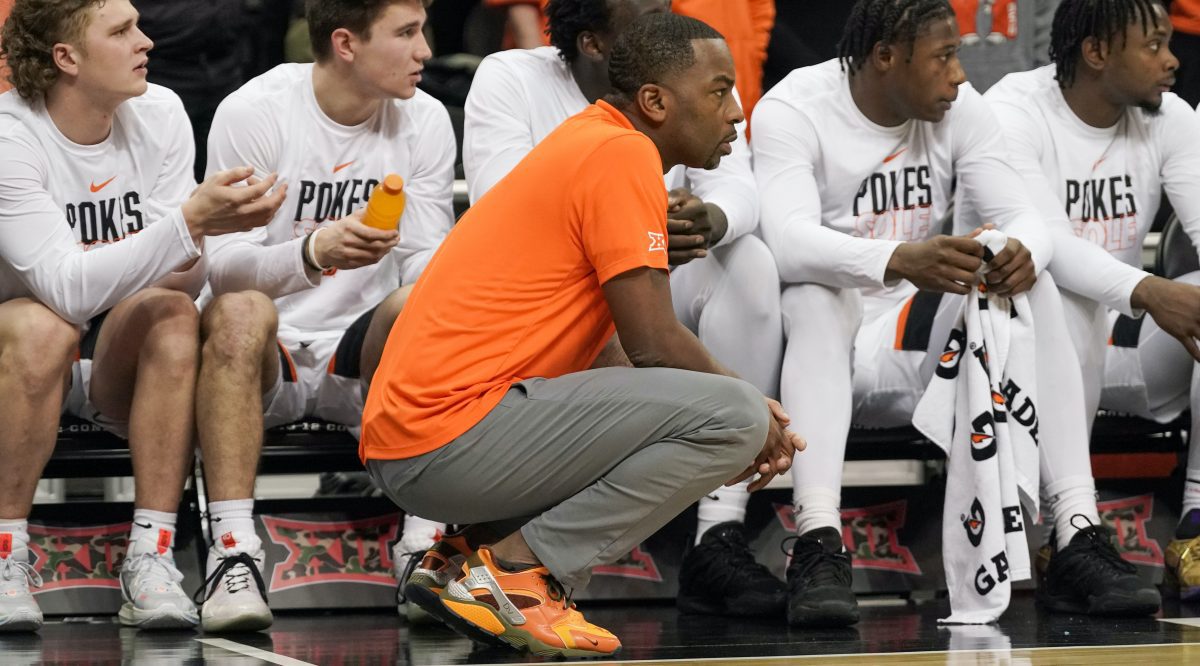 The Oklahoma State Cowboys are preparing for the 2023-24 men's basketball roster and below is a preview of every player on the roster entering November's opening game.
Below are the returning players, the transfers and the freshmen that will play a role in Oklahoma State's upcoming season.
Expected to Return
John-Michael Wright
The 6-foot-1 guard is using his COVID waiver to play one final year of college basketball. Wright became a productive part of the Cowboys last season, as he averaged 9.8 points and shot 34 percent from the 3-point line. Believe it or not, he is among the NCAA's active leaders in career points (1,852) and minutes (3,982) in a career that saw him start at High Point back in 2019.
Bryce Thompson
The 6-foot-6 senior guard and former high school All-American led the Cowboys in scoring last season, averaging 11.8 points per game. He is the only returning Cowboy who averaged double-figures last season, and he still has two years of eligibility left. He will be a focal point of the Cowboys' offense once again. He'll need to be if this team is to be successful.
Weston Church
The 6-foot-3 senior guard is a walk-on and likely won't see much action.
Naz Brown
The 6-foot sophomore played in 10 games last season for the Cowboys but did so as a walk-on. He'll remain a walk-on this season, per his OSU bio. But, to be clear, he has skills. He averaged nearly 16 points per game in high school in Coppell, Texas. A knee injury his junior year of high school probably derailed his recruitment coming out of high school.
Brooks Manzer
The 6-foot-3 guard is a junior walk-on and the son of former OSU player Bryndon Manzer.
Carson Sager
The 6-foot-4 senior guard played in seven games last season and has been with the program longer than any other player. He's a walk-on.
Quion Williams
The 6-foot-5 guard earned more playing time as his freshman season went along. He ended up playing in 34 games and averaged 3.2 points. In his three postseason games he averaged 8.0 points, 5.3 rebounds and 2.7 assists. That could be a sign of things to come. The coaching staff hopes so.
Arrivals Via Transfer
Jarius Hicklen
The 6-foot-4 guard has spent time at both Oklahoma Baptist and North Florida. He's using his COVID waiver to play one last year of college ball and has more than 1,300 career points. He averaged 12.2 points per game in two seasons with North Florida and he connected on more than 160 3-pointers. That's an area where Hicklen can really help the Cowboys.
Mike Marsh
The 6-foot-10 redshirt senior center comes to Stillwater after averaging 10.5 points and 4.9 rebounds per game for Jacksonville last season on 55.2 percent shooting from the field. He now joins a crowded group of centers who are looking for playing time this season. His experience gives him a leg up.
Javon Small
The 6-foot-3 guard could be an offensive boost for the Cowboys. He played just 18 games for East Carolina last season and averaged 15.8 points, 5.6 assists and 4.8 rebounds per game. He has two years of eligibility remaining. Ohio State was interested in him as a transfer and CBS Sports' Jon Rothstein considered him a Top 50 transfer recruit. He only played half the season due to a season-ending leg injury so his health is worth monitoring during the lead-up to the regular season.
Isaiah Miranda
Miranda, a 7-foot-1 center, is an interesting prospect. A four-star, Top 60 recruit, he reclassified and enrolled at NC State in January, but opted to transfer after the semester — and after going through the NBA Draft process. He hasn't played a college game yet. But, he's 7-foot-1 and you can't coach that.
Class of 2023 Signees
Eric Dailey Jr.
The 6-foot-7 forward signed with Oklahoma State in April out of IMG Academy in Bradenton. He was a Top-50 national recruit and gold medal winner for the USA Basketball Under-18 National Team. He could have gone the pro route with G League Ignite, but he worked with OSU coach Mike Boynton Jr. as part of two national teams and that likely made a difference in Dailey's decision to join the Cowboys. He should be an immediate impact player.
Connor Dow
The 6-foot-5 forward is from Broken Arrow, Okla., and came out of high school as a three-star recruit. He was also considered the No. 3 overall recruit in Oklahoma when he signed in November. Boynton has compared him to former Cowboys player Thomas Dziagwa. There is a lot of competition at his position and it will be interested to see if he works his way into the rotation or redshirts.
Brandon Garrison
The 6-foot-11 center from Del City High School in Oklahoma City is a four-star recruit and was considered the state's top recruit for the Class of 2023. Last summer he played for the U18 United States basketball team to help the U.S. to a gold medal. He is the program's ninth McDonald's All-American and the second recruited under Boynton, joining Cade Cunningham. He was also the Gatorade and MaxPreps Player of the Year in the state of Oklahoma.
Jamyron Keller
The 6-foot-1 guard is another three-star recruit who comes from Ellison High School in Killeen, Texas. He's played in the Peach Jam alongside Justin McBride at the Peach Jam and averaged more than 2,500 career points in high school. Boynton calls him a "junk yard dog, blue collar type player."
Justin McBride
McBride is a 6-foot-7 forward out of Plano High School in Plano, Texas, who rose up to be a four-star recruit coming out of high school. He played with Keller in the Peach Ham and with Keller on the Nike EYBL circuit. Boynton envisions him as a three-level scorer who can also be a solid ball-handler on the perimeter.
Starting Five: Thompson, Wright, Dailey, Small, Marsh.
First Four off Bench: Garrison, Hicklen, Williams, McBride
You can find Matthew Postins on Twitter @PostinsPostcard