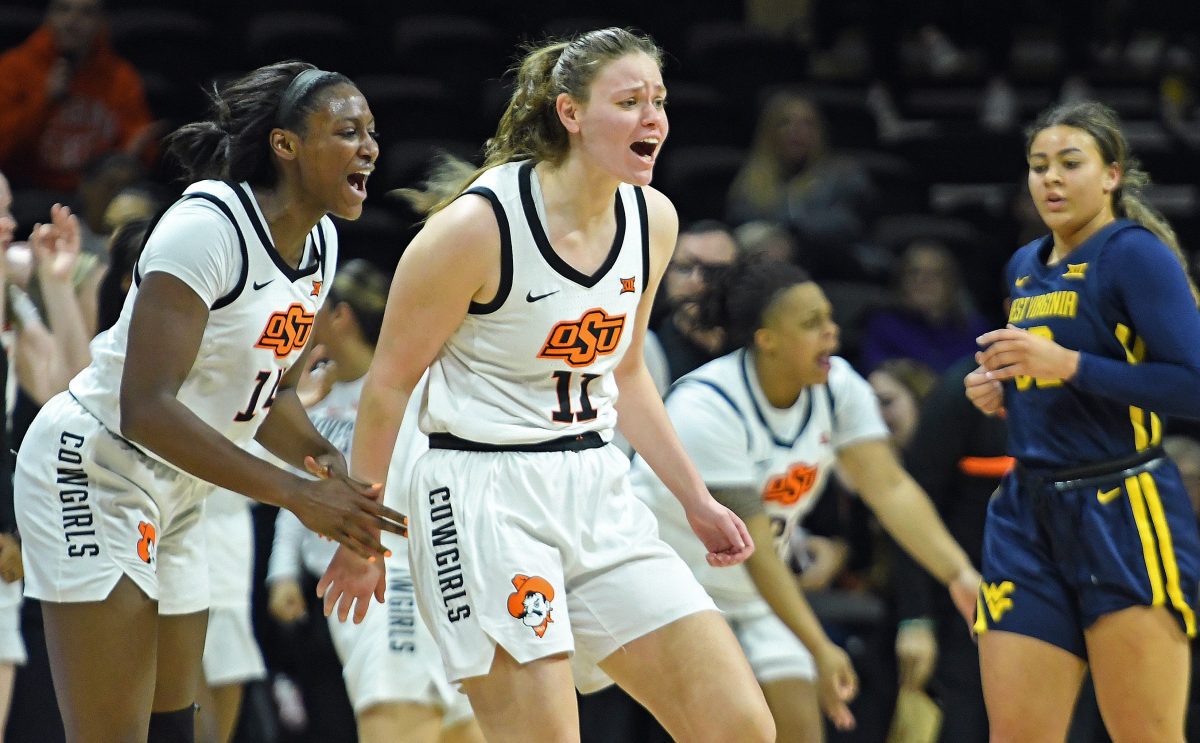 The Oklahoma State Cowgirls are preparing for the 2023-24 women's basketball roster and below is a preview of every player on the roster entering November's opening game.
Below are the returning players, the transfers and the freshmen that will play a role in Oklahoma State's upcoming season.
Expected to Return
Hannah Gusters
The 6-foot-5 senior forward transferred to Oklahoma State from LSU in the middle of last season and sat out. As a sophomore at LSU she averaged 4.4 points and 2.7 rebounds per game. In high school, she was the No. 16 recruit in the country per ESPN, a McDonald's All-American and a Jordan Brand Classic All-American.
Anna Gret Asi
The 5-foo-8 junior transferred into OSU last offseason and she became a valuable bench player. She averaged 7.2 points and was the team's best 3-point shooter by percentage (43.3 percent). She put herself on the Big 12 map after a career-high 26 points against Oklahoma in Norman. This season she should slide into a larger role, whether it's in the starting lineup or off the bench.
Lior Garzon
The 6-foot-1 senior forward was last year's prized transfer and she delivered. The former Villanova forward came off the bench last season and averaged 10.8 points per game. Like Gret Asi, she was one of the top 3-point shooters on the team. She set OSU's single-season record with 80 made-3 pointers last season. She was also the first Cowgirl to average double figures in scoring in a reserve role since Toni Young in 2011-12. She should move into a starting role this season.
Praise Egharevba
The 6-foot-3 redshirt freshman didn't play in her first college season. Before college, she completed her prep career in England for the Nottingham Wildcats and averaged 11.3 points and 11.6 rebounds per contest in 2021-22.
Landry Williams
The 5-foot-9 junior guard transferred in from Kansas City before last season, following her former head coach, Jacie Hoyt, and played just four games before she sat out the rest of the season.
Arrival Via Transfer
Ale'jah Douglas
The 5-foot-6 senior guard averaged 5.2 points and 1.8 rebounds per game for Clemson last season. She started four out of 33 games and had 39 assists and 34 steals. The Omaha, Neb., native scored 1,015 points in a two-year junior college career at Western Nebraska Community College. There, she was a First-Team NJCAA All-American in 2022 as she averaged 17.9 points, 3.1 rebounds and 4.0 assists per game. Can she break through and get more playing time with the Cowgirls?
Kennedy Fauntleroy
As a freshman at Georgetown she was unanimously named the Big East Freshman of the Year after finishing as the Hoyas' second-leading scorer at 10.9 points per outing. The 5-foot-7 guard also averaged 3.9 rebounds, 2.9 assists and 2.4 steals per game. She was one of the biggest gets in the transfer portal for any Big 12 program and should be an instant start for the Cowgirls.
Chandler Prater
The 5-foot-11 senior guard player her first three seasons at Kansas, where she played 86 games and carved out a role as one of the team's top ball handlers. Last season she averaged 9.5 points and 6.0 rebounds per game, helping Kansas win the postseason WNIT. She is a former Top 100 recruit who could be a starter for the Cowgirls.
Rylee Langerman
The 5-foot-9 senior guard transferred in from Arkansas, where she played 82 career games and averaged 2.5 points and 3.2 rebounds per game in three seasons. Given the amount of talent the Cowgirls have returning or have imported, Langerman could settle into a bench role as a backup guard and above-average defender.
Quincy Noble
The 5-foot-10 guard spent her career at North Texas and was a three-time All-Conference USA selection who last season averaged 17.0 points and 4.2 rebounds per game while shooting 42.9 percent from the floor. There is little keeping Noble off the floor this season, either as a starter or as a top player off the bench.
Brianna James
The 6-foot-3 senior forward transferred in from Old Dominion, where she averaged 7.3 rebounds and 5.2 boards per game. She had a team-leading 153 rebounds and 1.44 blocked shots for the Monarchs last season. She'll provide valuable depth in the paint this season.
Class of 2023 Recruits
Mai Galbraith
The 5-foot-9 guard from Lake Travis High School in Austin, Texas, was a nominee for McDonald's All-America and an All-State pick in the state of Texas. She averaged 14.1 points, 4.7 rebounds and 3.0 steals per game as a senior and scored more than 1,500 points and grabbed more than 560 rebounds in her first three high school seasons.
Stailee Heard
The 5-foot-11 guard from Sapulpa, Okla., was named Miss Basketball Oklahoma by VYPE Oklahoma and as a senior, led Sapulpa to its second state title in three years, finishing with 41 points in the title game to earn tournament MVP honors. She averaged 19.7 points, 9.7 rebounds, four assists and 2.5 steals per game last season.
Brenna Butler
The 5-foot-7 guard from Gruver, Texas, is a preferred walk-on. She went to the same high school as current Texas Tech guard Bailey Maupin. The four-year starter was an All-State selection who averaged 14.2 points, 4.6 rebounds and 4.5 boards per contest as a senior.
Starting Five: Fauntleroy, Garzon, Noble, Prater, Gusters
First Four off Bench: James, Langerman, Douglas, Gret Asi
You can find Matthew Postins on Twitter @PostinsPostcard