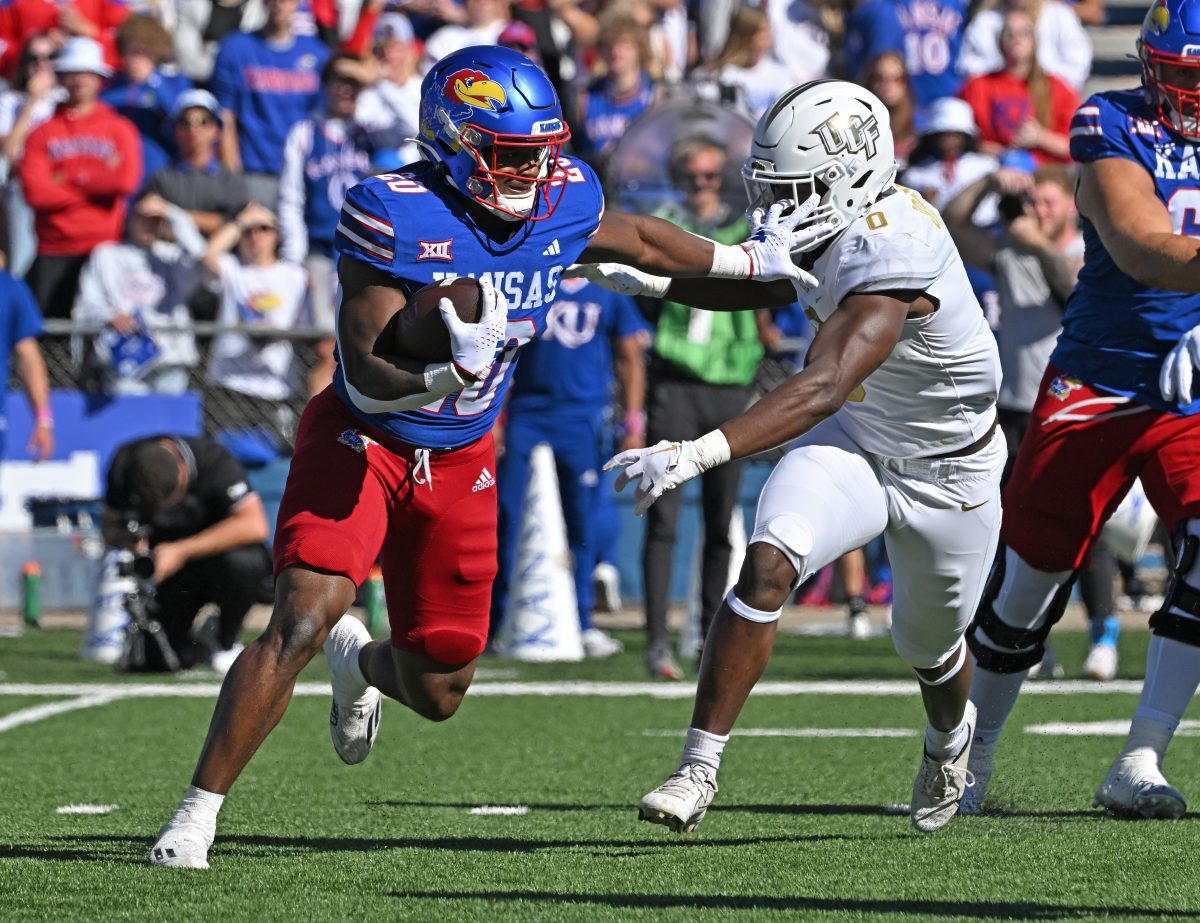 While the Red River Showdown stole the headlines in the Big 12, there were plenty of other big-time matchups in the conference. We are just two weeks into conference play and the Big 12 title race is still wide open. In Lawrence, Kansas the Jayhawks were set to host the UCF Knights. Both teams came into Saturday coming off disappointing losses a week ago.
Kansas was without starting quarterback Jalon Daniels against Texas and while they kept the game close, they melted down in the second half in a 40-14 loss. And speaking of second half meltdowns, UCF blew a 35-7 lead against Baylor last weekend. With both teams trying to turn things around, only one would walk away victorious. On Saturday, Kansas made a statement with their big 51-22 win. Here are my three thoughts on the game.
The Kansas Offense Didn't Skip a Beat
When it was announced that starting quarterback Jalon Daniels would not play against UCF, I was a bit worried. Backup quarterback Jason Bean has been serviceable over the years, but he really struggled against Texas last weekend. That didn't matter because Kansas didn't need to throw the football at all against UCF. The Jayhawks racked up nearly 400 yards on the ground led by Devin Neal and Daniel Hishaw Jr. who combined for a whopping 288 yards and three touchdowns. It was the first time since 1995 that Kansas had two rushers go for over 130 yards in a game.
Kansas averaged almost eight yards per carry and ran the football 51 times. The fact that they only completed eight passes in this game should tell you everything you need to know. Of course, I must also give some credit to the offensive line for opening up those massive running lanes all game long. It was one of the best rushing performances I have ever seen.
UCF Never Recovered from Last Week
I mentioned earlier that UCF blew a 35-7 lead against Baylor a week ago. A devastating loss like that is hard to shake off and I felt like UCF never quite recovered from that in this game. They tried to bring back quarterback John Rhys Plumlee, but he still looked injured out there to me. He didn't move around very well and that is what makes him special. Without his mobility, he is just another average quarterback and UCF needed more than that in this game. Plumlee ended up playing for a bit, but then UCF had to bring in backup Timmy McClain.
The offense couldn't get anything going in the first half and ended up getting shutout for the first time since 2015. It wasn't until the second half where the offense finally got going and by then it was far too late. As for the defense, they had no answer for the Kansas rushing attack as they gave up 399 yards on the ground. From the start of this game, this team looked all out of sorts. Luckily for UCF, they get a much-needed bye week after this one. Hopefully John Rhys Plumlee can get healthy in the next two weeks.
Kansas is For Real
For those wondering about Kansas, they are the real deal. I know they weren't picked very highly in the preseason poll, but this team is dangerous. They are showing flashes on defense and their run game is not an easy thing to stop (ask UCF). What impressed me about today is the fact that they were able to win by nearly 30 points even without the Big 12 preseason player of the year in Jalon Daniels. With the win, Kansas is now off to their second straight 5-1 start which hasn't happened in over 12 years. When you look at the schedule, I know the Oklahoma game will be tough, but it wouldn't be crazy to say that this team can win ten games this season. Who knows, maybe that will be good enough to earn them a trip to Jerry World come December.