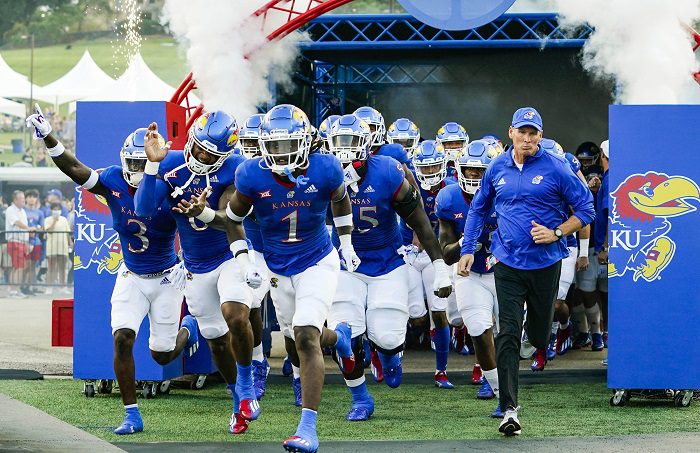 Here is everything you need to know ahead of the matchup between the UCF Knights and the Kansas Jayhawks.
GAME INFO
Saturday, October 7; 3:00 p.m. CT; David Booth Kansas Memorial Stadium; Lawrence, Kansas
TV: FOX
Radio: AM 740/FM 96.9 The Game (Marc Daniels, Gary Parris, Scott Adams); Jayhawk Radio Network (Brian Hanni, David Lawrence, Brandon McAnderson)
Records: UCF (3-2); Kansas (4-1)
Last Week: Baylor 36, UCF 35; Texas 40, Kansas 14
Rankings: UCF Not Ranked; Kansas Not Ranked
Series History: First-ever meeting
Last Meeting: N/A
Line: Kansas (-2.0)
Fun Fact: This is a matchup between two of the best rushing offenses in the Big 12 with UCF averaging 255.2 rushing yards per game (1st in Big 12) and Kansas averaging 199.0 on the ground (3rd in Big 12). The Knights lead the Big 12 with 6.1 yards per carry, with Kansas rankings second with 5.4 yards per carry.
KEY PLAYERS
UCF KNIGHTS
RB RJ Harvey, RB Johnny Richardson
Timmy McClain has done a pretty good job filling in for John Rhys Plumlee, who was injured against Boise State in Week 2, but he doesn't bring the same threat of running that Plumlee does. There's a chance that Plumlee will return to the field for UCF this week, but after a leg injury, he might not be the same in that regard. That means that UCF's running game will need to continue operating through RJ Harvey and Johnny Richardson. Through five games, the duo has combined for 772 yards and six touchdowns, with a combined average of 6.5 yards per carry.
DE Tre'Mon Morris-Brash
Tre'Mon Morris-Brash is the Big 12 leader in tackles for loss (11.0) and sacks (5.0) and is an integral part of what the Knights try to do defensively. Against a Kansas offense that loves to spread teams out and use misdirection, Morris-Brash will have to be disciplined in setting an edge in the run game and aggressive in his pass rush. Whether its Jason Bean or Jaon Daniels at quarterback, Morris-Brash will be the first guy that is on their mind when they drop back to pass.
KANSAS JAYHAWKS
QB Jason Bean, QB Jalon Daniels
Just ahead of last week's game, it was announced that star quarterback Jalon Daniels would miss the game against Texas, hamstringing the Jayhawks' chances of keeping pace with the Longhorns. While Jason Bean is arguably one of the best backup quarterbacks in the Big 12, he's not Jalon Daniels. After Daniels missed practice on Monday, his availability for this week's game is in question as well. Getting Daniels back would be massive for KU, but if Bean has to make his second consecutive start, he's capable of leading the Jayhawks to a much-needed win at home.
DL Jereme Robinson
Coming into the season, there was a lot of conjecture around what Kansas could be this season with little faith that the KU defensive line could improve. However, until the Jayhawks faced an elite Texas team last week, they'd been much-improved up front. KU's sack leader, Jereme Robinson, has been a big part of that with 4.5 sacks (T-2nd Big 12) and 5.0 tackles for loss. He'll need to be a big part of this game if Kansas hopes to keep the UCF running game under wraps.
KEY STORYLINES
UCF KNIGHTS
Can the Knights shake off an incredibly disappointing loss against Baylor last week? After holding a 35-7 lead, UCF allowed 29 unanswered points and left their Big 12 home opener with a shocking loss. Now, back on the road in the state of Kansas for the second time this season, the Knights will need to put it behind them and keep their focus on the task at hand. UCF really needs to avoid an 0-3 start in Big 12 play if they hope to stay in the race, and that's going to take a big effort on the road.
KANSAS JAYHAWKS
Will Kansas avoid the slide that they had last season? After a 5-0 start in 2022, Kansas dropped six of its final seven games of the regular season to finish 6-6. Now, after a disappointing 40-14 loss at Texas, Lance Leipold and the Jayhawks will need to put it behind them and try and keep one loss from turning into two. Getting Jalon Daniels back at some point would certainly help, but KU needs to be confident in the other pieces it's got out there.
PREDICTION: Kansas 38, UCF 35
With both Kansas and UCF dealing with uncertainty surrounding their starting quarterbacks' availability, this game is next to impossible to predict. That's why Vegas opened up with the home team being favored by three points and now the line has shrunk to two. With that being said, I'm going to roll with the home team in this game, as I believe Kansas is better than it showed last week. UCF is coming off a demoralizing loss in a game it should've won, and I think the hangover will cost them another game here. Give me KU in a close, high-scoring barnburner.