Big 12 News
Georges Niang is Looking for 'Matt Campbell Haters' After Iowa State's Big Win vs. TCU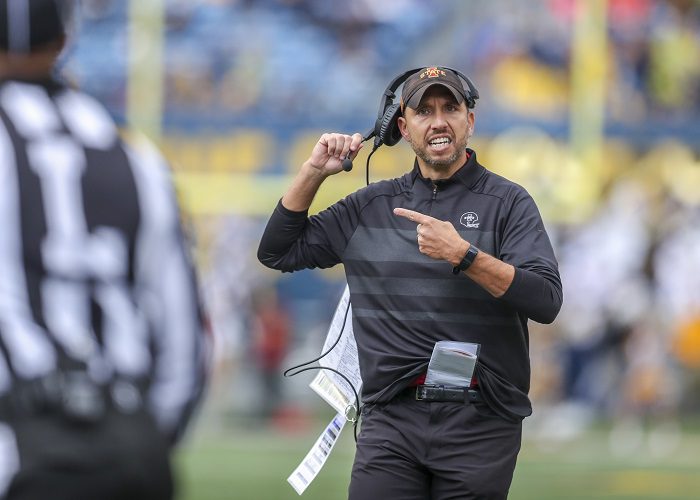 Matt Campbell has surprisingly come under fire from some Iowa State fans this season. The Cyclones entered Saturday's match up with TCU as a touchdown underdog, but ended up rolling to a 27-14 victory to improve to 3-3 on the season and 2-1 in Big 12 play.
And after the win, one of Iowa State's biggest boosters, former basketball star and current NBA player, Georges Niang, went far and wide on social media searching for the "Matt Campbell Haters."
ALL YALL MATT CAMPBELL HATERS I WANNA HEAR YALL NOW !!! WHERE YOU AT???

— Georges Niang (@GeorgesNiang20) October 8, 2023
Needless to say, no one was raising their hand in his comments, rightfully so.
I noted this for the last several weeks, even after a tough loss at Ohio and second half blowouts vs. Oklahoma, any talk of Matt Campbell on the hot seat is nuts.
Any talk of Matt Campbell being on the hot seat is NUTS! @PeteMundo explains.

Subscribe on YouTube: https://t.co/4RfjIVChW8 pic.twitter.com/R6hEwjf6og

— Heartland College Sports (@Heartland_CS) September 19, 2023
But those haters were awfully quiet on Saturday night.
Iowa State won the line of scrimmage against TCU, which I said was a key to this game going into it. Iowa State had given up the fewest sacks going into this game in the Big 12, while TCU was leading the league in sacks. But it was TCU who didn't record a single sack all day, while Iowa State had two. Also, Iowa State racked up 5.8 yards per carry to TCU's 5.0.
The Cyclones had a lot of young guys show out, led by QB Rocco Becht, who didn't have a huge stat line (16/28, 138 yards, one TD), but keeps getting comfortable and is becoming the leader of this team. Eli Sanders (sophomore) and Abu Sama (freshman) led the way in the backfield with over 150 rushing yards combined. DB Malik Verdon (sophomore) had a career high in tackles with eight, so all in all, it was an important game for a lot of reasons in Ames.
And Niang is right, Campbell never was, and has no reason to be, on the hot seat.