Big 12 News
Oklahoma Leaps Into Top 5, Kansas Rejoins Top 25 of Week 7 AP Poll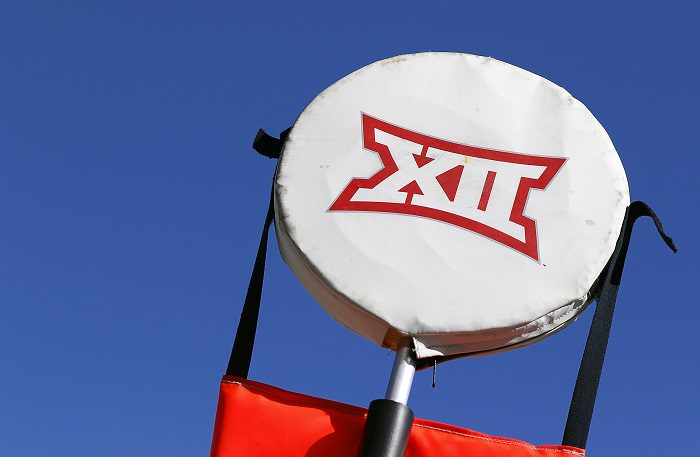 After a wild week of Big 12 football, with several underdogs winning on Saturday, there were shake ups across the AP Poll this week.
Three Big 12 teams are ranked this week, with the Oklahoma Sooners reaching the Top 5, Texas falls, but stays in the Top 10, while the Kansas Jayhawks are back in the Top 25. Also, West Virginia is in the "receiving votes" category.
On Friday night, it was Oklahoma State beating Kansas State 29-21 after coming into the game as an 11.5-point favorite. Then on Saturday, Oklahoma upset Texas 34-30 in the Red River Rivalry, after the Sooners went into the game as a 6.5-point underdog. In the afternoon game, UCF became a two-point favorite against Kansas by kick off after John Rhys Plumlee was announced to be playing at QB for the Knights, but UCF got crushed 51-22. In the night games, TCU was a 6.5-point favorite at Iowa State, and it was the Cyclones rolling to a 27-14 victory. Then, Texas Tech, who opened as an underdog earlier in the week, but became a 1.5-point favorite as the week went along, handled the Baylor Bears 39-14.
AP TOP 25 POLL: WEEK 7
| Rank | Team |
| --- | --- |
| 1 | Georgia (6-0) |
| 2 | Michigan (6-0) |
| 3 | Ohio State (5-0) |
| 4 | Florida State (5-0) |
| 5 | Oklahoma (6-0) |
| 6 | Penn State (5-0) |
| 7 | Washington (5-0) |
| 8 | Oregon (5-0) |
| 9 | Texas (5-1) |
| 10 | USC (6-0) |
| 11 | Alabama (5-1) |
| 12 | North Carolina (5-0) |
| 13 | Ole Miss (5-1) |
| 14 | Louisville (5-0) |
| 15 | Oregon State (5-1) |
| 16 | Utah (4-1) |
| 17 | Duke (4-1) |
| 18 | UCLA (4-1) |
| 19 | Washington State (4-1) |
| 20 | Tennessee (5-1) |
| 21 | Notre Dame (5-2) |
| 22 | LSU (4-2) |
| 23 | Kansas (5-1) |
| 24 | Kentucky (5-1) |
| 25 | Miami (4-1) |
Others receiving votes: Missouri 69, Wyoming 42, Air Force 41, Wisconsin 41, Tulane 27, West Virginia 26, Clemson 17, Maryland 9, Iowa 7, James Madison 7, Texas A&M 5