Kansas Jayhawks
Overreaction Monday: OU Can Win a Natty, KU is Overrated, Texas to Plummet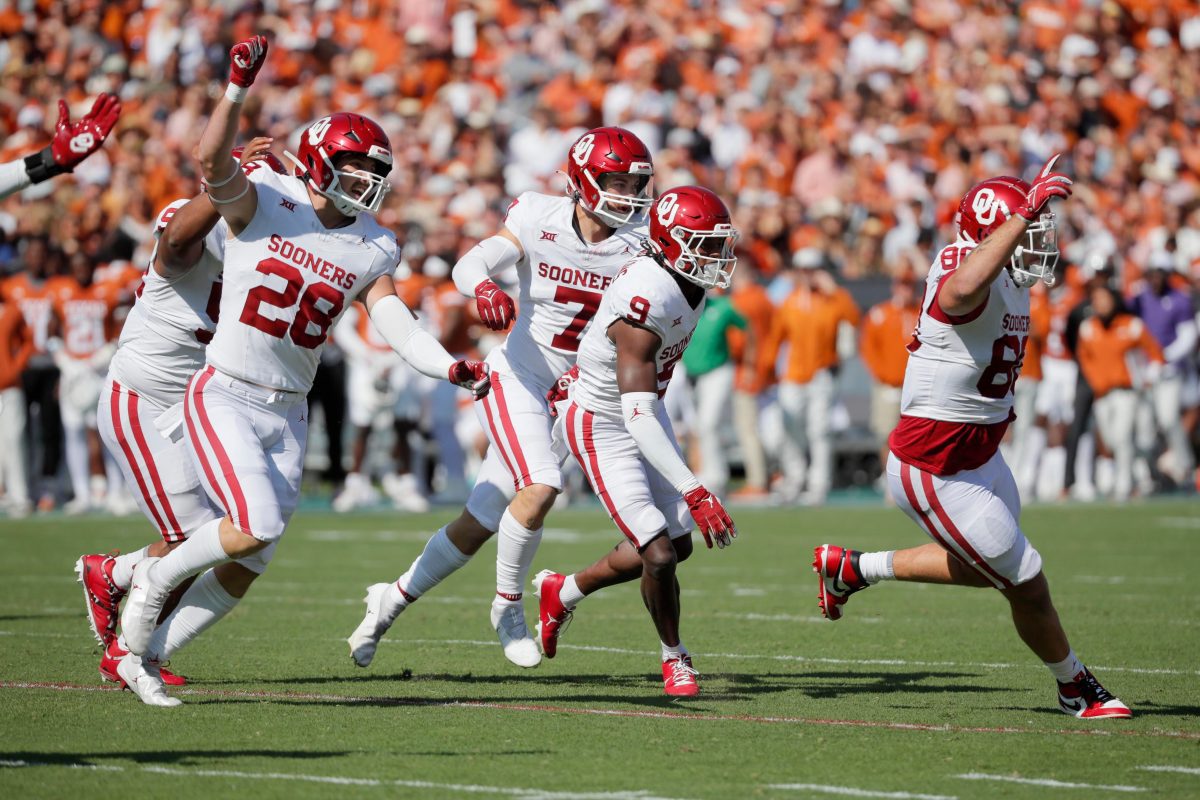 We're heading into Week 7 and that means we've got one half of the season to go off of and another half of the season to look forward to.
Is it time to start talking about Oklahoma as a national title contender? What should we expect from Kansas going forward? Is K-State about to plummet?
There are a lot of questions that still need to be answered, but right now isn't the time to think logically.
Let's overreact to what we saw in Week 6.
Oklahoma is a National Title Contender
Not an Overreaction
Coming into the Red River Rivalry game against Texas, the national narrative was that Oklahoma had had an incredible start to its season, but it hadn't played anyone. Meanwhile, the Longhorns had the best win of the year after going to Tuscaloosa and beating Alabama. Then, Oklahoma not only challenged Texas along the lines of scrimmage but was the more physical team in the battle, and that's ultimately why they won. Much of the country considered Texas to be one of if not the best teams in the country, and I still believe that to be the case. However, it's time to add the Sooners to that conversation as well, because what they showed in Dallas on Saturday is that they can hang with the big boys in Venables' second season. At 6-0 heading into the bye week, Oklahoma has matched its win total from a season ago and should be heavily favored in every game they have the rest of the way. OU will need to stay healthy and continue playing to the level that they have, but for now, they've got as good a shot as anyone to challenge for a national title.
Kansas Is Overrated
Overreaction
Now, after what many folks saw Texas do to Kansas in Week 5, there were some legitimate concerns about whether the Jayhawks would fold up like they did last year after their first loss. Then, when Jalon Daniels was reported to be out for the second straight week, oddsmakers went as far as to make UCF the favorite in Lawrence this past weekend. Well, why don't you go ask Gus Malzahn how that went for his squad? I'll save you a trip to Orlando and a tongue-lashing from a frustrated football coach: it didn't go well. Kansas racked up 399 yards and five touchdowns on the ground against UCF this week en route to a 51-22 victory. After Devin Neal took the opening play of the third quarter for a 75-yard touchdown, the score was 31-0. When it comes to them being ranked No. 23 in the nation, I have no issue with it whatsoever. The defense is better than anyone thought it would be, and heading into the fourth quarter of their game vs. Texas, the Jayhawks trailed just 26-14 before their lack of depth cost them against a top-10 team. KU might've looked overmatched in Austin if you're looking at the box score, but this team is capable of pressing for a trip to Arlington if things break their way.
Oklahoma State Isn't Out of the Race Yet
Not an Overreaction
Before this week, Oklahoma State was viewed as one of the worst teams in the Big 12, and rightly so after getting dominated at home by South Alabama, 33-7. However, the Pokes found a way to take down Kansas State on Friday night and are now a question mark in terms of the Big 12 title race. The Cowboys' defense picked off Will Howard three times in the contest and dominated the time of possession with a great performance on the ground from Ollie Gordon. So, is Oklahoma State turning things around, or was Week 6 an anomaly in an otherwise disappointing season? It's probably still too early to know for sure, but with the volatility that we've seen from the rest of the conference this season, I think Mike Gundy can turn things around. There are four teams sitting at 2-1 in conference play, three teams (including Oklahoma State) at 1-1 in Big 12 play, and two teams at 1-2. This season is still wide open, so I'm going to say it's still too early to count OSU out.
K-State Has Major Problems
Not an Overreaction
In the preseason, I fully expected Kansas State to be 5-0 heading into what looked like a huge game at Texas Tech in Week 7. Instead, the Wildcats have lost two of their last three games and gave up 31 points to UCF, who is 0-3 in Big 12 play. In Stillwater on Friday night, Will Howard threw three interceptions and allowed Oklahoma State to score a season-high 29 points. Oklahoma State ranks 12th in the Big 12 and 96th nationally in scoring offense (23.4 ppg), and I don't think K-State's issues were a result of the Pokes figuring it out. The issue is that injuries are starting to pile up on the defensive side of the ball. Linebackers Daniel Green (Pectoral) and Asa Newsom (undisclosed) are both out for the season, and cornerback Jacob Parrish missed this game with an undisclosed injury. I expect the defense to get better as the new starters get more acquainted with their new roles, but the ceiling for this defense is lower than it was, and that's a big issue.
Texas Will Plummet After Loss to OU
Overreaction
Yes, Texas lost its first game of the year and in seasons past that might've been a sign of things to come. However, this version of the Longhorns is different, and I wouldn't be surprised if they don't drop a game the rest of the way. The game against Oklahoma was nothing short of a heavyweight bout, and it's clear that that game featured the top two teams in the Big 12 right now. With the style of defense that Texas is playing and the way they are able to run the football, it's going to be hard for anyone remaining on the schedule to take down Texas. According to ESPN's matchup predictor, the Longhorns' toughest remaining game is a road trip to TCU, where they have an 81.9% chance of winning. In past years, Texas would be on upset alert coming out of the bye week on upset alert against a bad team like Houston. In 2023 though, I think they'll make an example of the Cougars in Week 8, and that's bad news for Dana Holgorsen and company.