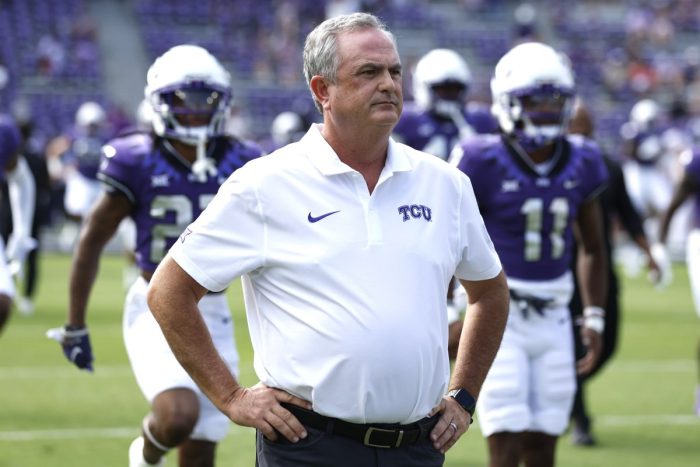 Here is everything you need to know ahead of the matchup between the BYU Cougars and the TCU Horned Frogs.
GAME INFO
Saturday, October 14; 2:30 p.m. CT; Amon G. Carter Stadium; Fort Worth, TX
TV: ESPN
Radio: BYU Radio (Greg Wrubell, Hans Olsen, Mitchell Juergens); Horned Frogs Sports Network (Brian Estridge, Landry Burdine, Chris Blake)
Records: BYU (4-1, 1-1); TCU (3-3, 1-2)
Last Week: BYU coming off bye week; Iowa State 27, TCU 14
Rankings: N/A
Series History: TCU leads, 6-5-0
Last Meeting: TCU 38, BYU 28 (2011)
Line: TCU (-5.5)
Fun Fact: TCU and BYU will renew a Mountain West Conference rivalry this weekend after playing every year from 2005-11, with TCU winning five of seven seasons, including outscoring the Cougars 101-17 from 2008-10.
KEY PLAYERS
BYU COUGARS
QB Kedon Slovis
BYU's only form of offense this season has been Kedon Slovis having success through the air, as the Cougars are averaging just 62.8 yards per game on the ground, which ranks 129th out of 130 FBS teams. Through five games, Slovis has completed 59.4% of his attempts for 1,240 yards and 10 touchdowns with three interceptions. If BYU is going to pull off the upset on the road, it'll take a big effort from Slovis and the Cougars' passing attack.
LB Ben Bywater
While his status is still up in the air after missing the Cincinnati game with an injury, Ben Bywater is one of BYU's best defensive playmakers and would be a huge addition back into the rotation. In his last game (vs. Kansas) Bywater collected 10 total tackles, one sack, and a PBU. With BYU's defense being the strength of its football team, Bywater needs to get back sooner rather than later.
TCU HORNED FROGS
QB Josh Hoover
With Chandler Morris likely out with a sprained MCL, TCU will have to turn to freshman QB Josh Hoover as its starter. After stepping in for the injured Morris against Iowa State last week, Hoover completed 11 of 19 attempts for 119 yards with one touchdown and one interception. Against a defense of Iowa State's caliber, that's not a bad stat line for a true freshman. Now we'll get to see what he can do with a full game to work with.
LB Johnny Hodges
Getting back the quarterback of the defense would be big for TCU, as Johnny Hodges has missed each of TCU's last three ball games. One of TCU's leading tacklers a season ago, Hodges, paired with Jamoi Hodge, is part of one-half of the best linebacker duos in the Big 12. In what appears to be a must-win game for the Horned Frogs, Hodges would be a major boost for Sonny Dykes' defense.
KEY STORYLINES
BYU COUGARS
How long can BYU continue to win games being one-dimensional offensively? If BYU were an early 2000s Mike Leach air raid offense that threw for a gazillion yards, then they could probably continue to run for just over 60 a game. However, the passing game is averaging 255 yards per game, bringing their average offensive output to just over 318 yards per game (117th nationally, last in Big 12). Despite that, the Cougars somehow manage 31.0 points per game (56th nationally), but that luck will soon run out agaisnt better competition. TCU ranks sixth in the Big 12 in scoring defense, allowing 22.0 points per game, and BYU still has to play Texas (2nd, 16.3 ppg), West Virginia (3rd, 19.0 ppg), Oklahoma (1st, 14.0 ppg), and Iowa State (5th, 21.7 ppg). If BYU is going to get their offense figured out, it needs to be now.
TCU HORNED FROGS
What will TCU's offense look like without Chandler Morris? With an MCL sprain, Morris will likely miss several weeks, which means it's the Josh Hoover show now. Rated as the No. 33 QB in the class of 2022, Hoover isn't quite the athlete that Morris is just yet and has little experience at this level of football. Getting the BYU defense right after Iowa State is a tough start to the career for the redshirt freshman, as both units rank top five in the conference against the pass. However, that means he'll get a chance to see some good teams that could help him down the road. Still, expect TCU to lean on the run and help Hoover transition into his new role.
PREDICTION: TCU 30, BYU 23
Despite missing its starting quarterback, I believe TCU to be the better team in this matchup and feel that now is the time that BYU starts to take its dive in the conference standings. Having balance offensively is vital to success in a league that has several good defensive teams, and BYU simply doesn't have that right now. Against Cincinnati, BYU was outgained 498-295, but won because of two key turnovers. While they might give Hoover some problems, I don't expect them to be able to expclusively throw the ball against Bud Clark and the TCU secondary. I'll roll with TCU to win and cover at home in this one.